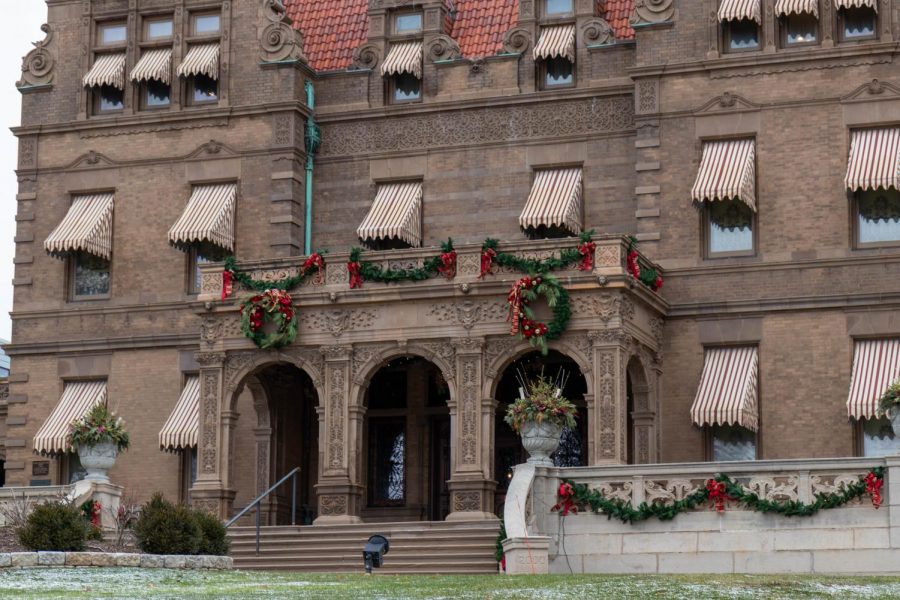 Elena Fiegen
As the semester comes to a close, it can be easy to get wrapped up in the stress of finals and forget to take time for yourself. But spending some time away from the books is important — and what better time of year to take a study break than the beginning of the winter and holiday season? Below is a list of some Milwaukee winter activities, crafted with a college student's budget in mind:
Christkindlmarket — free admission
Last year, Milwaukee debuted its first Christkindlmarket, a traditional German market that is popular in the Chicago area.
In Milwaukee, the Christkindlmarket is located right outside Fiserv Forum and is open daily from Nov. 15 to Dec. 24. The market opens at 11 a.m. and closes at 8 p.m. Sunday through Thursday and 9 p.m. Friday and Saturday. On Christmas Eve, the market closes early at 4 p.m. Admission is free, while the prices of goods vary.
This year, the traditional German market also has two other locations in Chicago: one in Daley Plaza and the other at Gallagher Way in Wrigleyville.
Chicago has put on the Christkindlmarket for the past 24 years. According to its website, the market was inspired by the Christkindlesmarkt in Nuremberg, Germany, that began in 1545.
Connor Flack, a senior in the College of Engineering, attended the Christkindlmarket in Milwaukee last year. Having also visited the market in Chicago, Flack said he preferred the less crowded version in Milwaukee.
While some of the products sold are expensive, Flack said he purchased hot chocolate in the annual collector's mug and a cheesy baguette with bratwurst. He said admiring the gifts and handmade crafts was also enjoyable.
"I feel like you could go and spend like 10 bucks and have a pretty good time," Flack said. "Perfect for college kids, I'd say."
Jingle Bus — $2
One of Milwaukee's popular holiday offerings is an evening ride aboard the Jingle Bus. As an annual part of the Milwaukee Holiday Lights Festival, the 40-minute ride takes passengers to various landmarks around Milwaukee to look at twinkling lights, all while riders stay warm on a heated Coach USA bus. The tour is narrated by Milwaukee Downtown's Public Service Ambassadors.
Buses leave from the Warming House at the Avenue, 161 W. Wisconsin Ave., every night starting at 5:30 p.m. The final bus leaves at 8:20 p.m. and returns by 9 p.m.
Slice of Ice at Red Arrow Park — free admission, $9 skate rental
While not yet open for the 2019-'20 season, Slice of Ice at Red Arrow Park begins its season as soon as the weather allows, open from December to March. Ice skating is free for guests who bring their own ice skates, and rentals are $9 for guests 18 and older. Ages 17 and under can rent skates for $7, and ice skate sharpening costs $6.
Located near the Marcus Center for the Performing Arts, Slice of Ice at Red Arrow Park offers an outdoor ice skating experience in the heart of the city. A warming house next to the rink provides lockers and a Starbucks.
Pettit National Ice Center — $7.50 admission, $3.50 skate rental
For students looking to enjoy winter ice skating minus the winter weather, the Pettit offers state-of-the-art ice facilities. According to its website, the Pettit is an official training site for U.S. Speedskating, and every U.S. Olympic speedskater who has competed in the last six winter Olympics has trained or competed at the Pettit.
For ages 19 to 59, the price of admission is $7.50. Skate rentals are an additional $3.50 a person, making the total cost for the average college student who does not own their own ice skates $11. Admission for guests aged 13 to 18 is $6.50, and for ages 4 to 12 and seniors 60 and older, $5.50. Children 3 and younger are free.
Public hours vary as the Pettit hosts different events, including speed skating competitions, hockey games, marathons and charity 5Ks, customer operations manager Joana Lozano said. The Pettit is open throughout all of December, including for limited hours on Christmas Eve from noon to 4 p.m. and Christmas Day 1 to 4 p.m.
Christmas at the Pabst Mansion — $12.50 for students with ID
Located on Wisconsin Avenue between Mashuda Hall and The Marq, the Pabst Mansion offers a holiday experience within walking distance of campus.
The Pabst Mansion is a historic nonprofit museum, curator Jodi Rich-Bartz said. The mansion was the home of Frederick and Maria Pabst, partial owners of Pabst Brewing Company, from 1892 until 1906. It then became the central office location for the Archdiocese of Milwaukee from 1908 until 1975. It opened in 1978 as a historic museum.
From now until Jan. 5, however, the mansion offers self-guided tours of its approximately 20 different holiday-themed rooms. During the rest of the year, the Pabst Mansion offers 75-minute guided tours, but the holiday season allows guests to explore the space however they choose, Rich-Bartz said.
Rich-Bartz said the location of the Pabst Mansion gives the museum a draw to Marquette students.
"So many students walk past this every day not knowing if someone lives here, or exactly if we're a business that's open to the public," Rich-Bartz said. "I think Christmastime is a good introduction for students to come in, and they can kind of pick what they want to learn about the house and walk through at their own pace."
Holiday Shows — prices vary
Another winter experience students can enjoy in Milwaukee is a visit to a holiday-themed show, like the Milwaukee Repertory Theater's "A Christmas Carol."
The Rep rents out The Pabst Theater for "A Christmas Carol," which it has produced annually for 44 years, Tegan Gaetano, public relations and content director at the Rep, said. In fact, the production in Milwaukee is "the third consecutively longest running production of 'A Christmas Carol' in the country," Gaetano said.
Ticket prices vary, but student discount tickets start at $20.
This story was written by Kelli Arseneau. She can be reached at kelli.arseneau@marquette.edu. She can be reached on Twitter at @ArseneauKelli.