University celebrates International Education
The university participated in the national International Education Week celebration last week by offering free events to students.
Celebrated from Nov. 18 to Nov. 22 by the Office of International Education, the time period is a chance to acknowledge the advantages of international education across the globe, according to the U.S. Department of State's website. The initiative is promoted by the U.S. Department of State and the U.S. Department of Education in hopes to bring leaders from abroad to the United States for study opportunities. It also aims to encourage Americans to engage with the global environment, the website said.
Throughout the year, the university's Office of International Education offers study abroad programs, language assistance and recruiting and advising efforts for international students. It is located on the fourth floor of Holthusen Hall. The office has celebrated International Education Week for the past 12 years.
The events have varied, but each event is an effort to highlight the international initiatives and people who help make Marquette a globally-relevant campus.
OIE's mission aims to educate the greater Marquette community to become interculturally competent women and men for others through mutually beneficial collaborations in teaching, research and service, said Ellen Blauw, associate director of OIE.
Director of OIE, Terence Miller, explained why the university is eager to celebrate International Education Week.
"As part of Marquette University's global engagement we celebrate IEW to demonstrate our commitment to student and faculty mobility, and the value of cultures and traditions," Miller said in an email.  "(Also, the) importance of creating knowledge through research and university partnerships worldwide."
The university held activities such as an international job seeking workshop, a South African service learning session, Coffee con Leche, a "Culture through Cuisine" event and a study abroad informational session.
Melanie Vines, director of services for Marquette Dining Services, led the show at the "Culture through Cuisine" event titled "Hagamos Tamales," which means "Let's Make Tamales."
In an email, she said the team at Innovation Kitchen came up with the event. Innovation Kitchen is a space in Lunda Room, located inside the Alumni Memorial Union, that opened in January 2018. Marquette Dining Services provides programming events open to community members, ranging from tutorials to make-your-own-food sessions.
"It was shared and partnered with International Education Week, which we were excited about!" Vianes wrote in an email. "I was asked to share a family tradition of tamale-making that we have done for many generations as a part of our Culture through Cuisine series."
Vianes said attendees came from both the Marquette and broader Milwaukee community. It was free for students and $30 for other attendees.
"The event caught attention through the Milwaukee community and we had about half non-students and half student attendees, one attendee was under the age of 18," Vianes said in an email.
Vianes said the purpose of having public events run through the Innovation Kitchen is to bring people together to learn, share and engage with each other.
Aside from events during International Education Week, OIE hosts other activities throughout the school year for students, faculty and staff.
"(Events such as) lectures from international visitors, cultural events in the Milwaukee community, International Day during the spring semester and other joint programs on international topics with campus partners," Blauw said.
International Day
is an opportunity for students and cultural organizations to inform members of the Marquette community about their countries and traditions. It is held in the
second floor lobby of the AMU, according to the OIE website.
Leave a Comment
About the Contributor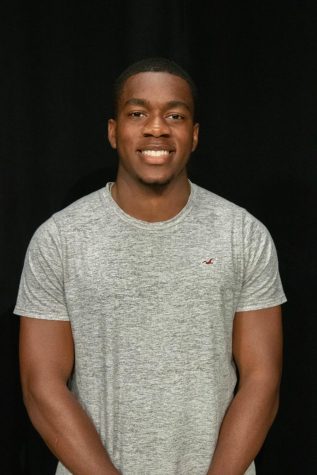 Andrew Amouzou, Executive Director
Andrew is the Executive Director of the Wire. He is a senior from Schaumburg, IL studying journalism and minoring in digital media.

In his free time,...