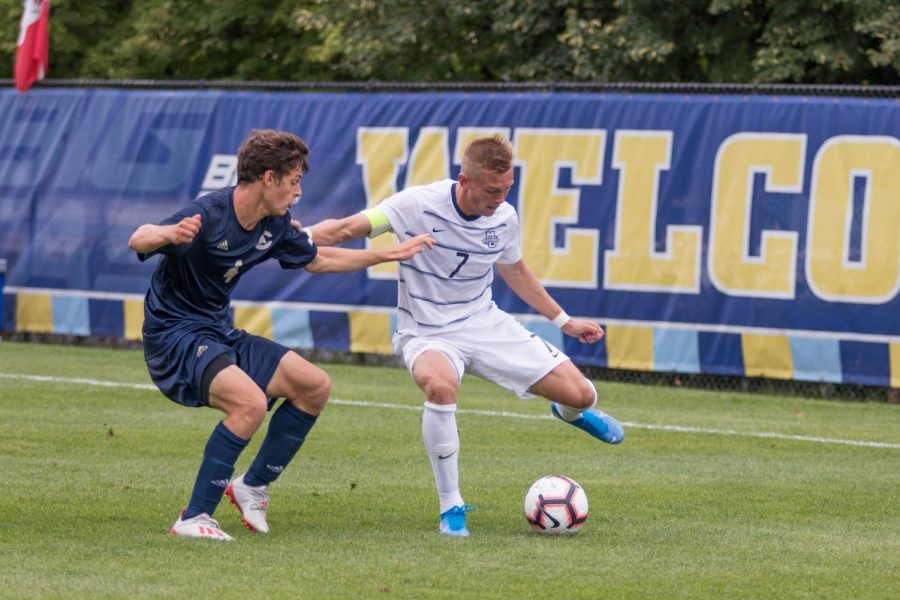 The first two words that came out of head coach Louis Bennett's mouth when describing senior defender Patrick Seagrist were simple: "All in."
"I'm a very tenacious player. No matter how long I've played, no matter what the circumstances, I'll give my everything throughout the game," Seagrist said.
The left back's tenacity paid off in his final season at Marquette, which included being a First Team All-BIG EAST honoree for the second time in his career.
Ultimately, Marquette ended up losing in the first round of the BIG EAST Championships Nov. 9 after sneaking in due to a Villanova win over Seton Hall. The Golden Eagles lost 3-0 to Providence.
Seagrist said his responsibilities playing with the Golden Eagles included forcing attackers wide, not allowing crosses and not allowing himself to get beat in one-on-one situations.
Offensively, Seagrist said he wanted to get high up on the pitch, link up with attackers and create crosses. As a result, he assisted seven goals, accounting for almost one third of the team's total assists in 2019.
While he has specific strategies to produce assists, one of the things he talked about essentially boils down to effort.
"I'd say just always following up on certain plays. Whether the ball is scrambling in the middle or bouncing around, (I) make sure I'm available in any way shape or form," Seagrist said.
Whether he is defending or attacking, the senior said he plays a vital role on both ends of the field: "busting forward to help join the attack, and then if we lose the ball, sprinting back immediately."
Yet Seagrist had to change his role slightly at the end of the season. With injuries at other back line positions, Seagrist switched "without batting an eye" from left back to center back.
Traditionally, left backs are quick running up and down the field while the position right next to them —  center back — is bigger, stronger and sometimes slower than other players on the field.
Going into the season, Bennett said he had four starting-caliber center backs. By the end, due to injuries, three were on the bench, so Seagrist switched over to a position he rarely played for Marquette.
"'OK Coach, I'll do it.' (He) never questioned it," Bennett said. "As a coach, that has to make you proud that people are just going to make the best with whatever is available and try to get it done."
Injuries plagued the Golden Eagles from the start of the season.
"This season we never played what would have been perceived as our top 11," Bennett said. "Through injuries, we had a changed lineup nearly every single game. It was always like we were piecing things together based on who might be available not on the talent of our squad."
While Bennett said he was disappointed with the way the season ended, he said a lot of teams would have folded over with all the team's injuries.
"(This season) could have worked out with a lot of frustration and a lot of turmoil but it didn't," Bennett said. "The guys just took what they had."
Seagrist said losing in the first round was not the outcome he expected, but he is able to leave Marquette satisfied knowing it shaped him as a player and as a person.
"I'm able to leave … knowing that I gave everything to this program, to this school," Seagrist said. "(I) have been a part of one of the most prestigious schools academically and one of the best soccer programs in the nation."
Now Seagrist is looking to make the next jump in soccer, hopefully following in former Golden Eagle Luis Barraza's steps in going professional.
Bennett said he believes Seagrist is on the radar of some Major League Soccer teams.
"I do believe he will get the chance to play at the next level whether it be in the MLS or the USL (United Soccer League)," Bennett said.
This story was written by Daniel Macias. He can be reached at daniel.macias@marquette.edu.