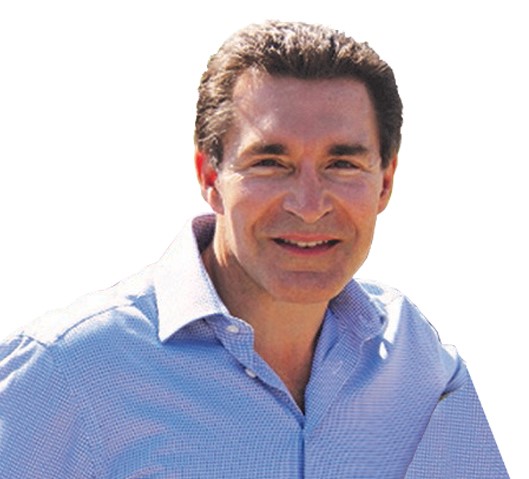 Democratic Alderman Anthony Zielinski of the 14th District of Milwaukee is campaigning against incumbent Milwaukee Mayor Tom Barrett.
Zielinski, a Marquette Law School graduate, has been an alderman in Bay View since 2004 and assumed his office at the same time as Barrett.
"One of the things I'm most proud of is having my Bay View district completely turned around," Zielinski said. "In 2004, when I first got elected, Bay View was not the trendy part of the city that it is now."
The empty storefronts and public safety concerns of the past have decreased every year, Zielinski said. 
As an alderman, he was a member of the Community and Economic Development Committee and the Judiciary and Legislation Committee, according to his website. Additionally, he said that he tried to bring in good business and make the community more pleasant to live in.
Zielinski said he used Nuisance Property Ordinance section 80-10 to help punish properties in Bay View that presented chronic disturbances to the community. According to the Bay View Neighborhood Association public safety website, section 80-10 of this ordinance lays out the guidelines and procedures for its implementation.
Zielinski said the ordinance was helpful in attracting positive businesses and residents to the Bay View area.
According to Zielinski's website, he also pushed for the expansion of Operation Impact into Bay View. The goal of this project is to improve public safety by installing private security cameras around the city.
Zielinski said he wants to leave his alderman position because he believes the role of mayor will allow him to realize the true potential of his district and to help the rest of the city.
"He's reaching out to the black community more than any of the other candidates are," Mike Brox, Zielinski's North Side campaign manager, said when asked why he supports Zielinski. Brox said the alderman is "concerned about public safety."
"He's a hard worker," Brox said. "A lot of people don't know his background. I think he's doing a good job."
Brox said he recruits volunteers and organizes campaign events.
"He has a feeling for everybody in the city," Henry Piano, lawyer and volunteer for Zielinski's campaign, said. "He crosses every line, every color line, every religious line."
Piano, a Marquette graduate, said he believes Zielinski's business acumen is authentic and that Zielinski understands that the function of a mayor should be to serve the entire community.
Zielinski said his campaign is comprised of four paid campaign workers and 30-40 volunteers. His donor base is largely comprised of friends, and he has personally loaned money to the campaign.
The candidate said Friday was the campaign's budget day. He said he believes that his fiscal responsibility will help serve the city well, and that the city has significant economic problems.
"One of the things people are aware of is the fiscal problems of the city," Zielinski said. "We've got potholes all over the city, and the mayor in his last budget proposed to cut 60 cops."
According to The Center Square, "Milwaukee ranks 24th worst among the 75 largest cities in the United States for the handling of its finances, according to a Truth in Accounting (TIA) analysis of municipal data," released in February.
Zielinski emphasized securing futures for Milwaukee children, noting the salience of strengthening the education system.
"Education reduces poverty, reduces crime and gets more people working," Zielinski said. "It will help (students) achieve self-actualization."
Zielinski said he wants students to realize their full potential and understand that education is the key to reversing the cycle of poverty and realizing the American dream.
Zielinski proposed an education pilot program that he said aims to improve education by targeting students' home situations. He said that poverty, trauma and poor housing situations in students' home lives are significantly detrimental to children's education. He said he wants to start treating what he termed the "root causes" rather than the "symptoms."
According to the TownCharts website, 87% of people in the United States above the age of 25 have a high school degree, yet only 83% of Milwaukee citizens meet the same criteria. Additionally, the dropout rate in Milwaukee is 18% compared with the national average of 13%.
"How do we expect those kids in that poverty-stricken situation, in that type of home life, to show up in school every day bright and cheery and pay attention to the instructor and then go home that night and do their homework?" Zielinski said. "They're just struggling to survive."
Brox, who has been a teacher for the past 28 years, said he supports Zielinski's plan to close the achievement gap between black and white students. 
Zielinski said he will use mayoral connections to raise money from corporations and foundations to pay for his plan. He referenced the $10 million Barrett convinced Potawatomi Hotel and Casino to donate to the city for the streetcar project.
The streetcar, known as The Hop, began to run in November 2018, according to its website. The website said the streetcar is meant to increase tourism and revenue in Milwaukee, as well as to create approximately 1,900 total jobs. However, it has faced criticism for what many see as the destruction of Milwaukee's streets with the installation of the rail lines, according to an article in the Milwaukee Journal Sentinel. Zielinski is amongst those against the project.
Zielinski also said that the office comes with political capital which, if elected, he will use to cultivate relationships with the state government to find areas of common ground, such as fighting poverty and improving education. Zielinski's mention of political capital was in reference to connections and resources to which someone in the office of mayor would have access to.
"You cannot have a great city if you've got a significant portion of your population that lives in a state of poverty," Zielinski said.
According to the United States Census website, the national poverty rate in 2018 was 11.8%. However, the poverty rate in Milwaukee is 27.4%, according to the Wisconsin-specific page of the census website.
"We've got to come together as a city and work together to help address how to improve the city," Zielinski said. 
This message resonates with everyone regardless of identity, Zielinski said, because cooperation toward a common cause leads to benefits for all involved.
Brox said there will be opportunities throughout the campaign when voters of Milwaukee will be able to voice concerns.
"He's very receptive to hearing what the needs of the community are," Brox said. "I think Milwaukee's ready to head in a different direction."
This article is part of a Marquette Wire series featuring the candidates for Milwaukee's 2020 mayoral election.