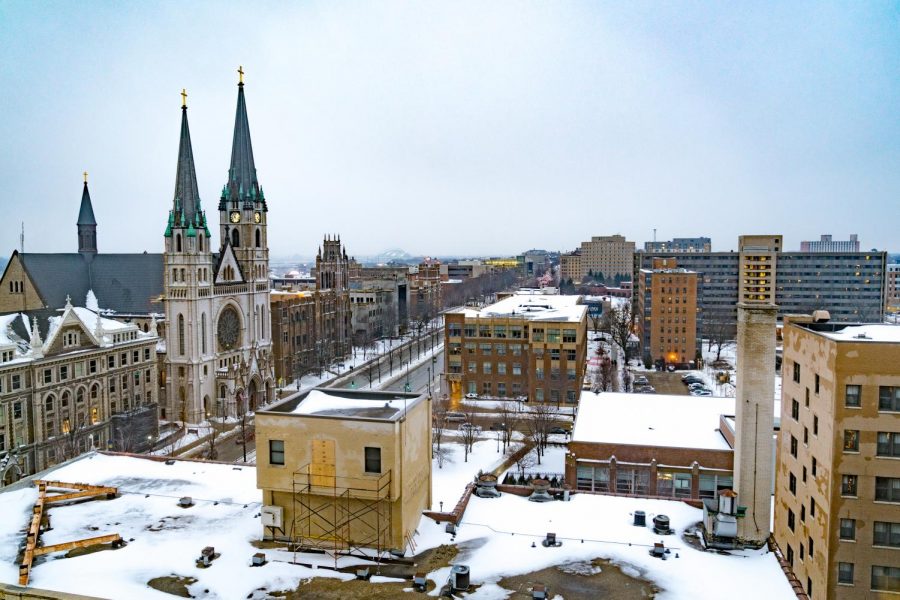 Jordan Johnson
In preparation for the 2020 Democratic National Convention in Milwaukee July 13-16, Marquette University has created a Convention Steering Committee to determine the university's role in the convention.
"The Convention presents a unique opportunity for the city (of Milwaukee) and for Marquette," Mary Czech-Mrochinski, co-chair of the Convention Steering Committee and associate vice president for public affairs, said. "This is a once-in-a-generation moment for the city."
Czech-Mrochinski said the purpose of Marquette's Convention Steering Committee is to have an internal centralized process so that Marquette is on the same page.
"We are evaluating all of these opportunities for alignment with our mission, our brand, revenue generation opportunities and security protocols," Czech-Mrochinski said.
She said the committee is in the early stages of this process and is currently gathering information from other campuses that have previously hosted conventions as well as gathering feedback from across campus to make recommendations to the DNC's executive leadership team.
Czech-Mrochinski said one of the biggest hurdles the city of Milwaukee had to overcome as a part of the selection process was finding enough rooms for the over 50,000 visitors coming into town for this event.
She said when Milwaukee was competing to host the DNC, Marquette was approached to assist with providing rooms for guests as well as possible venue space.
"Marquette offered to provide residence hall rooms as we do for other major events in the city, such as Northwestern Mutual's annual convention," Czech-Mrochinski said.
To maximize Marquette's involvement in the DNC, Czech-Mrochinski said the committee is working across campus.
She said there is an academic subcommittee led by Sarah Felder, acting dean of the College of Communications, a security subcommittee led by MUPD Chief Edith Hudson, a facilities and financial subcommittee led by Lora Strigens, vice president for planning and facilities management, an operational impact subcommittee led by Jean Dole, associate vice president of university advancement and a brand and communications subcommittee led by Dave Murphy, vice president for marketing and communication.
Ben Rangel, graduate student in the College of Arts & Sciences, said he is excited for Milwaukee and its historic moment hosting the DNC. Rangel has applied to be a volunteer for the event.
"Milwaukee has been a historically important city for progressive movements and it is exciting to know that it will be the site where the next Democratic Presidential nominee is selected," Rangel said in an email. "A lot of resources have been invested in the downtown area and so big events like the DNC make the investment feel worthwhile."
Jean Dole, leader of the operational impact sub-committee and associate vice president of university advancements, said these subcommittees are necessary because hosting a major political convention has been compared to hosting a Super Bowl on four consecutive days.
"Knowing what a big impact the convention will have on the city, and how close Marquette's campus is to Fiserv Forum, we want to be proactive about preparing campus and leveraging our assets to showcase Marquette, while providing the best possible experience for our students," Dole said.
She said her subcommittee will address the effect of the convention on university operations, employees, students, visitors, programs and services.
To allow student involvement, Czech-Mrochinski said the academic subcommittee is looking at academic programming for students, as well as experiential learning opportunities such as internships with national media outlets that will be in town that week.
Czech-Mrochinski said the committee hopes to know more information within the next several months and will be looking for input from campus.
"There are still many unknowns, but we are working to be proactive and work through as much as we can internally so Marquette can put its best foot forward as Milwaukee welcomes 50,000 visitors," Czech-Mrochinski said.
She said the committee plans to hold listening sessions in the fall to gather ideas and communicate preparations that are underway.