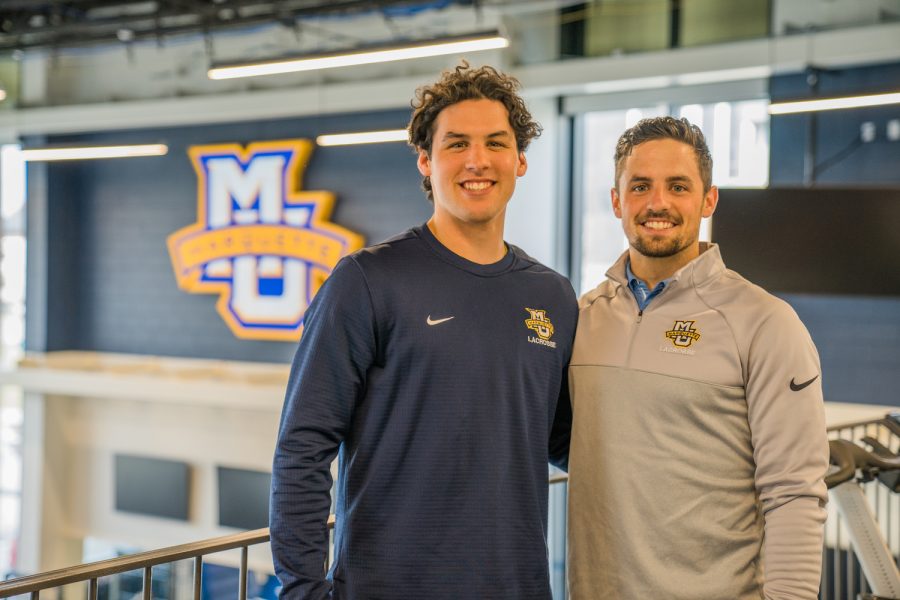 Jordan Johnson
Look to the sideline at Valley Fields and you'll notice a youthful assistant hollering at the defense. Then take a glance at No. 55 in the blue and gold on the field, and you'll likely figure out the reason for the screaming.
The coach is Jake Richard, a 2016 Marquette lacrosse graduate and now the Marquette assistant coach in charge of defense. His younger brother Noah is the one donning a No. 55 MU uniform on the pitch.
The Richard brothers are just one example of siblings to wear blue and gold together since the program's inception in 2010. Head coach Joe Amplo credits the culture of the team to the program's sibling legacy.
"(Our program) really opened the door to this great opportunity for these kids to come to Marquette," Amplo says. "Marquette wraps their arms around them and takes care of them and challenges them to their core so they can grow and turn into great human beings and go tackle the world."
The elder Richard says the sibling pairs reflect the atmosphere the program has built.
"The fact that players want their siblings to go there, I don't think that happens everywhere," Jake says. "It's a testament to the culture that the coaches and faculty around the program have built."
Upon graduation, Jake became a coach to continue his impact on the program. Amplo says his maturation showed instantly.
"He grew up in a matter of minutes. He can run the program," Amplo says. "If I get hit by a bus and Coach (Stephen) Brundage got hit by a bus, (Jake) could run the program and this place would not skip a beat."
Amplo says he views Jake as one of the most dominant players at his position in team history.
"He's one of the best short-stick (defensive midfielders) of college lacrosse in the past five years," Amplo says. "You watched him on the field and you knew that he was good."
One of Jake's best assets was his athleticism, using his speed and pure strength to smack the ball out of opposition's crosses and making plays in transition.
Richard is a former United States Intercollegiate Lacrosse Association Third Team All-American, named to the list his senior year as a short-stick defensive midfielder.
"That's the toughest position in our sport," Amplo says. "To be a Third Team All-American as a short stick d-middie, that's really, really hard to do."
Jake uses his playing experience to guide him as a member of the Marquette coaching staff.
"I draw on my experience as a player all the time," Jake says. "It allows me to be a lot more empathetic with the guys, understanding what they're going through."
His brother Noah might have an even better legacy. He is a senior long-stick midfielder and captain for the 2019 Marquette men's lacrosse team. He is a reigning unanimous BIG EAST First Team member and a 2019 Major League Lacrosse draft selection.
"He's big, he's strong, he's developed his body into a physical presence," Amplo says. "He's learned how to use his athleticism to be a valuable lacrosse player on our team."
Anytime he's on the field, the 6-foot-3 player is recognizable, checking the ball out of opponents' sticks and using his larger frame to body smaller opponents.
Jake says his younger brother has come a long way since his freshman year.
"When he first got here, I don't think anyone would expect that he would be in the talks of being an All-American," Jake says. "But now as a senior, the sky's the limit for him. Those goals are a testament to his work ethic."
Off the field, the brothers say the Marquette lacrosse program has brought the two even closer than they had been before. Noah describes Jake as his best friend.
Walking around the lacrosse facility, the closeness of the brothers is evident. Jake pokes fun at Noah, and Noah fires right back.
Noah says there's a slight difference between the player-coach relationship and brother relationship.
"When we're outside the field and joking around, there's less pressure," Noah says. "When we're on the field, just trying to uphold the standard and help lead the guys, he looks to me for that."
Jake says he's always working to bestow lessons on his brother. He says his biggest advice to Noah is to always work hard.
"The biggest lesson is nothing is given, it's all earned," Jake says. "I just keep reminding him to keep his head down, continue working, continue to improve yourself, improve your teammates (and) focus on the defense."
But Jake says Noah teaches him more than he would've thought.
"I've learned way more from coaching Noah than I could have ever taught him," Jake says.
While their on-field actions are vital to the team's success, Amplo says they are models for every Marquette lacrosse player to come.
"(Jake and Noah) are the gold standard," Amplo says. "Every human being that comes here will be judged off of Noah and Jake Richard. That's exactly how we want our people to behave and act."