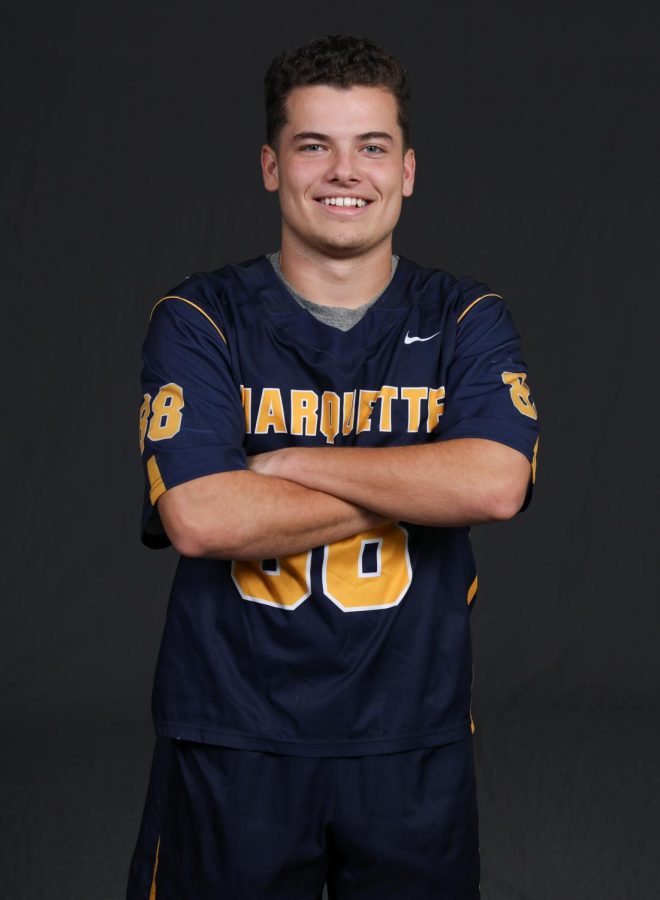 In the final scrimmage of the Marquette men's lacrosse prospect camp, head coach Joe Amplo said if Jack Devine's team won the faceoff, he would have a spot on the team.
The words created a make-or-break moment for now-freshman Jack Devine.
He won the faceoff and landed himself a spot on the roster. His spot was not as a faceoff guy, though. He was a third-string offensive midfielder. 
"When I got here, I think they had forgotten that I had taken any faceoffs," Devine said.
Despite the smaller role, the California native did not get discouraged, and he practiced as an offensive midfielder throughout the fall.
At the start of the semester, Devine spotted some of his teammates taking faceoffs against the usual faceoff get-off players: junior Jared Hershman and freshman Thomas Washington.  
Devine hadn't taken a faceoff in a while, so he decided to try a few for fun. The 5-foot-10 freshman caught the attention of the coaching staff.
"Some of the coaches saw and they're like, 'You should start practicing faceoffs,'" Devine said. "One thing led to another." 
Devine made his debut as a faceoff, get-off guy in a game against Robert Morris last month. He went 10-22 at the X, rotating with Hershman. 
Amplo said Devine was the MVP of the game because of all his earned possessions and crucial stops. 
"It gave me a lot of confidence, which is something I didn't have at the start of the semester," Devine said. "It was a really cool experience." 
His success in that game earned him more time on the field, and he has played a vital role in creating the three-headed monster of Hershman, Washington and himself at the faceoff X. 
"Jack specifically gives us depth," Amplo said. "He gives us a different ability when he gets the ball.  He has more offensive prowess."   
Devine played football in high school, which gave him a different, more gritty style of play than Hershman or Washington.
"I have my own way of getting the ball," Devine said. "When I do, I think I have an advantage." 
Devine mentioned he has learned lessons from Hershman, Washington and other teammates. He has created those bonds with his teammates on and off the field. 
Amplo described Devine as a well-liked guy off the field despite his aggressiveness on the field. 
"He's a California dude," Amplo said. "He's fitting in nicely, and he seems much more comfortable this semester than last." 
Devine has had ample accolades for the past few games, yet he mentioned that he still has a lot of work to do. He said he prefers to play as an offensive middle, so he plans to improve those skills in his next three years as part of the program.
"My goal is just to be open about wherever they want me," Devine said. "Whatever I'm doing, I want it to be the best I can do."