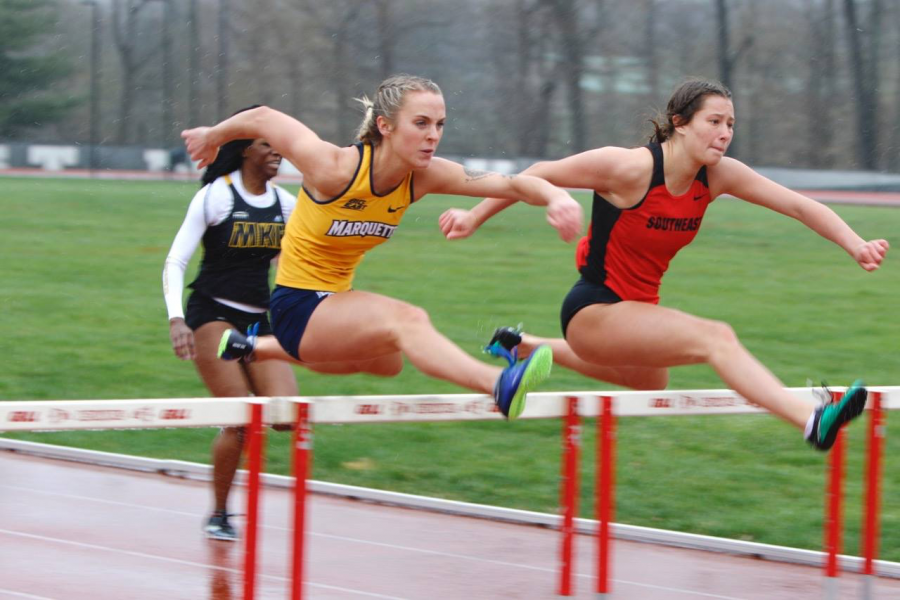 Marquette track and field finished the indoor season Feb. 23 second on the men's side and third on the women's side. Now the team is looking to carry that success to the outdoor season, which started March 15.
The outdoor season started with a spring break trip to Orlando to compete at the University of Central Florida's invitational, the Black and Gold Challenge.
Rachel Seraphine set a Marquette women's freshman record for the pole vault, clearing 3.70 meters. Joe Keezer and Bre Marchan also set personal records in the 400-meter and 100-meter races, respectively.
It was the team's first chance to practice and compete in warm weather outdoors.
"We got a few days practice in which was nice in the good weather," head coach Bert Rogers said. "If we get some good marks early, great, but really we're still training and building up for the rest of the year."
Rogers said he's excited about the transition to the outdoor season because it benefits MU's athletes.
"Going outdoors benefits us a lot," Rogers said. "There are events that shift a little bit and play to our strengths outdoors."
The indoor season started in January, and the team only had about a two-week break before the trip to Florida, so there's not much of a break between the indoor and outdoor seasons.
Rogers said the team will typically take a few days off after indoors to recover, but then it gets back and ramp up the training.
"We cycle training with harder weeks and easier weeks throughout the indoor and outdoor seasons," Rogers said. "We get our rest when needed and then build back up and get where we need to be."
The program is coming off successful BIG EAST seasons in 2018. The men won the conference championship last season convincingly, finishing 50 points ahead of second-place Villanova. The women finished third behind Villanova and DePaul, the same results as this past indoor season.
"We know we're a strong team," Rogers said. "If we bring that continual energy to practice every day, we'll be right back in the mix."
With both teams finishing just five points behind the teams in front of them in the standings during indoor season, Rogers said the teams will be extra motivated for competing outdoors.
"There's definitely a fire under us," Rogers said. "It'll probably be a slim margin again, and hopefully it falls our way this time."