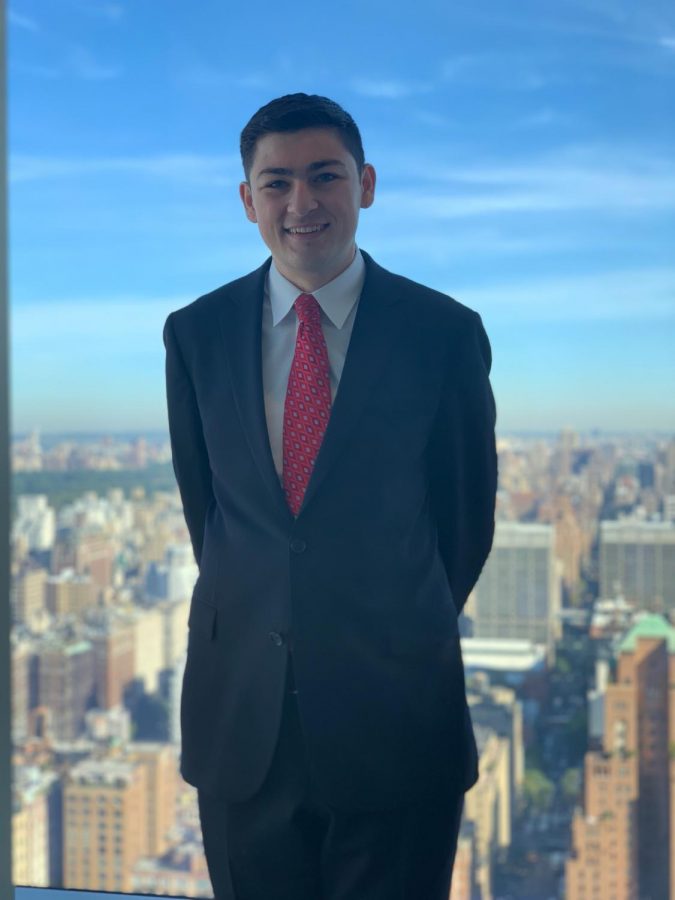 Andrew Plank and Phil Seuss, two Marquette business students, passed the first of the three levels of the The Chartered Financial Analyst Program after taking the exam on Dec. 1, 2018. This is the first of the three steps towards earning a full CFA charter. There are two more levels to complete. 
The CFA Program is a professional credential offered internationally to investment and financial professionals by the American-based CFA Institute. The test can be taken in place of a Masters in Business Administration.

Plank graduated from Marquette in December with degrees in finance and economics. He lives in Milwaukee and plans to start work in investment banking in July. Seuss is a senior with majors in finance and economics, as well as a minor in political science. He will be graduating this June.
On average, it takes candidates four years of studying and training to earn a full CFA charter. A CFA charter is the professional title candidates get after passing all three tests. Only around nine percent of candidates have consecutively passed all three levels in the past decade, Krause said. 
"Passing the CFA Program exams requires strong discipline and an extensive amount of studying,"  said David Krause, director of applied investment management and assistant professor of practice in finance.
The CFA exam is not required for finance and economics majors.
"The certification can really set you apart when looking for jobs in our field. That's why I took it," said Seuss.
Plank started studying for the exam at the beginning of the fall semester and Seuss started last summer.
"This isn't something you can just wake up a couple weeks before the exam and start studying for. You need to commit if you want to do well," Seuss said.
One of the reasons the exam is so difficult to prepare for is that it covers so much material.
"Each exam typically requires candidates to study in excess of 300 hours," Krause said.
Krause said the program covers a broad range of topics relating to investment management, financial analysis, quantitative analysis, equities, fixed income and derivatives, and requires a generalist knowledge of other areas of finance.
"I would compare the exam to taking a final exam of your entire undergraduate degree in accounting, finance and economics," Seuss said.
"You're pulling stuff from three years ago," Plank said. "We were exposed to questions about topics that we learned sophomore year." 
The exam also costs about $1,400 to take. 
"You don't want to retake (it)," Plank said.
The exam costs so much because the credential can in some cases be used in place of a MBA, Plank said. 
Both Plank and Seuss said it was hard to name an exact number of hours they spent preparing because they prepared for years.
"This is a rough estimate but I would say we probably recognized 75 percent of the material in front of us that we have seen before," Plank said. "It was just a matter of there's so much that you have to remember how to re-do it all because some of the stuff I haven't done for two years."
Both Plank and Seuss are in the Applied Investment Management program, which is a group of select finance majors that practice hands-on academic and financial analysis experience through managing domestic and international equity and fixed-income portfolios. Both students said the program helped them prepare immensely.
"Without having the AIM curriculum, it would be very difficult for someone to pass," Plank said.
The overall experience of being an AIM student contributes to the skillsets Seuss and Plank needed for level 1 of the CFA exam, Plank said. 
"Last year, I took the AIM fixed income course taught by Dr. Krause and we used the level 1 CFA fixed income book for that class," Seuss said.
Krause said Seuss and Plank have stood out in their classes as high-caliber students since he met them their freshman year.
"I have continued to grow in my admiration of their intelligence and moral compass," Krause said.
Plank and Seuss said they are both grateful for the support and guidance Krause has shown them over the years as a professor and mentor.
"Krause always had his door open for us to go and ask questions. He was really supportive," Plank said.
The students also recognized Jessica Hoerres, a CFA coordinator, as contributing to their success. She helped them sign up and dealt with minor details, Suess said. 
"Without Jess, the program wouldn't run. She was extremely helpful with signing up and making sure we were utilizing every opportunity," Seuss said.