Fleming, Patterson make crucial contributions to attack line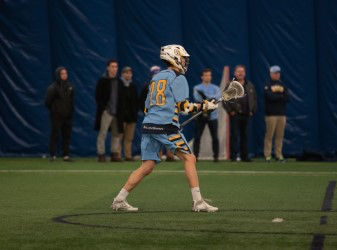 An inexperienced front line resulted in Marquette men's lacrosse shooting 23 percent in 2018.
With redshirt senior Tanner Thomson and star senior John Wagner returning, the attack unit has sought to change that statistic.
"We've been putting in extra time on shooting, encouraging guys to shoot on their own," head coach Joe Amplo said. "My hope is that if you walk past the Marquette Gym on any given evening, there's lacrosse balls bouncing out of the goal that have just went in."
Outside of Thomson and Wagner, the most important pieces of the attacking line's resurgence may be the two youngest members.
Redshirt sophomore Griffin Fleming and freshman Holden Patterson have provided the team with crucial contributions on the offensive half.
Fleming, whose older brother Blaine was a midfielder for Marquette, hails from one of the country's biggest lacrosse regions, eastern Pennsylvania. The 6-foot-1 attackman started in 13 of the 14 matchups last season, putting up 10 goals and nine assists.
"(Griffin) is a calming presence," Amplo said. "He's got this great demeanor about him. Nothing really rattles the kid. He's confident. He's a solid, steady player."
Amplo described Fleming as the "quarterback of the offense." As a player who mainly operates from the X, he often finds open cutters near the crease or drives to the goal and whips one past the goaltender.
"(Griffin's biggest) contribution is being able to drive from the X," Patterson said. "He's really good at that and getting it up to where he wants. He draws a lot of attention when he leans in, being a taller, lankier guy."
Fleming's field vision has given the program an advantage.
"He contributes a lot when we swing the ball around," Patterson said. "His ability to draw attention to the defense when he's driving up, and to step away and move the ball, he does a good job of that."
Patterson is a very different player. The freshman from Fairfax, Virginia, is a left-handed attackman who impressed the coaching staff in his first season.
"He has proven to be one of the better freshmen up until this point that we've had in the program," Amplo said. "He is just a great lacrosse player."
The team's youngest attackman also played football in high school, mainly as a cornerback and tight end, and his physicality from football has given the Golden Eagles an offensive edge.
Patterson specializes in the jump shot, dodging defenders on his way from the X and contorting his body in the air to get the best possible angle on the goal.
"That kid's a stud," Fleming said. "He's playing like he's not 19 years old. He's playing like he's 21 or 22."
"(Holden) is one of those kids that believes in himself, puts himself in the right position and he doesn't try too hard," Amplo said. "He lets the game come to him and does his job."
The two young attackmen said their play would not be possible without the leadership of Thomson and Wagner.
"Tanner and Johnny are great leaders out there, and they get Holden and I comfortable (and) get us going," Fleming said. "They make (our) job so much easier."
Amplo said Thomson leads by example, keeping the team even-keeled with his calming presence. Wagner, on the other hand, is a vocal leader, demanding the standards of the program. Amplo described it as a "good cop, bad cop" situation.
"(In high school) I didn't have someone like Johnny and Tanner, and just being able to play with them makes me better," Patterson said. "They're probably the two best players I've ever played with. It helps a lot having so many experienced guys in the offense."
Thomson said he and Wagner already see potential in the younger pair of attackmen.
"Holden Patterson and Griffin Fleming are going to be a big dynamic duo for us this year," Thomson said. "They've been watching me and Johnny play for a little bit, so hopefully that helps them out. They've got to play confident, too, and they can put some points up."
Leave a Comment