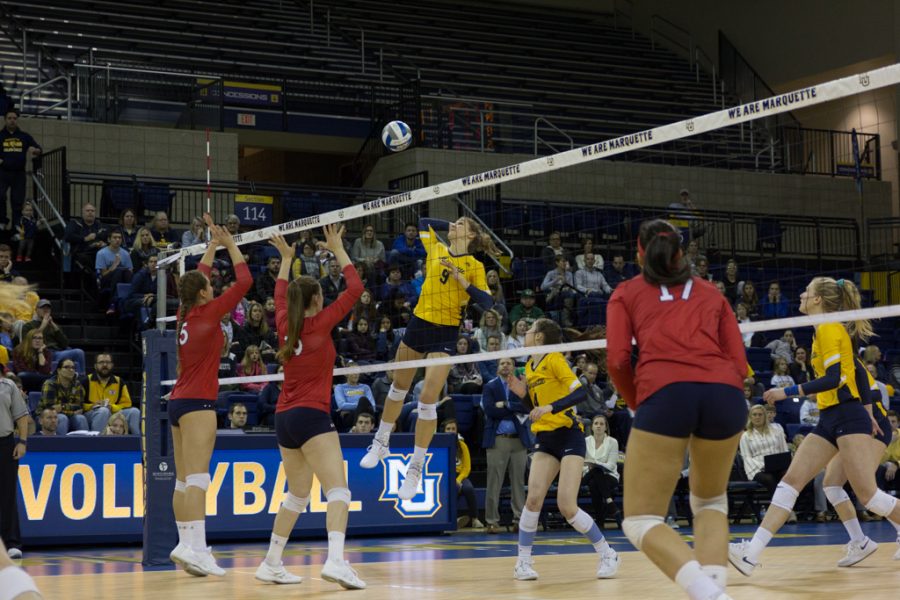 Andrew Himmelberg
In its final regular season match of the season, the Marquette women's volleyball team took down the St. John's Red Storm in straight sets (26-24, 25-19, 25-15) on Senior Night.
The matchup marked potentially the last match at the Al McGuire Center for seniors Abby Julian, Anna Haak and Jenna Rosenthal.
"Having a lot of people here, the whole lower bowl was filled at one point. That was really awesome," Julian said. "Everybody was really pumped up because there were so many extra people here."
Julian, the team's bench leader, earned her first career start in the game.
"I've never started before, so Ryan (Theis) said, 'I think it'd be really cool to have Abby out there on her Senior Night,'" Julian said. "I actually got to set, too, which I haven't done in like four years, so it was a little rough (and) a little scary. But I'm definitely glad that I got to go out there and make a little bit of a difference."
In the first set, the Golden Eagles fell behind early and struggled to fight their way back. However, down 20-17, Marquette stormed back to tie the game at 22-22 and later win the set 26-24.
"We were letting them off the hook with roll shot stuff (in the first set)," Theis said. "If they're going to hit hard and hit off our hands and score those points to beat us, we can live with that. But, if they're gonna hit soft and we're not gonna pick up in transition to score, we're just missing opportunities."
The second set was vintage Marquette volleyball. They hopped out to an early 9-4 lead and never looked back, taking the set easily, 25-19.
In the third and final set, Marquette once again captured an early lead and did not relinquish it, winning the set 25-15 to secure the victory.
"We had a lot of things go right. We did really well defensively and we all played as a team," Julian said. "I think that we all really connected well on the court."
Rosenthal also had a big night in her final regular season game. She put up a match-high 12 kills, an insane hitting percentage of 0.571 and three blocks in the game.
Junior Lauren Speckman and sophomore Sarah Rose each had 21 assists in the match, and sophomore Martha Konovodoff had a team-high 11 digs.
For St. John's, Efrosini Alexakou put up a team-high nine kills, setter Erica Di Maulo contributed a match-high 25 assists and Amanda Sanabia added 14 digs. As a whole, the Red Storm hit at a clip of 0.160 and had 19 attack errors.
Now the Golden Eagles (25-5, 15-2 BIG EAST) head into the conference playoffs as the tournament's second seed. They have a rematch with the third-seeded Red Storm (23-10, 12-6 BIG EAST) Friday in Omaha, Nebraska. The game is set for 2 p.m. Central time.
"St. John's (is) a good team," Theis said. "Offensively they can cause problems, they can block balls (and) their libero is really good. We have to find a way to game plan against them a little better because our offense was sputtering tonight."