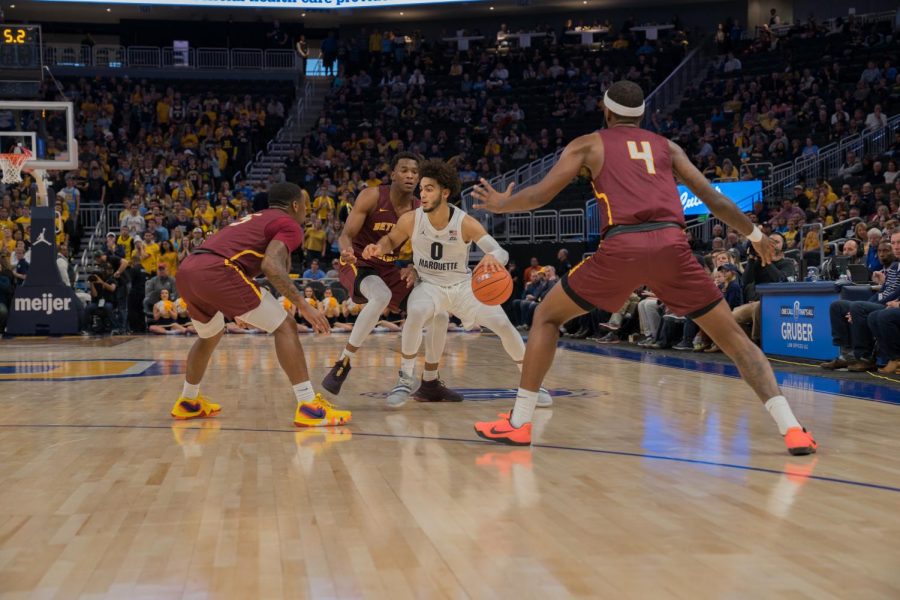 Jordan Johnson
After subpar shooting performances from Markus Howard in Marquette's exhibition over Carroll University and season opener against University of Maryland, Baltimore County, there was one person certainly not concerned.
"I'm not concerned about Markus' shooting," head coach Steve Wojciechowski said Tuesday. "(Howard is) going to make shots, and (Howard needs) to be aggressive. (Howard delivers) in crunchtime moments."
Wojciechowski was right, as the junior guard scorched Bethune-Cookman University for 37 points in Marquette's 92-59 win over BCU Saturday at Fiserv Forum.
"My approach in each and every game, when I come out from when the ball gets in the air, is to be aggressive," Howard said.
He did so at an efficient clip, shooting 63 percent from the field and 70 percent from long range.
He finished the game seven points short of the program record for most points in regulation.
"Today he got going and really created some separation in the game early after not starting the game particularly well," Wojciechowski said. "Certainly Markus' shooting was pretty good today."
Howard finished the first half with more 3-pointers and assists than all of Bethune-Cookman's roster. His 26 points at halftime were the most he's scored in the first half of a game.
The perimeter barrage continued in the second half, with Howard hitting two threes in the first four minutes.
Marquette's offense shot 51 percent from the field and 52 percent from 3-point range but suffered 22 turnovers. That included eight turnovers in the first nine minutes of the game.
"We got a little bit out of character," Howard said. "We tried to make some home-run plays we didn't need to make, but that's just something we're going to have to continue to get better at."
Sam and Joey Hauser were the only other Marquette players to finish with double-digit scoring, putting up 10 and 11 points, respectively.
"We have a number of guys on our team that can have that (scoring outburst) any night," Howard said. "It could be Sam's night one night. It could be Joey's night one night. It could be Brendan's night one night. … When we're rolling on all cylinders like that, we're a really tough team to beat."
The win was not necessarily always a sure thing. Marquette had eight turnovers in the first nine minutes, but redshirt junior Ed Morrow sprinted down the court to block a Cletrell Pope fastbreak layup. Wojciechowski described it as "the play of the game," repeatedly pounding the dais for emphasis.
"That was one of the best plays I've had a player make since I've been the coach at Marquette," Wojciechowski said. "It was the ultimate hustle play, it was a momentum play and if you look at what we did from that point on, the game changed significantly."
Marquette will have a much tougher task Wednesday night, visiting the Indiana Hoosiers. The Hoosiers are unofficially No. 28 in the Preseason Associated Press Top 25 poll and ranked 26th on KenPom, a prominent college basketball analytics site.
"Obviously at Indiana, there's (sic) not a lot of places that beat that," Joey Hauser said. "Playing in a hostile environment like that is going to be cool for me."
Indiana has won its first two games by a combined 94 points against Chicago State and Montana State.
"It is a great basketball program," Wojciechowski said. "Archie (Miller) is one of the best basketball coaches in the United States, and they have very, very talented players."