Volleyball notches third consecutive sweep over Xavier
Marquette volleyball received its third successive BIG EAST win against the Xavier Musketeers (25-19, 25-14, 25-20) Wednesday at the Al McGuire Center.
In the opening set, though Xavier had a quick 6-4 lead, but Marquette battled back for a 13-10 advantage. However, the Golden Eagles dominated the rest of the set, winning 25-19.
"I was pretty good at finding open spots in the floor hitting," Barber said.
At the end of the first set, senior Anna Haak led Marquette with a hitting percentage of 1,000. She had five kills and no errors. Barber also had five kills and hit at a 0.345 clip. As of this week, Barber lead the BIG EAST with five kills per set and is 14th nationally.
"Allie and Anna in particular were terrific," head coach Ryan Theis said. "They were pretty much lights out. It can be deflating for an opponent to have people attacking that efficiently."
The Musketeers struggled in the first set to attack efficiently, hitting only 0.138 with 11 kills.
In the second, it was much of the same Golden Eagles' dominance from Barber, Haak, Madeline Mosher and redshirt senior Jenna Rosenthal. The Golden Eagles led by as many as 11 points and won the set 25-14.
Marquette posted their best hitting percentage of the year, 0.545, in the second set with 18 kills on 33 attempts with no errors. Xavier struggled keeping up with the Golden Eagles' offense in the second, which made Theis' job easier.
"At that point everybody's feeling good, so they don't need much from me," Theis said.
The third set was much more competitive. There were 11 total tie scores, and Xavier had a 17-14 lead at one point. Marquette pulled away though with a 25-20 set win.
"We couldn't string points together," Theis said. "It was tough to get in the rhythm, so it was just a matter of trying to hit a good serve, play some good defense and start scoring again."
Three Golden Eagles notched double-digit kills. Barber had 14 kills, Rosenthal had 12 and Haak had 10. Junior Lauren Speckman had a match-high 25 assists, and sophomore Martha Konovodoff totaled 13 digs. The team finished with a 0.419 hitting percentage.
Marquette struggled with its serving, picking up five aces but committing nine errors.
"We missed a couple serves in game three, and that made it kind of hard to get into rhythm," Barber said. "But when it counted, I thought we made them and served hard."
Xavier had one ace and three errors. As of Oct. 1, the BIG EAST leader of service aces, Mackenzie Mangette, notched the Musketeer's only ace.
No Musketeer reached double-digit kills. Grossman led Xavier with nine kills. McKena Estes had 16 assists. Xavier finished the day with its best hitting percentage of 0.375.
Marquette now owns a 13-9 record all-time against Xavier. The No. 19 Golden Eagles (13-4, 4-1 BIG EAST) will head to Chicago this weekend to take on the DePaul Blue Demons. The game is slated for 12 p.m. Central time.
About the Contributors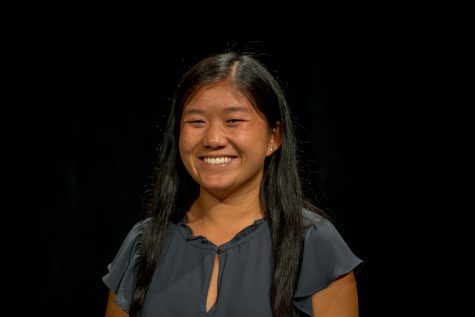 Zoe Comerford, Executive Sports Editor
Zoe Comerford is the Executive Sports Editor for the Marquette Wire. She is a junior from Naperville, Illinois, majoring in journalism and Spanish and...