Volleyball downs Georgetown in straight sets
Coming off a loss to No. 10 Creighton in Omaha last week, No. 20 Marquette flew back to sweep the Georgetown Hoyas in its BIG EAST home opener (25-18, 25-13, 25-20) Friday night.
Redshirt senior Jenna Rosenthal hit an important mark in her career in the win, becoming the all-time leader in assisted blocks. Rosenthal's performance Friday night helped her to surpass Meghan Niemann's record of 412.
"The really important thing in that title is assisted blocks," Rosenthal said. "That record doesn't come without teammates and having my pin blockers, Hope (Werch), Anna (Haak), Allie (Barber), setting up for me (and) doing good stuff. Madeline (Mosher) too."
In the first set, the Golden Eagles got out to 19-12 lead and eventually took the set 25-18. The opening set was Marquette's strongest, as the team posted a collective hitting percentage of 0.361.
The Golden Eagles limited Georgetown middle blocker Symone Speech to a clip of 0.133 in the first set.
"We knew (Speech) and (Iva Vujosevic) would get a lot of balls, and we needed to try and get some stops on them," head coach Ryan Theis said. "We finally got some blocks. We've been working on it a lot for two weeks (but) it didn't show up last week. We've been playing a little bit better defense."
Marquette carried that momentum into the next set, quickly taking a 5-0 lead and winning the set 25-13. The Hoyas capitalized on only eight of their 38 kill attempts in the second set.
"We did a really good job serving Georgetown out of system," Rosenthal said. "It actually makes blocking quite a lot easier when bad passes mean fewer options for them."
The Golden Eagles only hit at a 0.167 clip in the third set, their worst hitting percentage of the set, but squeaked away with a 25-20 win in the third set to complete the sweep. Marquette never led by more than five points in the final set.
Overall the first two sets went well for the Golden Eagles, however, the Hoyas stepped up their game in the third set as they improved to a 0.121 hitting percentage. Marquette's biggest lead was five points in the final set.
"Our first and second touch were really good and our hitters were able to keep putting pressure on people over and over again," Theis said. "In the third game, I thought we missed that a little bit."
Vujosevic led the Hoyas with eight kills, and Speech added four kills. Margo Pivonka had a match-high 23 assists, and Kenie Higareda had 18 digs.
Junior Allie Barber led the Golden Eagles with 13 kills. Senior Anna Haak had seven kills. Sophomore Elizabeth Orf lead the team with a hitting percentage of 0.667. Meanwhile, junior Lauren Speckman finished with 18 assists, and sophomore Martha Konovodoff had 13 digs.
The Golden Eagles (11-4, 2-1 BIG EAST) host the Villanova Wildcats (10-6, 2-1 BIG EAST) Saturday at 6 p.m. Last season the two teams split the regular season series, but Marquette has a 14-4 advantage in the all-time series.
"They've been tweaking their lineup a lot using some different pieces in some different spots," Theis said. "We have to serve well, we have to side out and hopefully continue to get better at blocking and defense."
Leave a Comment
About the Contributor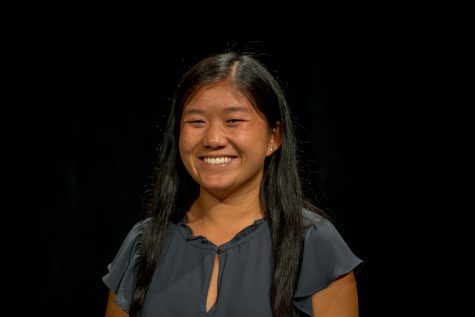 Zoe Comerford, Executive Sports Editor
Zoe Comerford is the Executive Sports Editor for the Marquette Wire. She is a senior from Naperville, Illinois, majoring in Journalism and Digital Media...