Volleyball won't let ranking affect team mentality
Being a ranked team is a new concept for Marquette women's volleyball.
This is the first time in head coach Ryan Theis' tenure that the Golden Eagles have entered the American Volleyball Coaches Association Coaches Poll in the top 25. After first receiving a spot in the poll last week, the Golden Eagles moved up to No. 21, the highest spot in program history.
The last time the team broke into the rankings was in 2013 under head coach Bond Shymansky. Marquette was also selected to win the BIG EAST for the first time in program history, earning six first-place votes.
The Marquette Invitational last weekend was a good test of how the Golden Eagles would do playing elite-level volleyball.
Marquette started its weekend on a high, beating No. 10 University of Southern California 3-2 (21-15, 25-20, 25-21, 31-33, 15-11). This was just the team's third all-time victory over a top-10 opponent, three during Theis' career with the Golden Eagles.
"Our defense really did a good job of defending around our block," junior outside hitter Allie Barber said. "We got some good touches in the game, and I thought we executed well in the end."
The other two times downing a top-10 opponent were in 2014 against then-No. 7 Florida and in 2016 against then-No. 7 USC, the same team the Golden Eagles beat Friday. Theis said the two victories against USC were more different than similar.
"(Beating USC in 2016) was an opening match of the year, and so it was kind of an 'I don't know what to expect,' Theis said. "Both teams were a little higher on that one too, and both teams are a little higher error than probably we wanted to be in this one."
It's hard not to be thrilled by the national ranking.
"Everyone was incredibly excited because this was our first top-25 ranking since I've been here," redshirt senior middle blocker Jenna Rosenthal said. "We were really excited to have cracks at No. 3 and No. 10 and show what we're made of against some of the higher-ranked bigger name schools in the country."
Players inevitably keep an eye on the rankings, but Theis said he tries not to dwell on it too much in practice.
"That stuff is about voting, and at times, popularity or, 'What have you done for me lately,'" Theis said. "We're more concerned about RPI and the body of work. We thought for the body of work with this tough schedule, that this is a win that would help us with that body of work."
Marquette already played No. 3 BYU and No. 10 USC. The Golden Eagles still have a tough non-conference schedule ahead of them as they face in-state rival No. 6 Wisconsin Friday.
"We just have to keep polishing up every little piece of what we do. I'm really really excited to take on (Wisconsin) and kind of avenge our loss in the first round of the (NCAA) tournament," Rosenthal said. "So tougher serving, keep them out of the system, tougher blocking, making sure that we get a touch on everything that crosses the net and of course putting the ball down when we get really good opportunities."
The biggest thing the team has taken away from this weekend is that they need to improve their game defensively, seeing the open court and expecting what is going to happen next.
"We left some points out there in some situations where a Syracuse play was obvious or a BYU play was obvious and our defense wasn't reacting quick enough to that scenario," Theis said. "We've got to see what's going on on the other side of the net a little better."
The Golden Eagles have plenty of work to do going into another three-game sequence, facing Wisconsin, Tulsa and Illinois State next weekend.
"We've just been trying to get better each week and prepare for tough matches," Theis said. "I don't think that mentality changes. I think we've got to stay focused this week, we'll take an off day tomorrow so that they can rest and recover and Tuesday we'll be back to work."
The new concept of being ranked has not phased the Golden Eagles yet.
"Now that we've become more successful in the past, the top-25 ranking sounds like something we've earned and we've worked for for many years before," Rosenthal said. "All the people that have graduated worked for this and now it's just coming to fruition this year."
And now the program is on the national radar.
"We've done a lot of work behind the scenes for a while," Rosenthal said. "Marquette volleyball is just getting on the radar of the national volleyball scene."
About the Contributor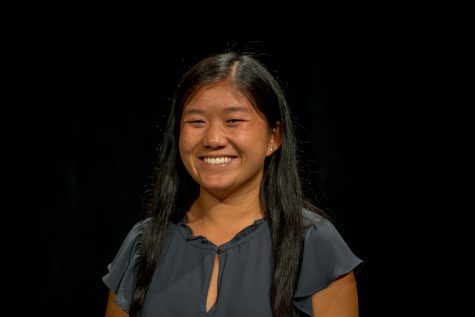 Zoe Comerford, Executive Sports Editor
Zoe Comerford is the Executive Sports Editor for the Marquette Wire. She is a senior from Naperville, Illinois, majoring in Journalism and Digital Media...