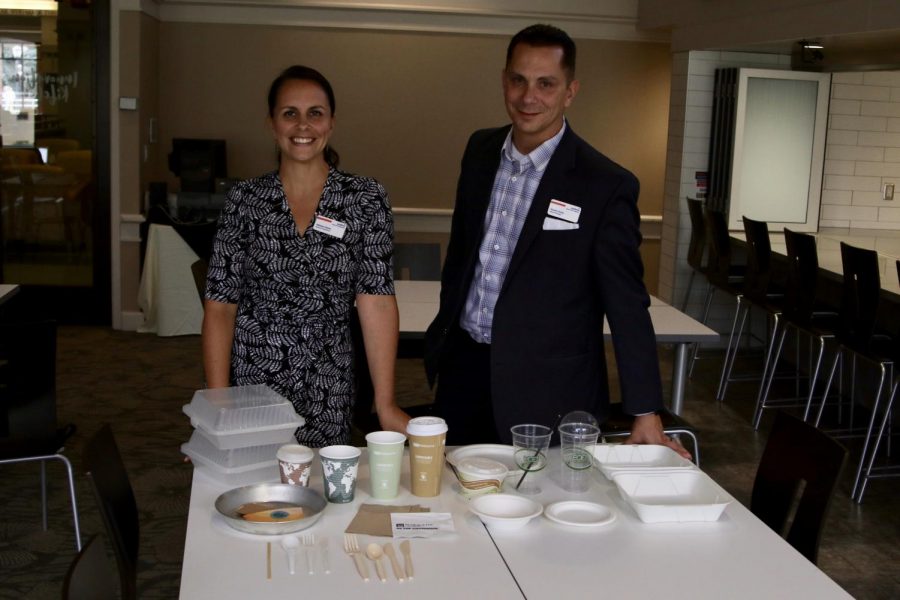 Sodexo, Marquette's dining services company, recently announced a switch from plastic to paper straws, but some on-campus dining locations continue serving plastic straws.
Sodexo hopes to have plastic straws completely replaced paper straws within the next two months, said Melanie Vianes, director of operations for retail and catering.
"We are currently working all of our plastic straws out of circulation," Vianes said.
Donato Guida, general manager of Sodexo, said the two-month wait is necessary for practical purposes.
"It's not sustainably or fiscally responsible to just throw out all the straws all at once," Guida said.
Guida said Marquette's eco-friendly dining efforts have led to collaboration with other schools. He said Marquette has set an example for others.
"I've had at least 50 campuses call me," Guida said. "It's always good to be the benchmark and be ahead of the game because, most importantly, it's the right thing to do."
Lucila Radke, a freshman in the College of Arts & Sciences, said the switch to plastic straws could be an issue for those with disabilities. She said plastic straws are more bendable than paper straws.
"I think it's a good idea, but it could create problems if the alternative isn't as flexible as plastic," Radke said.
Sometimes it takes many tries to figure out the best way to create sufficient utensils while being environmentally friendly, Vianes said. She said designs are always evolving for compostable utensils and one-time-use items.
"Our utensils used to be made out of potato, but now they're made out of a more durable compostable plastic," Vianes said.
The Marquette Sodexo website said the company scored 78 percent for its "excellent sustainability performance," and was the top-scoring company in its sector.
Vianes said the student culture on campus regarding eco-friendly solutions must change to truly make an impact on campus. She said the university is working to get students to subconsciously think green.
Guida said the dining halls have also been seeking to reduce usage of water in chemicals in kitchens. The university already got rid of all food trays in an effort to save water, Guida said.
"We have to wash all the trays, and it's a big waste of water and chemicals," Guida said.
However, Guida said students can still go up as many times as they want to get food.
Guida said the first way the company began its push for environmentally-safe dining was with reusable containers for to-go orders, called OZZI containers. He said Marquette was one of the first schools in the country to utilize the containers.
All freshmen received an OZZI coin during move-in, which they can enter into machines for new, clean containers.
"Most students will take a safer, reusable container without even thinking about it," Vianes said.
There are other outlets that Marquette dining has partnered with to set the tone for what the university looks for in sustainability, according to the Marquette Sodexo website.
The website said Sodexo partnered with Compost Warriors and Campus Kitchens Project to help Marquette redirect excess trash from landfills, giving leftover or unused food to others in need "for a greater purpose."
Guida said the university decided to make all of these changes toward composting and sustainability because "We're Marquette."
"We're not trying to be like everyone else," Guida said. "This is our campus, and this is what we believe in."