Basketball player Tori McCoy battles rare kidney disease, looks for donor
Hang on for a minute...we're trying to find some more stories you might like.
When women's basketball redshirt sophomore and transfer from Ohio State Tori McCoy started feeling ill in November, she had a feeling this was worse than the typical flu bug. She described it as "extreme fatigue."
"When she started getting sick in November, we knew something was a little bit off," head coach Carolyn Kieger said. "Thank God our doctors and our team trainers decided to get her tested."
The results of those tests were far worse than the flu or "fatigue." She was diagnosed with Focal Segmental Glomerulosclerosis, a rare kidney disease that attacks the glomeruli in the kidney. A glomerulus is the part of the kidney that filters toxins and wastes through blood vessels.
The former McDonald's All-American and top-10 recruit had 80 percent damage in both kidneys.
"The first emotion (for Tori) was shock," Kieger said. "It was, 'Wait, is this serious?' and then, 'What does it even mean?'"
She immediately went to the emergency room and started dialysis treatment. She was in the hospital for the next 10 days.
"Once they got our test in, the results came back, she was pretty much (admitted) in the ER that night," Kieger said. "At that point we knew obviously it was going to be life-changing."
It's also the first time the 34-year-old head coach experienced anything like this with one of her players.
"You're not prepared to deal with something like this, nor should you ever have to or want to," Kieger said. "As a coach, obviously it's a traumatic event that you pray never happens to anyone you know or your team."
For McCoy, this meant four-hour dialysis treatments three times a week. 12 hours of treatment a week consistently exhausts her.
The illness has almost entirely kept her off the court in practices. She has a port for the dialysis on her chest, and working out with the port would cause risk an infection.
"She can shoot around, she can touch the ball, she can jump on a bike or (she can) walk on a treadmill a little bit," Kieger said. "But she is definitely not exerting herself too hard right now."
Despite the diagnosis, McCoy has remained enrolled as a student, going to class, practices and games like any other player.
"It's been remarkable what she's done and then how has she balanced that," Kieger said. "She's really had to work on her time management. She's really had to learn her body. You know, she studies sometimes while she's at dialysis. She studies sometimes here at the Al (McGuire Center)."
Her parents live in Champaign, Illinois, making it difficult to help McCoy, Kieger said. Though they can't stay for every dialysis or doctor appointment, they set up a GoFundMe to find McCoy a new kidney.
The coaching staff picked up many responsibilities that would traditionally fall on family members. Kieger especially credited athletic trainer Mary Wieczorek and director of program development Rachel Sander.
"First and foremost, we want to make sure Tori is taken care of (and) she is as healthy as she possibly can be physically and mentally, and that she is surrounded by a good support system," Kieger said. "My staff has been phenomenal. They've been there every step of the way."
Kieger makes sure someone from her staff is available to go to dialysis or doctor appointments with McCoy. Sometimes they pick her up and drop her off. Other times, they stay for all four hours of the dialysis treatment to support her.
"Her parents have been up here for some of (the appointments), but because they live in Champaign, they're not able to be here the whole time," Kieger said. "So we're able to to help her in those moments."
McCoy has also benefited from the rest of the team supporting her. Teammates immediately wanted to see if they could donate their kidneys, but they couldn't because of donor recovery time and the toll the operation and recovery take on the donor. The average recovery period typically lasts four to six weeks. 
"When (the team) found out, there was a lot of tears. There were a lot of questions. There was a lot of fear," Kieger said. "The first thing that the entire team asked is, 'Well, you know, can we donate our kidney for her?' To hear that, that's pretty impressive and remarkable."
This gave McCoy an opportunity to raise awareness of the importance of organ donations. She spoke on a panel at Marquette earlier this year about organ donation as part of her efforts to spread the word about organ donation.
"While this request directly affects my own situation, I hope to also raise awareness for organ donation at large," McCoy wrote in a team-released letter.
"She's using this traumatic event as a platform to help others," Kieger said. " It's been a very hard situation that she is finding good out of and finding a way to help."
The next step for McCoy is to get a kidney transplant. She is on the transplant list, but a live donor would best suit her moving forward.
"Finding a live donor is the best option available and would be an answer to my prayers," McCoy wrote in the letter. "Because I am so young, a kidney would dramatically increase my long-term survival and allow me to resume a schedule more typical for a college student and young adult."
Patients who receive kidneys from a live donor typically live longer than those who receive a transplant from a non-living donor.
She understands that this is not an easy request to make.
"I fully understand asking for an organ donation is substantial, but I also believe in the generosity and compassion of others and hope that by sharing my story, others will be impacted," McCoy said.
In the meantime, McCoy's port for dialysis will soon move from her chest to her arm, which Kieger expects will allow McCoy to do some workouts. However, until a live donation occurs, her playing career at Marquette is in limbo.
"Basketball will hopefully take care of itself if the transplant is successful," Kieger said. "We pray that there's a time where she's back running up and down the court and wearing a Marquette uniform."
But even if she can't play a minute of basketball in blue and gold, she's still part of the Marquette family.
"We don't know if Tori will ever get to wear a Marquette uniform or not, but that doesn't matter," Kieger said. "That doesn't not make her family. It doesn't not make her someone that we rally behind and we support."

About the Writer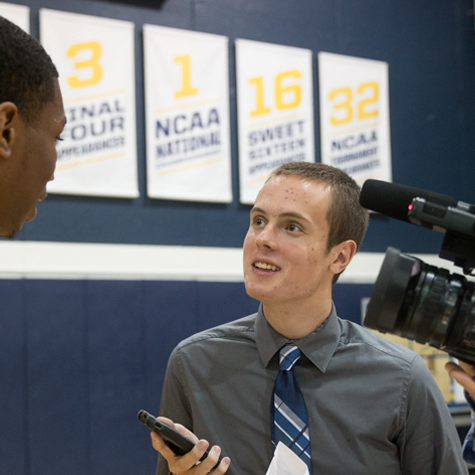 John Steppe, Executive Sports Editor
John Steppe is the executive sports editor for the Marquette Wire. He is a junior majoring in journalism and double-minoring in digital media and Spanish....