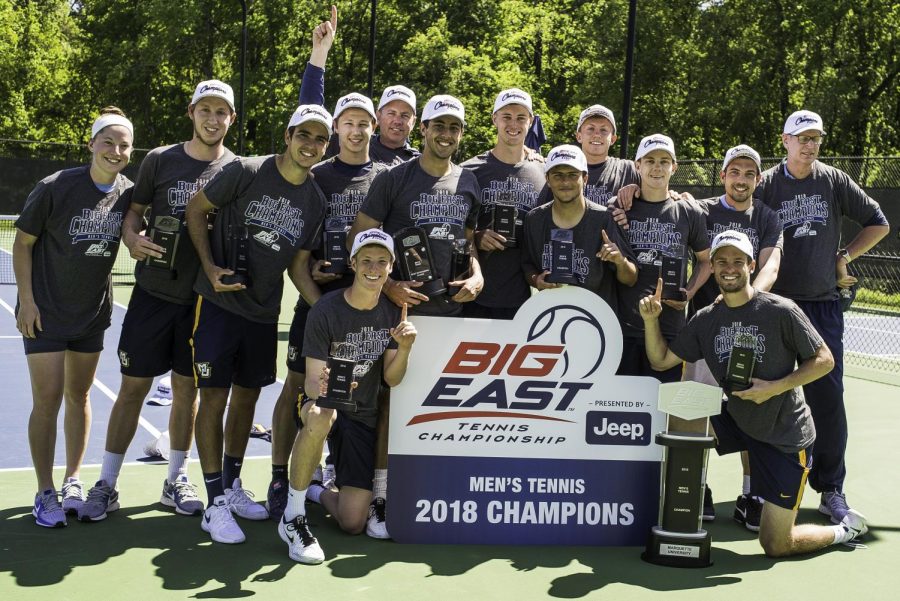 The men's tennis team's flight back from South Carolina was not the average late-night flight.
"We were definitely the loudest ones on the plane," lone senior Scott Christian said.
The team had just won its first BIG EAST title after three consecutive empty trips with a 4-1 victory over the DePaul Blue Demons. After losing the opening doubles point, the Golden Eagles ripped off four consecutive singles wins to clinch the program's first full-team appearance at the NCAA Championships.
"I feel very blessed. I'm just so excited for the guys," Christian said. "We've worked very hard for this moment."
Marquette (17-6) will find out its first-round foe and location during the NCAA Selection Show on May 1 at 4:30 p.m. Marquette will play either May 4 or 5 and most likely won't be seeded in the 64-team tournament. Only 16 of the 64 teams are seeded.
"We're going to enjoy the moment right now, but I think once we come back to practice, we're going to have to dial in again and know that we're going to have a big hill to climb," Christian said. "We're definitely going to prepare ourselves to give them our best crack at it."
The NCAA Championships are similar to the BIG EAST Tournament in its dual-match structure. The Golden Eagles will play against another school as a team.
While Christian said the team goal is win an NCAA title, he said his individual goal is much more attainable.
"I think for me and Lukey (Smrek) to play really well and compete as hard as we can," Christian said. "And leave the court feeling like I gave it my all and there's nothing left for me to give out there."
Head coach Steve Rodecap is a member of the NCAA selection committee, so he cannot comment on his team's specific NCAA placement. However, Rodecap attributed the success of this year's team, especially the BIG EAST title, to all of the  graduated players that have helped to shape the program into what it is today.
"I want to thank all of the players who have helped build the foundation of this program," Rodecap told GoMarquette.com. "We have obviously been very close in recent years, and this title is as much theirs as it is this year's team."
"It doesn't matter who we play," Christian said. "Whoever we play, we're going to play our best, seeded or not."