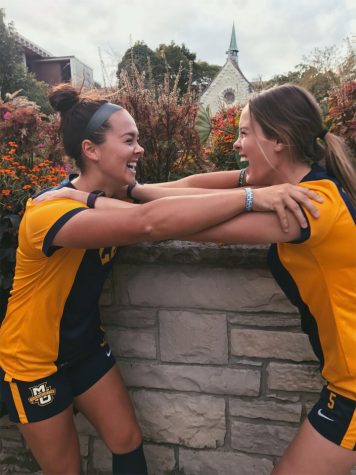 Photo Courtesy: Abby Hess
Abby Hess and Mary Kate Simon initially volunteered at Campus Kitchens to earn Spirit Cup points for the women's soccer team. The Spirit Cup is a points-based competition based on what student-athletes do in the community, classroom and supporting other athletes. At the end of the year, one of Marquette's athletic teams is awarded the cup for its athletes' commitment to service, academics and on-field performance.
Despite initially going for points, the duo said the driving force to return each week stems from the kindness of their hearts.
"It's not about (Spirt Cup Points)," Simon said. "Service is more about giving back to the community and doing what we can do off of the field."
They got the points, but also developed a new perspective on life after working at Campus Kitchens, a student-run organization that provides unused food to non-profit partners in the Near West Side neighborhood.
"Every time we go it's like, 'That felt good,'" Simon said. "You know that we're doing something for something bigger than ourselves."
Neither player has to travel a long way to give back. Campus Kitchens is located on campus in the basement of O'Donnell Hall.
"It's really nice to see Campus Kitchens on our campus," Hess said. "The homeless shelter is right there (too) and we're giving these meals to them."
Volunteering is difficult during the season because of practice and travel schedules. During a 21-day stretch in September, the team played five of six games on the road in locations ranging from Rhode Island to Indiana. That lack of availability in the fall pushes Hess and Simon to take advantage of opportunities in the spring.
"The service that we do is mostly team-coordinated at a soccer event, or something for soccer," Hess said. "So, after season it's really nice to branch out and find other organizations we can contribute to."
Through volunteering at Campus Kitchens, the duo said they have had the opportunity to build relationships with teammates and non-athletes alike. What the soccer duo initially did just for Spirit Cup points has since evolved into an enjoyable tradition. Simon said making an assembly line and tossing the wrapped muffins into a bucket is one of her favorite Marquette memories so far.
"We laugh and have fun. It's not only just focus or hard work," Simon said. "It's like you're doing something for the community with your friends, and it's an opportunity to have fun with it."