Villanova onslaught sends Marquette out of the BIG EAST Tournament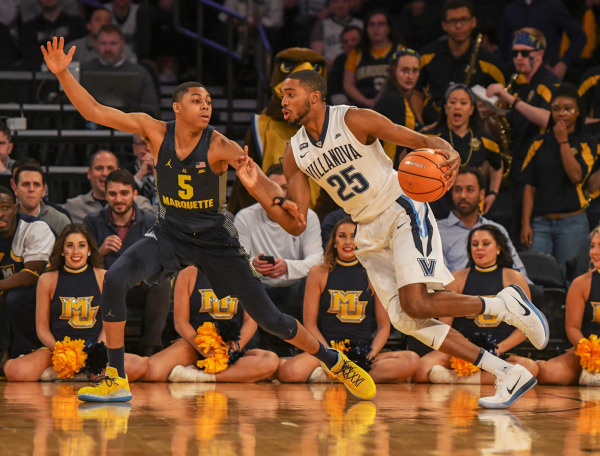 For a little bit, the script for a Marquette upset seemed to be in progress at Madison Square Garden.
The No. 2 Villanova Wildcats made only two shots in the first nine minutes and 33 seconds of the game despite getting a surplus of open looks. Marquette sophomore Markus Howard and senior Andrew Rowsey seemingly could not miss, combining for 30 points on 7-for-14 from beyond the arc in the first half. Everything was breaking Marquette's way.
Then the Wildcats tore up that script, burnt it and buried the ashes.
A 12-0 Villanova run in the second half stretched a modest three-point Marquette deficit to a 15-point hole in just over four minutes. There was no recourse for the Golden Eagles (19-13), ending their BIG EAST Tournament run in the quarterfinals for the fifth consecutive year in the 94-70 loss.
This defeat leaves the Golden Eagles' NCAA Tournament hopes in the hands of fate. Although Marquette's four Quadrant One victories will be hard for the selection committee to ignore, key losses on the road to DePaul and St. John's might keep Marquette out of the big dance.
"I believe we're an NCAA Tournament team," Marquette head coach Steve Wojciechowski said. "But that's not something I get to decide on."
Marquette actually led for 22 seconds of the first half following a straightaway three from Howard with 5:43 remaining to put the Golden Eagles ahead, 23-20. A 3-pointer from Villanova's Donte DiVincenzo and 4-point play from junior Mikal Bridges quickly eradicated it, however.
While Marquette did not see the lead again after that point, Howard and Rowsey kept the game relatively close throughout the first half. The duo scored 30 of the Golden Eagles' 34 halftime points. It was a marked change from Howard's four-point, 2-for-6 performance against the DePaul Blue Demons Wednesday night.
"I have to come out aggressive and do what I can for my team," Howard said. "I knew that's what I had to do today, and I just tried to do that from the jump. But there were certain spurts where you need to let the game come to me."
If there was any doubt of Villanova winning after its 12-0 run, the Wildcats' 3-point barrage swiftly removed it in the final 13 minutes of the game. Nine of the Wildcats' 13 treys in that time period found the bottom of the net, including five in a row. Villanova didn't miss a field goal for over seven minutes.
"I'm glad we do shoot it well in (Madison Square Garden)," Villanova head coach Jay Wright. "Thank God for that."
Bridges was dynamic for Villanova, scoring 25 points on eight rebounds and four assists. He was matched up with several different Marquette big men over the course of the evening and took all of them to the hoop.
Point guard Jalen Brunson joined Bridges in his onslaught. The BIG EAST Player of the Year dropped in 21 points on 8-of-13 shooting. In three games against Marquette this year, Brunson averaged 26.3 points.
"Jalen (Brunson) and Mikal (Bridges) are our leaders," Wright said. "They know, to start the game, they've got to get us going. And then after that with those two, their experience allows them to just read how the defense is playing them."
If Marquette doesn't make it into the tournament, they will likely host opening rounds in the National Invitation Tournament in Milwaukee next week.
In the meantime, all that's left for Marquette to do is wait for Sunday and try to go about business as usual.
"We have to use the next three days to get better," Wojo said. "We still have season left. So we need to get better and we'll try to approach it that way."