PREVIEW: Hauser dinged up, still determined to make impact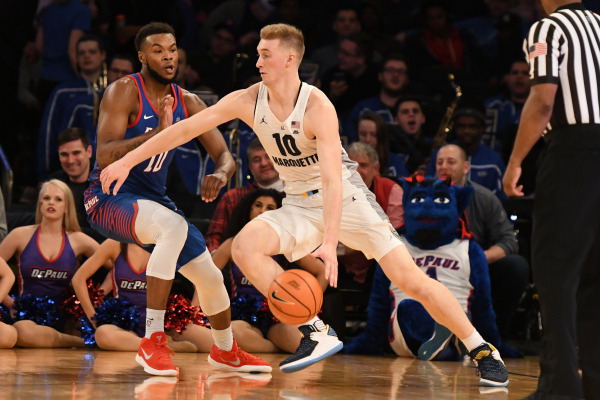 Hang on for a minute...we're trying to find some more stories you might like.
As Marquette's eventual 72-69 victory over DePaul approached its conclusion, it was hard not to notice the toll the game took on sophomore wing Sam Hauser.
When Marquette was in transition, Hauser gingerly jogged up and down the court instead of vigorously running as he usually does. With the Golden Eagles up five and three and a half minutes left, Hauser backed into a post-up on the right block, dribbled a few times, then turned around for his patented fadeaway jumper.
Instead of finding its way into the net, the shot barely had enough oomph to deflect off the front iron.
It was another sign that something with Hauser was off, although it would be hard to notice just from his 16-point stat line, including 14 in the second half. Hauser stayed optimistic about his physical state after the game, adding that he fully expected to play in the next game. "A couple of nicks and bumps here and there," Hauser said. "I'll be alright."
The Golden Eagles will need Hauser, one of the team's most versatile players, to be in playing form today against the Villanova Wildcats, doubling up as the No.2 team in the country and seed in the BIG EAST Tournament. Villanova beat Marquette twice this season and in both games, Hauser had quiet scoring nights by his standards, dropping in only five points in Philadelphia and 13 in Milwaukee, both below his season average of 15.1.
In order for Marquette to stand a chance against one of the best offenses in the nation, Hauser will probably need to hit a couple of 3-pointers. Marquette is 15-4 when shooting 40 percent or better from beyond the arc and 4-8 when that doesn't happen. Hauser has been a big part of that, as he's fifth in the nation in 3-point percentage at 51.1 percent.
However, Marquette will likely need to do more than just sink threes. "I think more than anything, it's about good decision-making and taking what the defense gives you, which against Villanova is not easy to find," head coach Steve Wojciechowski said.
Fortunately for Marquette, there's more to Hauser's game than just scoring. He leads the team in rebounds per game (6.0) and often draws the toughest defensive assignment. Against DePaul, he was tasked with guarding junior Max Strus, who finished with 22 points on 7-of-17 shooting. Tonight, he'll likely defend several different Villanova wings, including presumptive NBA draftee Mikal Bridges.
"It tests me," Hauser said. "I like that. I always like a test. I like to compete, and I try to prove myself against those types of players."
A tight BIG EAST Tournament schedule isn't doing Hauser or his Marquette team any favors, especially on their legs; the game against Villanova comes 19 hours after a win against DePaul that came down to the final possession. Prior to this, Marquette's quickest turnaround between games was just under 21 hours in November's Maui Invitational. These are the only two times this season where Marquette has had a pair of games within the same 24-hour span.
If the full docket is an impediment for Marquette, neither Hauser nor Wojo expressed it, especially not after such a hard-fought game.
"Whether we play at 9.00 a.m. or 9:00 p.m., the opportunity to play tomorrow is a gift," Wojo said. "We need to make the most of it without making excuses."
"That was the epitome of 'survive and advance,'" Hauser said. "It'll be good to get back out there tomorrow and get another crack at 'Nova."