Creighton made a mistake against Marquette while down one point with 3:20 to go in the second half. Teams make these micro-issues all the time but usually get away with it unscathed.
Not this time.
As Marquette senior Andrew Rowsey dribbled the ball about 30 feet from the hoop, sophomore Sam Hauser ran over to set a screen for him before quickly scurrying toward the basket. A miscommunication between Bluejay guards Davion Mintz and Marcus Foster left both of them taking a few steps in Hauser's direction, leaving Rowsey alone.
As soon as Mintz's feet encroached on the 3-point line, Rowsey started his shooting motion, knees and elbows perfectly aligned, and shoulders brought slightly forward. By the time Mintz recovered a half-second later, the ball was already in the air, spinning toward the hoop.
"I just saw both guys go and when you're out there playing, you don't really realize where you're at," Rowsey said after the game. "I kind of realized once the ball was in the air, 'Wow, that's pretty deep.'"
Rowsey's feet touched down just outside the blue, circular decal labeled with the name of Al McGuire, Marquette's legendary coach and namesake of the court. Several feet away, current head coach Steve Wojciechowski prayed.
"I was hoping Coach McGuire was looking down from heaven and would help that ball find the bottom of the net," Wojo said. "Coach McGuire was probably watching down on that shot."
McGuire may have been watching down on a lot of Rowsey's shots at Marquette, because the 5-foot-11 guard out of Lexington, Virginia, has consistently hit preposterous 3-pointers like this one since stepping foot onto campus at the University of North Carolina-Asheville nearly five years ago. As an undersized shooter with limited defensive capabilities, most major Division I coaches overlooked Rowsey.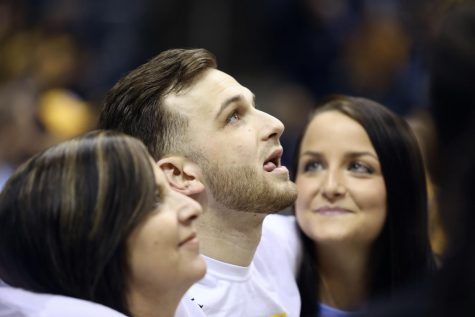 When Rowsey announced his decision to transfer from UNC-Asheville after torching the Big South Conference for two seasons, Wojo took a look at the tape and saw something a little different than other coaches. Wojo saw a fearless competitor and a knock-down shooter — someone with the confidence to pull up from anywhere on the court and actually make it.
"I can remember scouting and thinking, 'This kid is an absolute steal for UNC-Asheville,'" Wojo said prior to Saturday's game. "Sometimes in recruiting you can look at a kid and say, 'He's too small,' but when I saw his competitiveness along with his skillset, I thought he'd be a great player at Asheville. Never in my wildest dreams did I think he would end up here."
For Rowsey, the decision to transfer boiled down to playing against better competition. He wanted the chance to share a court with the best players in the country, which wasn't going to happen more than a few times a year at Asheville.
"The recruiting pitch was kind of easy," Rowsey said. "It's Marquette. It's one of the best programs to exist in college basketball."
He also had the opportunity to play for coaches that have been in his shoes before.
"When I was looking to come (to Marquette), every one of their assistant coaches had played at a high D-I level," Rowsey said. "We had Travis Diener, Brett Nelson, Coach Johnson, Justin Gainey who left.
Rowsey's performance against Creighton was a fitting end to his home career. Back-to-back turnovers from Rowsey near the end of the first half helped Creighton grab an 11-point lead and epitomized his occasional tendency to over-dribble, especially when the team was struggling.
He atoned with three straight 3-pointers with less than four minutes left to complete Marquette's rally and highlight a 10-of-12 shooting spree from beyond the arc in the second half.
"(That's) kind of unheard of, even if you're in the gym by yourself," Creighton head coach Greg McDermott said of Marquette's second-half shooting spree. "On a couple of those at crunch time, Rowsey was out there probably pushing 30 feet."
Fellow guard Markus Howard was Rowsey's sharpshooting partner in crime all season long. He hit four of his five second-half 3-point attempts, including some that were every bit as closely guarded as Rowsey's. After the game, Howard gave credit to Rowsey for stretching the defense.
"Nothing surprises me (after) playing with (Rowsey) for two years," Howard said. "No shot is really a terrible shot for Andrew. Every shot he takes, we have a good feeling it's going in. When he shoots shots like (the 35-footer), part of me wants to get back on defense without knowing whether he's going to make it. His confidence is so big for our team."
Despite Rowsey being known for his eye-popping shooting numbers, Wojo has insisted the offense works best with him as a distributor. The numbers support that statement, as Marquette is 6-0 when Rowsey dishes eight assists or more and 10-4 when he has at least five. Rowsey had eight assists against Creighton, with sophomore Sam Hauser on the receiving end of four of them.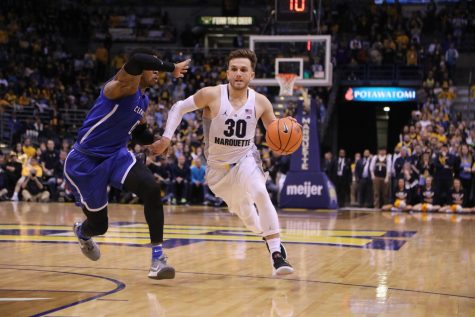 One of Marquette's most effective plays all year was the "pick-and-pop" with Rowsey and Hauser. The forward sets a screen for Rowsey to run around, then immediately sneaks along the 3-point line for a return pass. If the defense commits too hard to stopping Rowsey, Hauser, one of the nation's most accurate 3-point shooters, is open. That's precisely what happened on Sam Hauser's three with 10:38 left to give Marquette a 58-56 lead.
After the game, Howard was happy about Rowsey's 26 points, but far happier about his eight rebounds and, of course, his assists.
"When defenses collapsed, we were able to find guys that were wide open," Howard said. "When guys are stepping up, it's really easy for Andrew and I to make plays."
After the final whistle, the 18,221-person crowd roared in a way that only a crowd that had gone to the brink and survived could roar. Rowsey and several teammates immediately ran over to the front row of the student sections, throwing their arms in the air and high-fiving students.
"I've pretty much had every emotion come my way these past 24 hours," Rowsey said. "It was just kind of being in the moment."
There's no telling how many more moments Rowsey has in a Marquette uniform; the BIG EAST Tournament next week will decide that. Those games couldn't have felt further away while Rowsey enveloped Wojo in a hug immediately following his interaction with the fans – two men savoring the euphoria of victory before heading into an uncertain future.