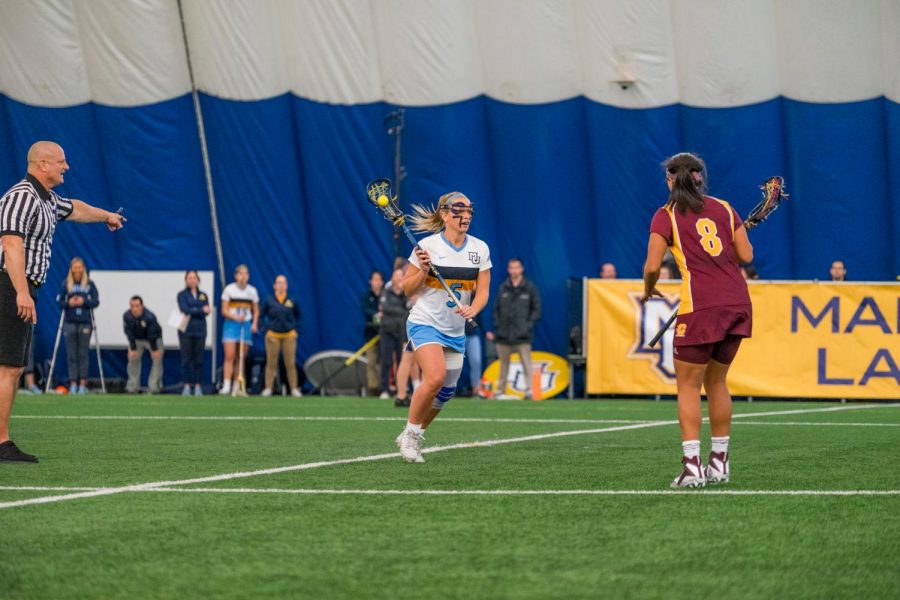 Jordan Johnson
The home field advantage played a major role in Golden Eagles success this weekend, as they went undefeated at Valley Fields for its opening weekend.
The Golden Eagles (2-2) defeated Central Michigan Friday afternoon 19-7 and capped off the weekend with a 15-10 win over Kennesaw State on Sunday.
Gabriel scores career high in home opener
Junior attacker Grace Gabriel's career-high six goals helped Marquette ease to a 19-7 win over the Chippewas Friday.
From the first draw, Marquette dominated possession, getting out to an early 3-0 lead. The first goal came just seven seconds into regulation from senior attacker Riley Hill. Gabriel followed in Hill's footsteps with back-to-back goals.
The Chippewas would not allow the Golden Eagles 3-0 run to continue, instead answering with three goals and forcing Marquette to call a timeout. Central Michigan responded with a 3-0 run of its own to even the score. However, the remainder of the first half remained tight as Marquette lead 9-5 at halftime.
At the start of the second half, Marquette went on a 4-0 run lead by junior attacker Cate Soccodoto, Gabriel and junior midfielder Logan Dobratz stretching the lead to 13-5.
"The score is 0-0, you got to come out like you did with the energy and the excitement that you came out with in the first half," Black said.
The eight-point lead forced Central Michigan to pull goalie, Dominque Hamman and put in Hope Murray.
Marquette never looked back as Lindsey Willcocks, Allison Lane, Hannah Ignacio and Caroline Peterson each scored in the effort.
Strong defensive plays by defenders Laine Dolan and Alex Gambacorta limited Central Michigan to 14 shots. Sophomore goalie Julianna Horning was excellent in goal, allowing just two goals the second half.
"The full team showed up today and everyone contributed to this win." Black said.
Trio of hat tricks leads to weekend sweep
Marquette continued its impressive offensive form on Sunday, as three separate Golden Eagles scored hat tricks on the way to a 15-10 win over Kennesaw State.
The Golden Eagles knew it wasn't going to be easy playing two games in three days, but the offense hardly skipped a beat.
Midfielder, Allison Lane started the scoring early on for the Golden Eagles scoring three minutes into the first half. Sophomore midfielder Megan Menzuber and Gabriel followed suit, adding two more for Marquette, giving the Golden Eagles an early 3-0 lead.
A similar pattern re-emerged from Friday as the Owls came back with three goals.
The quick run by both teams early on created a up and down fast-moving game for the remainder of the half. A free position goal by Lane and another goal by freshman midfielder Caroline Steller would allow Marquette to regain the lead, 5-3.
Senior attacker Charlotte McGuire scored three goals in the first half including one with just 19.6 seconds remaining to give Marquette an 8-6 lead at halftime.
At the start of the second half, Kennesaw State came out strong, dominating possession during the first three minutes. However, Marquette rebounded from a slow start as Riley Hill scored two of Marquette's first four goals of the second half.
Following Marquette's run, Kennesaw State finally gained possession after five minutes without the ball. The Owls went on a scoreless drought of 17-plus minutes. Marquette made numerous fouls allowed the Owls to sneak back into the game, making it 12-9 .
"We actually knew that about Kennesaw State, they get on the line a lot, they go really hard and the draw a lot of fouls," Black said. "We knew that would be a thing, but we had to be able to adjust."
McGuire answered back with her fourth goal of the game and Grace Gabriel completed her hat trick with eight seconds remaining.
"It feels great to win and we wanted to know what that felt like," said McGuire. "She (Meredith Black) has a saying, 'the aggressive attacker always wins,' so if you go hard to goal and look to net first, you're going to find success."
The Golden Eagles will finish up their three game homestand next weekend at Valley Fields against Stetson at 12 p.m.