Danielle King drastically improves scoring ability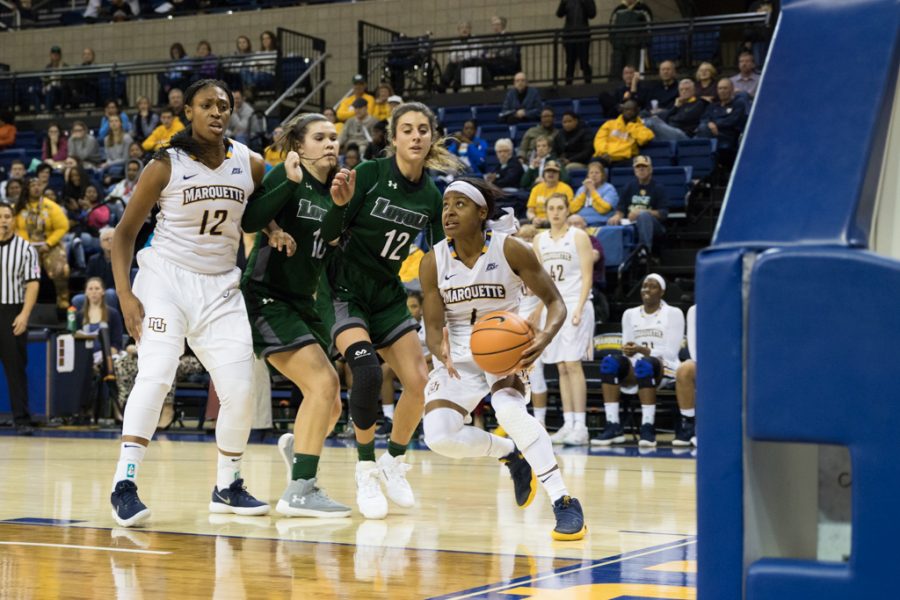 For point guard Danielle King, there was one way to fix her shot: consistent practice.
"She's been getting in the gym more," head coach Carolyn Kieger said. "Her work ethic is improving, and she's starting to get more confident."
Gaining that self-assuredness was hard for King after shooting 36.2 percent from the field in 2015-'16, the lowest mark among seven Marquette players who took at least 100 shots. With just a few adjustments, King bumped that number up to 45.9 percent the next year and is holding it steady at 42.9 percent this season.
It started with working on consistency, said King. "I work well with my midrange (jumper), and being consistent with that helped me get into the flow of my three," King said. "Starting inside then working outside is what I really focus on."
King is a rare breed of player: One that successfully made a dramatic jump that made a dramatic jump in shooting proficiency without altering her actual shot that much. Her release and footwork haven't dramatically changed since that freshman campaign, but her confidence level has definitely increased.
"I wasn't being aggressive enough, and when I went to score, it was kind of hesitant," King said. "Being aggressive and confident in myself is really what I honed in on."
Playing alongside talented scorers certainly didn't hurt King's development. On most possessions, King runs up the court in lockstep with junior Allazia Blockton, who has averaged at least 17 points per game in each season and became the youngest Marquette player to break the 1,000-point threshold last year.
Guard Natisha Hiedeman and forward Erika Davenport, who have both scored 1,000 career points, also help create space for King to work.
"Coach always told us we're better when everyone's looking to score," King said. "It made teams have to guard me once I started looking for my own shot."
Just as King benefits from having talented scorers around her, King's teammates reap the rewards of her communication skills.
"We have four people on our team that can run point guard at any given time, and we're trying to get to the level where it doesn't matter who the initiator is," Kieger said. "It's great when you have someone like Dani to be able to learn from and to watch."
Kieger's goal on offense is to build a unit where anybody could score 20 points on a given night. In Marquette's 80-63 win over Xavier last Friday, King took a step back and let junior Allazia Blockton run the offense; she scored 23 points. Two days later, King asserted herself, scoring a season-high 25 points to lead Marquette to a 78-59 victory over Butler.
Enough trust has been built up between coach and player  (Kieger calls King "the floor general") that King often gets left on the court for longer than anyone else. King played 35 or more minutes in seven games, twice more than any of her teammates. King is also the only Golden Eagle to start every game.
"It's fun playing that long and knowing that your coach trusts you to keep you in that long," King said.
Even with all the improvements King has made since freshman year, she hasn't quite finished working inside-out. "I'm trying to be more consistent from three," King said.
If her 5-of-9 showing from deep against Butler was any indication, that goal will be accomplished sooner rather than later.