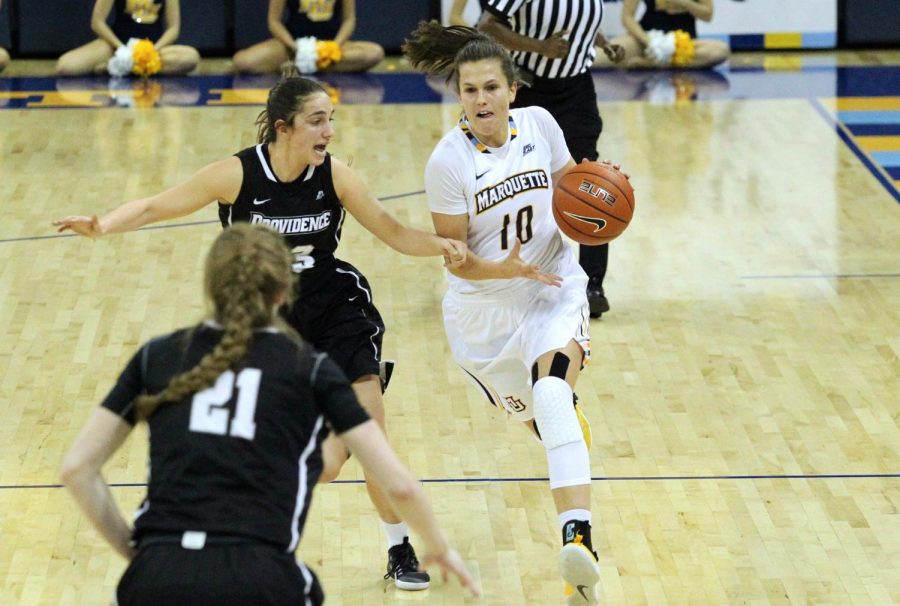 Most of Marquette's basketball players enjoyed Christmas at home before returning to Milwaukee for competition a few days later.
Men's basketball sophomore Harry Froling, who lives in Townsville, Australia, didn't have that option. Leaving after the Dec. 21 game against American and then making it back for the Dec. 27 conference opener against Xavier wasn't possible.
Instead, Froling spent Christmas in Stevens Point, Wisconsin, with teammate and fellow sophomore Sam Hauser.
"It was good," Froling said. "It was a white Christmas and I think that was probably my first one."
Most collegiate athletes can't go home often during the year, but those from other countries are usually the only ones to be away for Christmas, too. Instead, most of them do what Froling did: find a friend in the States to stay with for a few days.
"I went to Florida this year with one of my friends from back home," said Sandra Dahling, a junior on the women's basketball that hails from Stockholm, Sweden. "She studies at another university here in the States, so we met up in Florida with her mom and had a mini-Swedish Christmas."
Last year, Dahling went to Chicago with Olivia Moskari, her Finnish-born teammate. This year, Moskari trekked to Chicago with her father, who visited America for the first time to be with Moskari on Christmas.
"We just went to all the museums," Moskari said. "(My dad) wanted to see all the culture here. We walked around a lot and ate American food."
Froling wasn't away from his family entirely either. His parents came to America a few weeks before Christmas with his younger brother Sam, a power forward in the class of 2018 that is drawing interest from major Division I schools. Sam took official visits to Creighton, Maryland, Arizona State and Wichita State.
Opinions on not being with family for the actual Christmas day varied. Froling, who spent most Christmases away from home in high school at the Australian Institute of Sport in Canberra, didn't mind it. "The last three or four … before I transferred (from SMU) were away from my family," Froling said. "It's sort of the norm."
Dahling also spent the last few holiday seasons away from home, but still feels a desire to be back in Sweden, if only for a few days. "That's when I tend to get the most homesick, because Christmas is one of my favorite holidays," Dahling said. "I will always Skype my family when they are celebrating."
Although spending the holidays away from family was tough for Marquette's international athletes, they at least didn't have to practice on Christmas day. The BIG EAST scheduled men's basketball games on Dec. 27 this season, which meant that road teams had to practice on Dec. 25 to allow a day for travel.
That included the Xavier Musketeers, who beat Marquette, 91-87, in the BIG EAST conference opener on Dec. 27. After the game, Xavier head coach Chris Mack voiced his displeasure with the schedule that necessitated a Christmas day walkthrough.
"We've got a five-month season and we're the only sport that has a fall semester and a spring semester," Mack said. "I know fans and TV want to see games, but Christmas day, I think our kids should be home with their families."
Having a season that spans semesters means basketball players are pretty much the only students on campus for much of Winter break. Although athletes of both teams already see a lot of each other between practices, games, workouts and classes, Dahling thinks there's nothing quite like being on campus with only teammates.
"That's one of my favorite times, when we can all just hang out as a team and it's literally only us on campus," Dahling said. "It's pretty fun."
Even though they're still working hard, many athletes appreciate the perk of not having classes as much as those on their couch at home do.
"You get to focus solely on basketball and for me, that's big to try and get in my groove and get things going," Froling said. "Whenever you can get out of some class on holiday and have a good break and really get after it … you get more practice time and more relax time as well."
As both teams come back from break in positions to make the NCAA Tournament, some bonding and free time in December could end up paying big dividends in March.
"Hanging out 24/7 during Christmas break, we go from really best friends to sisters," Moskari said. "That's how it affects us."