PREVIEW: Butler enters game wary of Marquette's scorers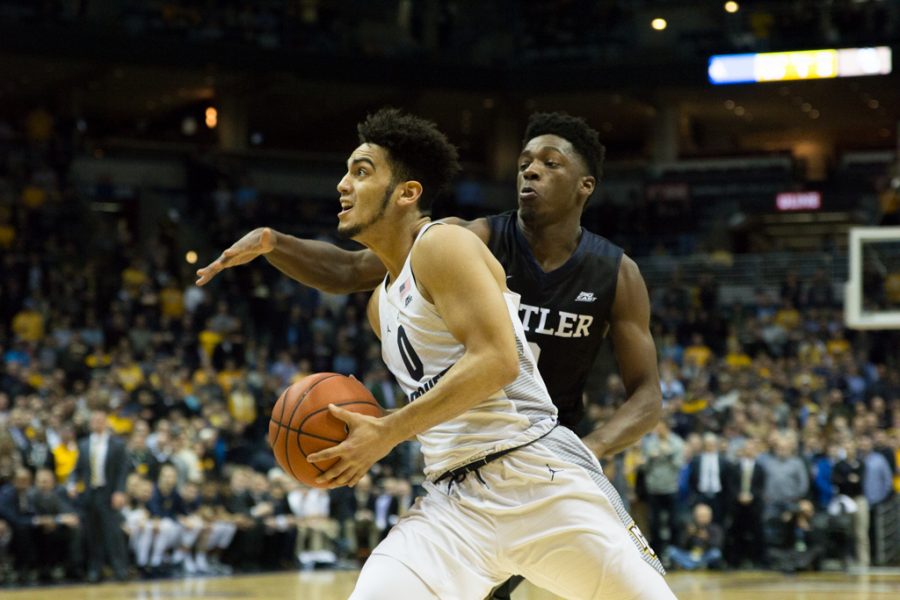 Last year's game at Hinkle Fieldhouse was a low point  for the 2016-'17 Marquette Golden Eagles.
Up by as many as 18 points against the Butler Bulldogs early in the second half, Marquette quickly capitulated on defense. The Bulldogs shot over 70 percent on field goals in the final 20 minutes to pull out an 88-80 victory.
Back-to-back wins over top 10 teams in the ensuing games lessened sting for Marquette. This year's team is in the reverse position, traveling to Indianapolis after a big win against No. 13 Seton Hall.
The game will be televised on FOX Sports 1 beginning at 5:30 CST.
IT ALL COMES DOWN TO SCORING
There's no doubt which Marquette player is on Butler head coach LaVall Jordan's mind: sophomore sharpshooter Markus Howard.
"What makes (Howard) effective is he doesn't miss a ton," Jordan said. "A lot of players, really good players, when you miss an assignment … they may miss a shot here and there. He works really hard on screens and cuts, and when he's open, the ball goes in."
Howard (22.8 points per game) and fellow guard Andrew Rowsey (21.6) are first and second in the BIG EAST scoring standings, respectively. No two teammates have ever finished the season occupying both top spots on the points per game list in conference history.
Either Howard or Rowsey has scored at least 30 points in each of Marquette's five BIG EAST games, with the most notable one being Howard's record-breaking 52-point performance against Providence. The two players have accounted for almost as many 30-plus point games this season (eight) as every other player in the conference combined (nine).
Marquette head coach Steve Wojciechowski values Howard and Rowsey in the offense not just for their shooting, but also for how their presence spaces the floor. That means ball-handlers face much less resistance when driving into the lane.
"We want to be a driving team," Wojo said after Marquette's victory over Seton Hall. "We shoot a lot of threes, but we want to drive the ball … a lot of times because people have to respect our shooting, you can find space. We talk about driving more than we talk about shooting threes about 10 is to one."
Howard has shown his versatility as a guard, driving the lane and hurting defenses with his floater. He's shooting slightly over 58 percent on 2-pointers this year, by far the best percentage on Marquette.
NEW CONTRIBUTORS FOR BUTLER 
Part of LaVall Jordan's challenge when he took the job at Butler this offseason from UW-Milwaukee was figuring out how to handle players assuming new roles.
One of those players is sophomore forward Henry Baddley, who played 10 minutes or more six times last season and has already done it 13 times this year. Jordan touted Baddley's progress throughout the last few months.
"He's got good length, good athleticism, he (anticipates) well," Jordan said. "He's improved immensely shooting the basketball, so he gives us another guy on the perimeter."
Butler's newer names are not confined to a rotation role, either. Starting shooting guard Paul Jorgensen is a transfer from George Washington University, where he spent two seasons. Starting small forward Sean McDermott hardly played in the BIG EAST portion of last year's schedule. Meanwhile, reserve point guard Aaron Thompson plays 60.5 percent of Butler's minutes and is just a freshman.
Those players are replacing four graduating seniors that became familiar to Marquette fans, including forward Andrew Chrabascz, who averaged 13.9 points per game against the Golden Eagles in seven career matchups.
LOADED CONFERENCE
In most conferences, a game between two teams ranked in the top 40 would be a marquee matchup between squads certain to meet again in the end-of-season tournament title game.
In the BIG EAST, it's hardly out of the norm. Six of the conferences 10 teams are among the country's best 33 teams in RPI, a metric that factors in strength of schedule when ranking teams. Marquette is ranked 33rd in the country in RPI and Butler is ranked 29th. 
Both teams are projected to be in the NCAA Tournament, along with a whole heap of other BIG EAST schools. ESPN's Joe Lunardi forecasts six BIG EAST teams in the NCAA Tournament with a seventh, the Providence Friars, among those that are knocking on the door for a bid.
Marquette and Butler are in positions where one inopportune loss would put their March Madness hopes in doubt, while a win would move them a big step closer to playing in the postseason.
"Every night, you know you've got to bring it," Jordan said. "If I'm a player, prospect or recruit, I don't think there's a league that matches. It's the best in the country."