Second-half surge from men's basketball couldn't topple Villanova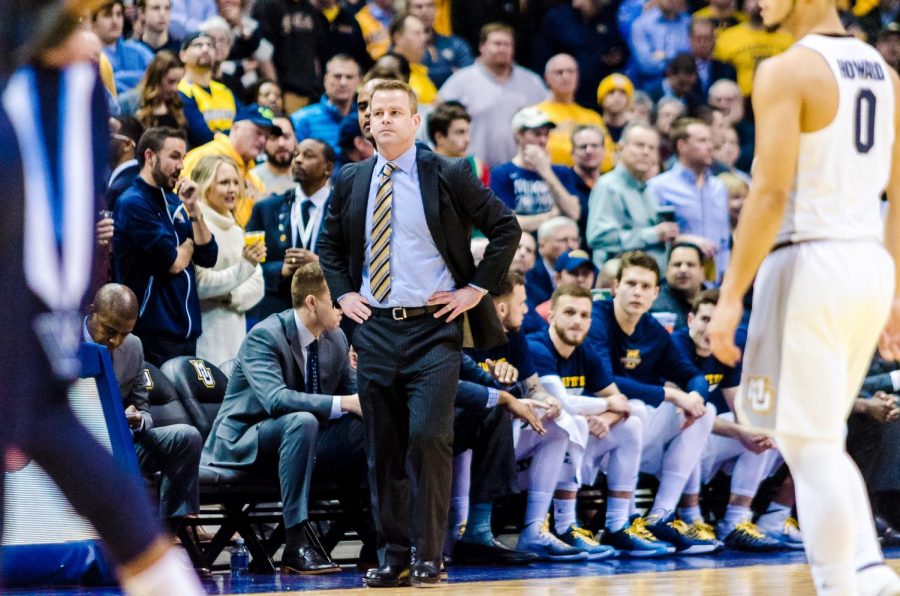 If the Golden Eagles were looking for an opportunity to roll over against No. 3 Villanova, there were plenty of points where they could have done it.
The Wildcats might have easily pulled away late in the first half, when they had a 13-point lead and seemed poised to add more. It also looked likely just before the under-four minute media timeout in the second half, when senior Andrew Rowsey was stripped and Villanova sophomore Donte DiVincenzo scored at the other end to stop a promising Marquette run.
In each case, Marquette refused to say die, battling to get the game within single digits in a manner that made head coach Steve Wojciechowski proud.
"There was a number of breaking points in the game where the game could have been blown wide open," Wojo said. "I'm proud of our guys for not allowing that to happen."
Villanova's balanced attack, one of the best in the country, was too much for Marquette to overcome by game's end, as the Wildcats (14-1, 2-1 BIG EAST) won a closer-than-expected 100-90 victory over Marquette (11-5, 2-2 BIG EAST)
Once again, sophomore Markus Howard provided the lion's share of Marquette's scoring. Howard followed his record-breaking 52-point performance against Providence by dropping 37 on Villanova, including 10 points in the final four minutes, to get Marquette within five points and keep the game within reach. All of those points came from either the foul line or within the arc.
Howard, aware that Villanova's defense was selling out to stop him down the stretch, looked to set up his teammates, logging a season-high eight assists, an accomplishment for which he credits the players around him.
"My teammates made great plays toward the end and it definitely made my job a lot easier," Howard said. "I would create and they would cut to the rim, making it an easy play to make. They really helped me in that aspect."
The first half picked up right where last year's Marquette-Villanova game in Philadelphia left off: with the Wildcats gouging Marquette's defense. Nova shot 62.1 percent in the first half and 50 percent from beyond the 3-point line.
Marquette especially couldn't stop Villanova point guard Jalen Brunson and forward Eric Paschall. Relaxed defense on off-ball movement presented plenty of opportunities for Brunson, who notched six of his eight assists in the first frame. Two of those assists were to Paschall, who made more 3-pointers in the first half (3) than he had in the previous 14 games. Brunson finished with a team-high 27 points and Paschall added 19.
"They're so consistent," Howard said. "We expected them to throw haymakers early and that's what they did … I feel that we kind of figured it out a little too late."
The only thing that kept the 46-34 halftime deficit from being any worse was Marquette's resilient offense, which was able to generate open shots. Howard hit a trio of 3-pointers in the first half as a prelude to his second-half spree.
"Markus is an outstanding young player who works at the game and wants to be good," Wojo said. "He's done a good job."
One of the most surprising contributors was freshman guard Greg Elliott, who finished with a career-high 13 points. He was also charged with containing Brunson, which Wojo thought he did about as well as he could have.
"I don't know that Greg did everything perfect, but the son of a gun competes," Wojo said. "I think he's got a chance, once he passes the 145-pound weight range, to be really a terrific defender."
Nova's lead grew to as many as 17 points with 12:45 remaining in the second half, but Marquette went on a 9-0 run in the next 2:25 to cut the deficit to eight. After a miss from DiVincenzo on the next possession, sophomore Sam Hauser had an open 3-point attempt from the left wing, but it rimmed out.
After that, Marquette couldn't get any closer than eight until the 2:49 mark, when a driving layup from sophomore forward Sacar Anim made the score 82-75, Villanova. The best chance at making things truly interesting came when Anim stole an inbounds pass with 44 seconds left and his team down six. He drew a foul, but only hit one of two free throws, after which Villanova was able to ice the game.
Despite his team's effort down the stretch, Wojo still seemed disappointed.
"We knew we were going to see the best of what Villanova had to offer," Wojo said. "I thought they were in supreme attack mode and … they knocked us back. We weren't able to get out footing until it was way too late."