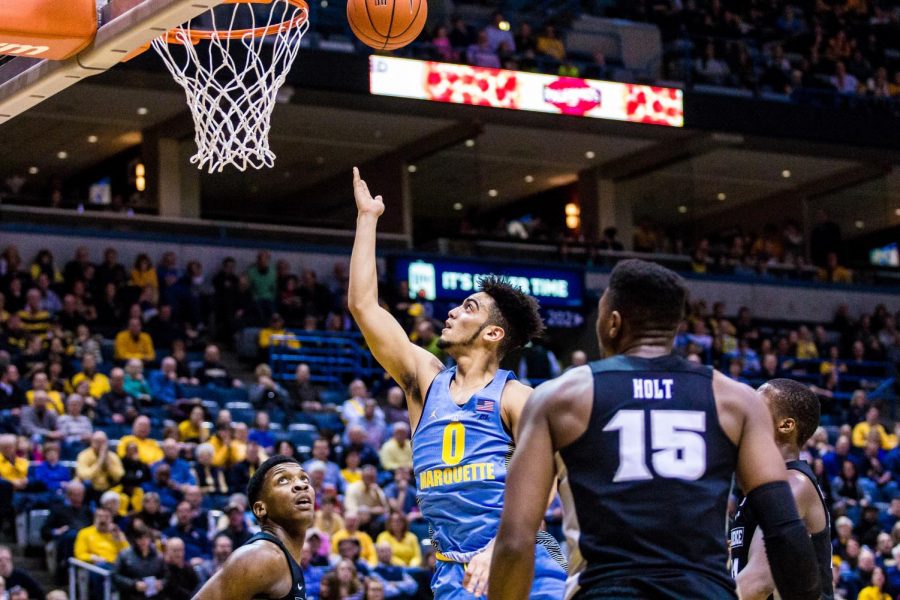 Austin Anderson
Last year's Golden Eagles-Friars game in Providence, Rhode Island delivered one of the stranger moments in recent Marquette basketball history.
Temperatures above 70 degrees and high humidity, coupled with condensation on the court from the hockey rink below, created dangerously slippery conditions for the players.
Marquette managed the conditions as well as possible but could not manage its lead. Foul trouble crippled Marquette, which surrendered a 12-point lead with 7:20 left to lose, 73-69. Providence finished the game on a 21-5 run and the Golden Eagles did not make a field goal after that 7:20 mark.
Marquette hopes to avenge that loss when it plays Providence at 5:30 p.m. central time Wednesday on CBS Sports Network.

SCORING IN THE POST
In its recent 74-65 victory over Georgetown, game, Marquette accomplished something unique, scoring 40 points in the second half without making a two-point field goal.
Shooting 8 of 13 from 3-point range, making 16 free throws and forcing 11 turnovers in the final 20 minutes negated the Golden Eagles' lack of production close to the basket. However, post offense has been a frequent problem. Marquette has been outscored in the paint in both of its opening BIG EAST games.
Redshirt sophomore Sacar Anim attributed the lack of paint production to Marquette's relative inexperience. "The last game (against Xavier) was really my first BIG EAST game, as well as for a lot of the other freshmen," Anim said. "We're just getting adjusted. As long as we can just keep improving and listening to coaches and things like that, we're going to be something to look forward to."
Marquette has shot 54 percent on 2-point attempts this season, which ranks 58th out of 351 teams. The Golden Eagles have been well below that mark since conference play started, only making 42 percent in the last two games.
ATTACKING THE BALLHANDLER
Providence and Georgetown have something in common: both teams have trouble holding onto the basketball.
Twenty-five Hoya turnovers led to 20 Marquette points, which all but ensured a Golden Eagle victory. It was the most turnovers committed by a Marquette opponent since Mount St. Mary's gave the ball away 27 times in the 2011 season opener.
"We just wanted to defend them as best we can," Anim said of his team's effort against Georgetown. "We just tried to stay in front of them and cause hecticness in the backcourt."
While the Friars aren't as turnover-prone as the Hoyas are – Providence gives the ball away on 15.9 percent of possessions as opposed to Georgetown's 28.5 percent – their primary ball-handlers have a propensity for error. The team's two point guards, freshman Makai Ashton-Langford and senior Kyron Cartwright, both rank in the bottom five of the conference in turnover rate.
Anim attributed many of Georgetown's turnovers to trapping Georgetown's big men and forcing them into poor passes. That trap might have to shift from the forwards to the guards if Marquette hopes to continue this trend.

PLAYING IN PROVIDENCE
With projected gametime temperatures below freezing, it's safe to say there won't be any issues with slippery floors this year. That doesn't make the Dunkin' Donuts Center an easier place to play.
Providence has won 11 of its last 12 home games, including its last four conference games dating back to last season. The Friars have defeated Marquette in three of the teams' last four matchups at "The Dunk" since the BIG EAST underwent realignment in 2014. Marquette's sole victory was in 2015-'16, when Henry Ellenson and Haanif Cheatham scored in double figures to upset the then-No. 8 Friars.
"It's a great atmosphere," Anim said. "Every time I've been there, it's a great game and it's usually almost sold out."
The game may be a little bit easier if Cartwright is unable to play. His status is in jeopardy after he re-aggravated an ankle injury in Providence's 83-64 loss to Creighton. Providence is 6-1 this season in games where Cartwright scores in double figures and 4-4 in games where he scores less than 10 points. No official word has been given on whether he'll be available against Marquette.
Even without Cartwright, the Golden Eagles still view the Friars as a threat.
"Those guys compete and those guys play really hard," Anim said. "That's going to be a really tough game for us. We have to come in and just follow the defensive plan."