Marquette outlasts first half turmoil, defeats Northern Illinois
Hang on for a minute...we're trying to find some more stories you might like.
Marquette head coach Steve Wojciechowski's teams have always found the first game after final exams particularly challenging.
"This is a very disjointed week for us," Wojo said after last year's scare against St. Francis (PA). "These games after exams but before Christmas, in my experience … can be real grinders."
That trend continued Monday as Marquette defeated Northern Illinois, 79-70, despite seven first-half lead changes.
"These games cause coaches great angst because nine days off is a long time," Wojo said after tonight's victory. "Our guys go to class, they take hard classes, they have to do well in school … our guys are student-athletes."
NIU sophomore guard Eugene German was a menace; German and teammate Dante Thorpe combined to shoot 15 for 28. The rest of the Huskies shot 6 for 27.
"(German) just kept our defense on our toes," Marquette sophomore Markus Howard said. "He's a great guard and he can push in transition. He can really stretch the defense out, so we really had to as a team keep our defense tight."
After hitting six of their first eight field goals in the second half, the Huskies missed 14 of their last 17 shots.
Even as Howard and fellow sophomore Sam Hauser shot a combined 43 percent from the field, Marquette could not break away against the Huskies. The Golden Eagles did not expand the lead past 10 points until the 7:49 mark in the second half.
Wojo attributed the inability to distance themselves from the Huskies to poor bench play. Sixty-six of the team's 79 points came from the starting five.
"I didn't think our bench, when we went to the bench, maintained the same level of intensity as we had with the starters," Wojo said. "We had a lead and then that lead evaporated."
Howard and Hauser combined to score 47 of team's 79 points Monday night and accounted for the majority of the team's shot attempts. Howard, who scored 26 points has led Marquette's scoring attack in three of the Golden Eagles' last four games.
"Sam Hauser had a terrific game," Wojo said. "He's kind of a stabilizing force for us. We can put him in a bunch of different positions and the game never gets too fast for him."
Rowsey also chipped in 11 points despite an injury scare in the second half. He immediately headed to the locker room but returned to the sidelines toward the end of the game. Wojo said the team does not know Rowsey's status until test results come back.
"We'll have our medical people evaluate him tonight," Wojo said. "There need to be tests done before I can give you any real information. Obviously he's a huge part of our team, so you just wait and see."
Marquette is 6-1 when the sharpshooting trio each score in double-digits.
Monday marked sophomore center Harry Froling's Marquette debut. Froling transferred halfway through the season last year from SMU. His first game was mostly forgettable; he had two rebounds and one turnover in three minutes of action. He missed his only field goal attempt.
"We've had a rotation of eight guys and he's going to have to work himself into earning more minutes in that time, and he knows that" Wojo said. "We need to take a look at having a bigger lineup, which we will, but that's not necessarily something you are going to do during the exam week."
"There's a little bit of rust that needs to be worked off, but he's going to get it," Howard said. "He's a great player for us, no doubt about that."
Marquette will host American University Thursday for its non-conference finale before starting BIG EAST play against Xavier Dec. 27. KenPom, a prominent basketball analytics site, ranks American as the 297th-best team in the country out of 351 Division I teams. The only Marquette opponents to have worse KenPom ratings this season are Mount St. Mary's and Chicago State.

About the Writer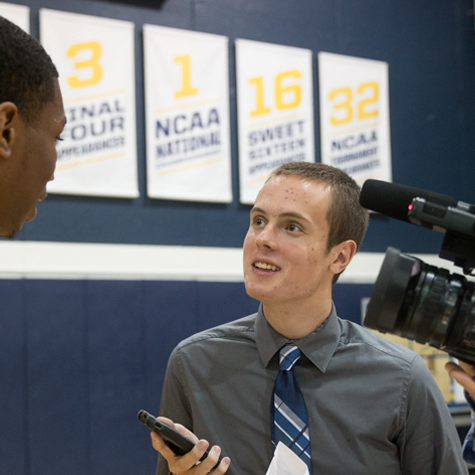 John Steppe, Executive Sports Editor
John Steppe is the executive sports editor for the Marquette Wire. He is a junior majoring in journalism and double-minoring in digital media and Spanish....