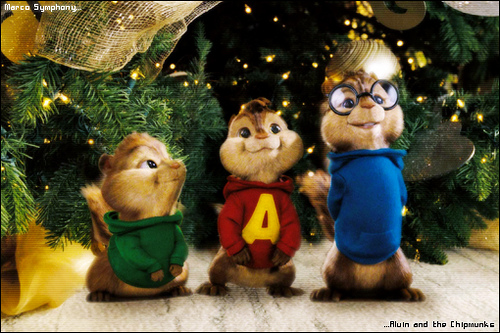 The day after Thanksgiving, radios and department stores cue up holiday tunes and Spotify advertises its seasonal playlists. With plenty of music to listen to, it can be hard to pin down a favorite, so in honor of the 12 days of Christmas, here are 12 of the best and worst seasonal songs.
Naughty List
"The Chipmunk Song (Christmas Don't Be Late)"
This might as well just be any song done by the Chipmunks. It's annoying, it's not cute and anybody who likes it shouldn't get any presents. I hate this song because I don't like shrill voices screaming demands in my ear.
"I Saw Mommy Kissing Santa Claus"
Alright, there's a lot to unpack here. First of all, just from the title, I'm wondering how whoever wrote this song thought it would go in a good direction. It lends itself to too many unanswered questions. Is it the kid's dad? Is she just telling the child that it was Santa Claus because he walked in on them? Or was it actually Santa Claus, and he decided to ditch the whole "presents" thing to spend the night with this random kid's mom? I do not like this song, regardless of the correct answers to my many questions.
"Deck the Halls"
It sounds like the type of song that would play year-round in a department store. Plus,  the "fa-la-la-la-la" melody makes me think I've gone insane due to the inability to get it out of my head for the remainder of the year. It's not a creative song, and it just doesn't do it for me.
"Grandma Got Run Over By a Reindeer"
Normally, the schadenfreude of this song would be enough to make me love it, but it's just not very catchy. It's a little annoying, and I feel like they could've done more with this. I'm not asking for graphic details or anything, but I at least want to feel like I was there.
"Mistletoe" by Justin Bieber
This song is typical of Bieber. I'm sure it's a crowd pleaser as most everything he touches seems to reach the tops of the charts, but personally it doesn't capture me. It's just a little too sappy, slow, and emotional. Admittedly, I'm probably just jealous because all the girls in high school fell in love with him during this music video, ending my already slim chances of getting asked to the winter dance.
Nice List
"All I Want for Christmas is You" by Mariah Carey
A universally-loved song, and possibly the best Christmas song to sing along to at the holidays, this one is a classic. If Mariah Carey belting out that you're all she wants for Christmas doesn't put you in a good mood, then I'm not sure the Christmas season is for you.
"Jingle Bells" by Michael Buble
He has a smooth voice, the lyrics are soothing and it makes me feel like I'm at my grandma's house. Buble captures the nostalgic, crooner-type feel, while still engaging modern audiences. This one is just nice to listen to.
"Feliz Navidad"
It's so catchy, and most people love to sing along. This song is also one that sounds like no other, and uniqueness is always a plus, as many Christmas songs can tend to blend together.
"It's the Most Wonderful Time of the Year"
Being the contrarian that I am, usually hearing a message like this pounded home over and over would make me want to argue with someone that Christmas is actually a materialistic sham, and that it's a terrible time of year. But this one's pretty catchy, so I'll let it live. There are many versions of this one, but as a song in general, its lyrics help to get the listener feeling excited for the holidays, which is the whole point of Christmas music after all.
"Hanukkah Song" by Adam Sandler
Everybody should love this one, even if it's not a Christmas song. Adam Sandler gets a lot of grief for being a mediocre, one-sided actor. But nonetheless, this is a classic bit of his and it deserves to be on this list.
The closing music from "Home Alone"
I love this song, and this movie, even if Kevin actually does some pretty messed up things to the burglars. But the ending is sweet, and I'll never forget the closing theme. It's iconic, and sure to get anyone in the right spirits for the season.
"We Wish You a Merry Christmas"
The thing I don't like about this song is how "a happy new year" sneaks in here. I think the song should have to pick a theme. However, it's more endearing than it is creepy, so it makes the Nice List. Still, Christmas music should be about Christmas.