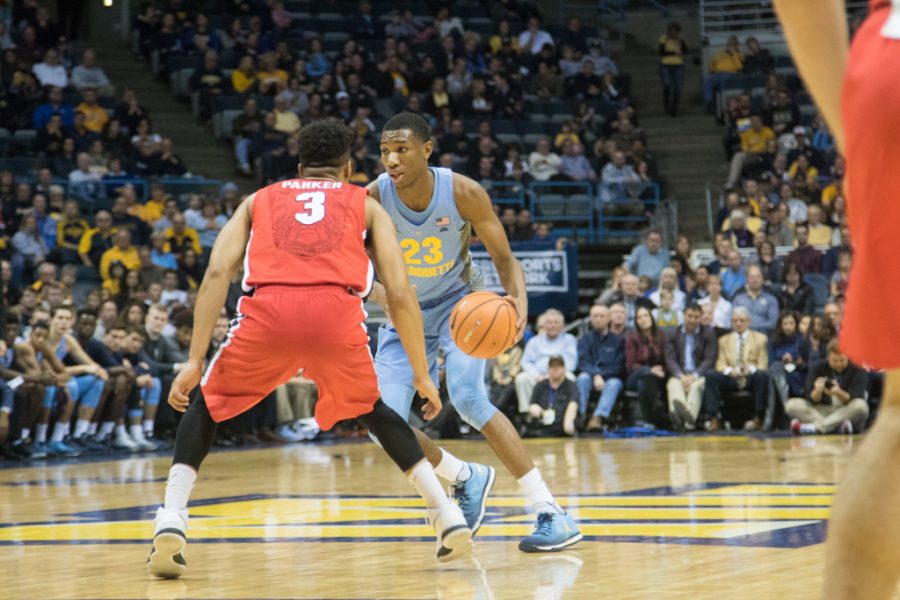 Andrew Himmelberg
Georgia had a balanced attack thanks to forward Yante Maten, who went 5-for-8 from the floor and propelled Bulldogs to a 73-66 victory over Marquette Saturday afternoon at the Bradley Center.
While Marquette sophomore Markus Howard had 29 points and senior Andrew Rowsey had 15, but also committed six turnovers, the Golden Eagles did not do enough of the small things to get a victory.

HELDT HELD SCORELESS AS POST OFFENSE PUTTERS OUT
Junior center Matt Heldt was held scoreless, going 0-for-6 from the floor. Although the big man nabbed seven rebounds, he was over-matched by Maten and was often caught over-extending his help defense. As a result, Georgia had 32 points in the paint, including 20 in the second half.
Sixty-six points ties Marquette's lowest point total of the season; the team also scored 66 against Wichita State. Head coach Steve Wojciechowski said that the offense had to do better in its next game.
"I think we have to make really good decisions," Wojo said. "And we have to listen; those are two things that I think we can do a lot better"
While Heldt continued to struggle from the floor, his teammates did little to pick up the slack. Sam Hauser had eight points and a team-high nine rebounds, but had none in the second half. Freshman Theo John had zero points in six minutes of action and still managed to pick up four fouls, including two in a span of 93 seconds. This was John's third straight game of playing 10 minutes or less.
Against Vermont, the post offense will have to find its rhythm. The Catamounts average 34.9 rebounds per game and put up 32 points in the paint against A-10 squad Richmond.

DEFENSE BULLIED IN THE SECOND HALF
Because of Marquette's lack of depth in the post, Georgia was able to get easier shots once Marquette started to accumulate fouls. Forty-two of Georgia's 73 points came in the second half as the Bulldogs established a strong interior presence.
Howard applauded the team's first-half defensive effort, but said there was a lot of work to do.
"We can all do it," Howard said about the defense. "I feel that we have a team full of guys that can really play defense, but I think sometimes we have to want to do it and I think we're practicing it just as much as playing it. We have to practice just wanting to play defense and actually having a care factor on the defensive end."

SHOOTING WOES SLOW DOWN OFFENSE
Marquette's normally fearsome attack was a little bit out of rhythm against Georgia.
The Golden Eagles shot just 35.5 percent for the game and only 33.3 percent from beyond the arc. Meanwhile, Georgia shot 48 percent for the game, including 54.2 percent in the second half.
Sam Hauser was 3-of-1o from the floor, Heldt 0-for-6 and freshman Greg Elliott went 1-of-3 from the field.

STAT OF THE GAME
Markus Howard shot 11-22 and had 29 points in 32 minutes. Howard has had three games with at least 20 points this season.

QUOTE OF THE GAME
"Markus's foul trouble had a huge impact, and I'm not saying they weren't fouls, but they had a huge impact and we did not respond well when he was out of the game, nor did we respond like we're capable of." -Wojo
NEXT UP
The Golden Eagles will square off against the Vermont Catamounts Tuesday night at the Bradley Center. The Catamounts made the NCAA Tournament team last season as a 13-seed and have gone 27-2 since Dec. 29 0f last year.