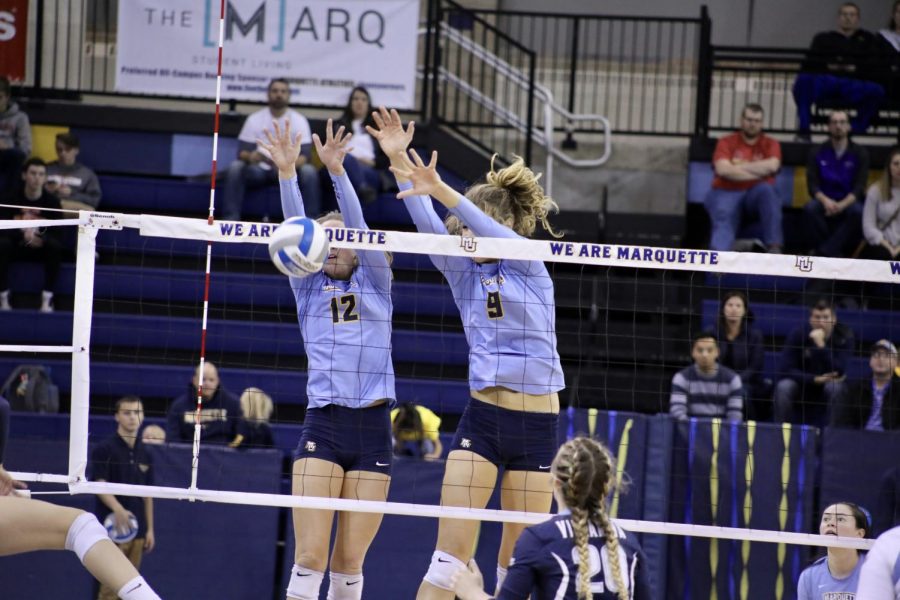 Helen Dudley
Coming off Friday night's win against Georgetown, Marquette volleyball did what it had to do against Villanova Saturday night, winning in five sets (25-14, 27-25, 25-10, 25-20, 15-11).
The Golden Eagles sought revenge on the Wildcats Friday night, easily winning the first set 25-14. The Golden Eagles took a 10-7 lead in the second set, but the Wildcats quickly caught up to tie it at 22-22. The Wildcats began to pull away and took the second set 27-25 despite multiple Marquette timeouts.
Marquette head coach Ryan Theis said the second set was the Golden Eagles' worst serving set. "We got confident in Game One just ripping serves 40 mph," Theis said. "(In the second set) we just couldn't get any defensive stops because we either missed the serve or we served easy."
Marquette regained its momentum in the third set, taking an early 8-2 lead and forcing a Wildcat timeout. The stoppage did little good, as the Golden Eagles extended their lead to 17-3. Junior outside hitter Anna Haak continued to drive kills during her career-high night for the Golden Eagles as they took the set 25-10. Villanova had a .071 hitting percentage in the set.
The fourth set remained neck and neck. Villanova took an 8-5 lead, but kills by Allie Barber brought the Golden Eagles within two of the Wildcats, 16-14. A bad set from Lauren Speckman among other miscues allowed the Wildcats take the fourth set 25-20.
A couple well-placed freshman defensive specialist Martha Konovodoff serves and Villanova attack errors contributed to the Golden Eagles' 11-6 lead in the fifth set. A final kill by Haak set Marquette up for the match point, where they secured the set 15-11.
Theis said he believes tonight's win for the Golden Eagles helped accomplish the team goal of "playing in December." After back-to-back wins at home, Marquette will head to DePaul Saturday for their final match before the BIG EAST Tournament.