Volleyball weathers close third set to sweep DePaul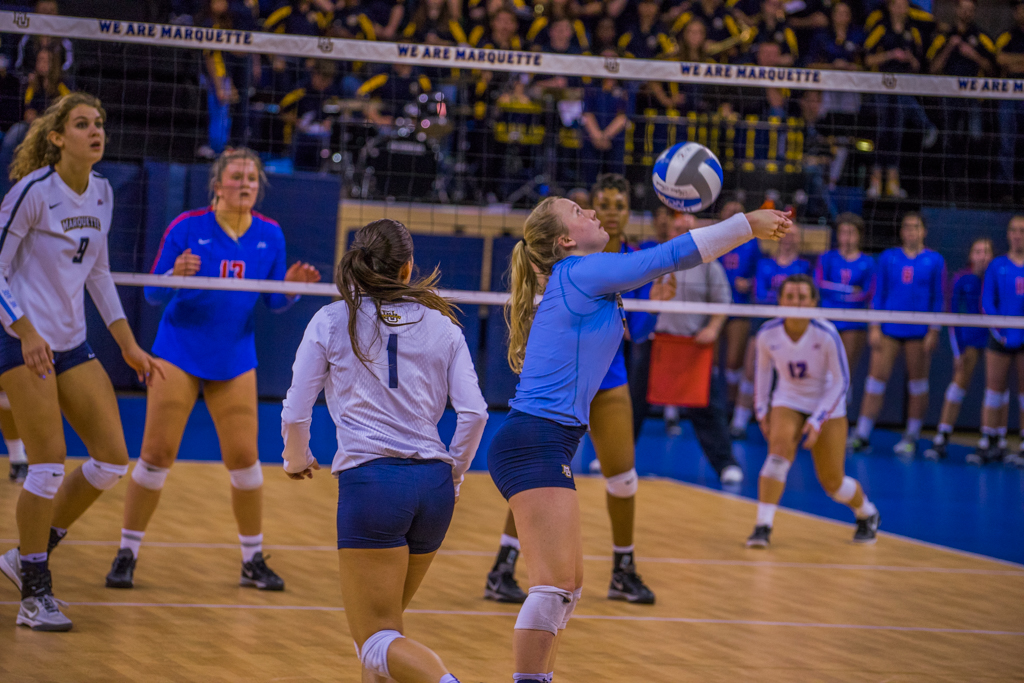 Marquette volleyball remained unbeaten in the BIG EAST and extended their winning streak to six matches with a 3-0 (25-19, 25-9, 30-28) win over the DePaul Blue Demons on Saturday night.
Allie Barber was dominant, recording 20 kills and registering a whopping .594 hitting percentage.
"We talk about if you don't think you can kill it make sure you are taking setters out and just being smart with the ball," Barber said. "If you don't think you can get a good touch on it, (put) it somewhere smart,"
Freshman setter Sarah Rose got her first collegiate start as regular setter Lauren Speckman did not play. Head coach Ryan Theis said "Sarah was ready to go" and she proved it, dishing out 41 assists.
Marquette started out slow in the first set, as DePaul jumped out to a 7-2 lead, forcing Theis to call timeout. The Golden Eagles would rally to tie the match up at 11, then took the lead and hung on to it for the rest of the set, winning 25-19.
"I just think we needed to settle in a little bit," Theis said. "Sarah was a little bit of a new element tonight. That took a little bit of an adjustment, but I thought she did great."
The Golden Eagles could do no wrong in the second set, taking the frame 25-9. It was two points shy of Marquette's 2010 record for fewest points given up in a set.
DePaul and Marquette exchanged several points in the third set. It appeared as if Marquette was going to take the set when they held a 24-23 lead, but DePaul fought back. There would be five more ties before Marquette was able to come away with a 30-28 victory.
"It was a lot of fun," Barber said. "We knew we had to close it out at the end. We knew they weren't going to give it to us. We had to earn every point. It was a fun way to finish and definitely closer than we wanted it to be."
Marquette will welcome Creighton, which is also undefeated in BIG EAST play, to the Al McGuire Center next Thursday.