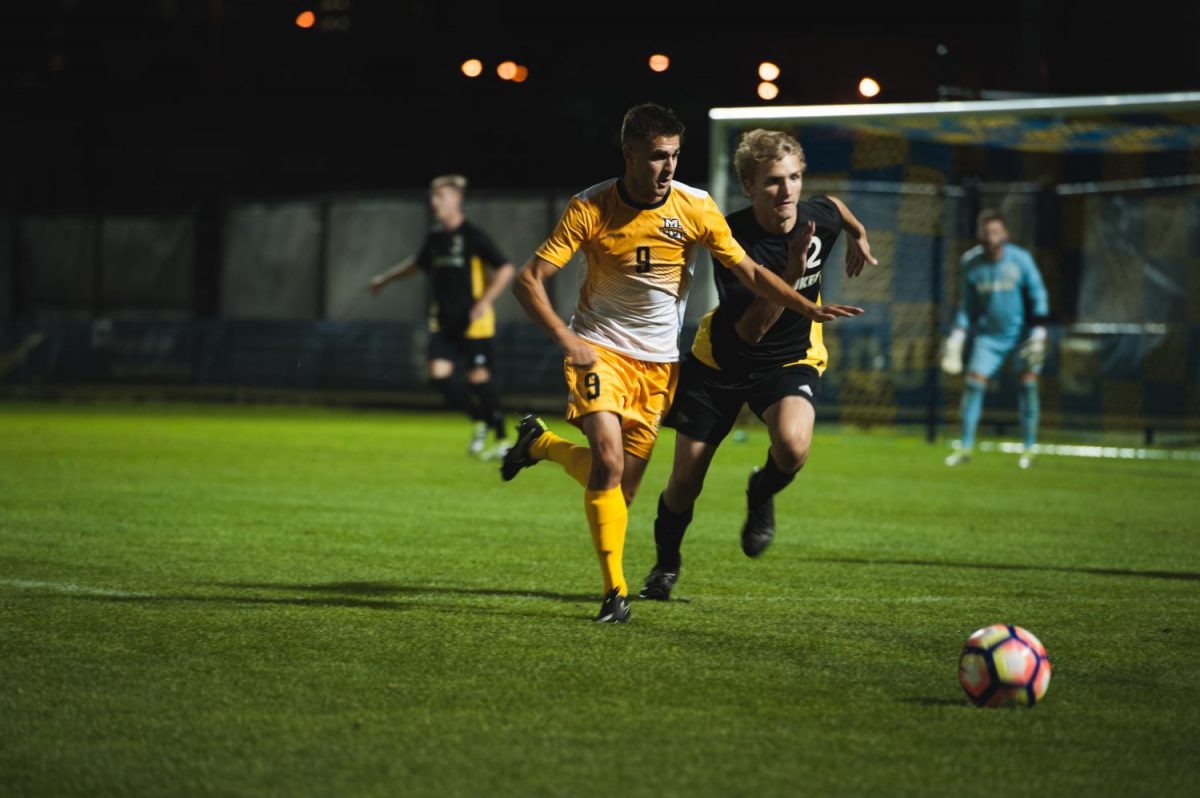 Meredith Gillespie
In the 45th installment of the Milwaukee Cup, this year's edition will be very reminiscent in years past: a lot of fouls, yellow cards and a true passion from both sides of players and sets of supporters.
Marquette comes off a high, defeating Seton Hall 4-2 to get their first win of the season. Meanwhile across town, the Panthers are 3-4-2 and just came off of a 2-1 defeat to Illinois-Chicago.
The Cup is currently on Marquette's campus, as the teams have tied the past three seasons, including last year's 3-3 tie, in which the Golden Eagles conceded a 3-0 lead.
Marquette had an unusual starting XI for Marquette last match with the Golden Eagles missing five potential starters to injuries. Grant Owens, who started at forward in every other match this season, started at right back in a hybrid formation. Spanish forward Diego Nunez, who scored a rocket from just beyond the 18-yard box, took Owens' spot up top.
Meanwhile, Milwaukee will come out attacking and be aggressive on the offensive end.
"Milwaukee will have the same style," Bennett said. "They're going to be forward first, try to put a lot of pressure on us and the field will have its challenges as well, so we're going to have to pay attention to those things."
Both offenses are aggressive when it comes to the shots department as Marquette averages 13.1 but gives up 14.7. Meanwhile, UWM averages 17.6 and gives up just 9.0 per game. The Panthers also average significantly more corner kicks with 8.3 per match compared to Marquette's 4.6.
UWM freshman midfielder Vuk Latinovich will be a key player to keep an eye on. He has seven points this season with two goals and three assists. Another player to watch is junior Jaime Collin, UWM's catalyst who gets the offense rolling.
The Golden Eagles will have to make game-time decisions for up to five potential starters. Manuel Cukaj missed the last game and Martin Alba has been out the past two games. Steffen Bohm and Christian Albelo had to resort coming off of the bench in Saturday's match against Seton Hall and are questionable heading into tonight.
Despite the injuries, the Golden Eagles' offense broke out last match with four goals, the same amount they had all year prior to that point.
Heading into the match, redshirt senior Daniel Szczepanek believes that the game against Seton Hall was a turning point.
"We've been playing well for the season, and I think this will drive us to keep scoring more and that confidence is there," Szczepanek said. "There's a little bit more spice to it because it's the Milwaukee Cup, but we're going to go out there and play like it's just another game."
The match kicks off tonight at 7:05 at UW-Milwaukee's Engelmann Stadium.