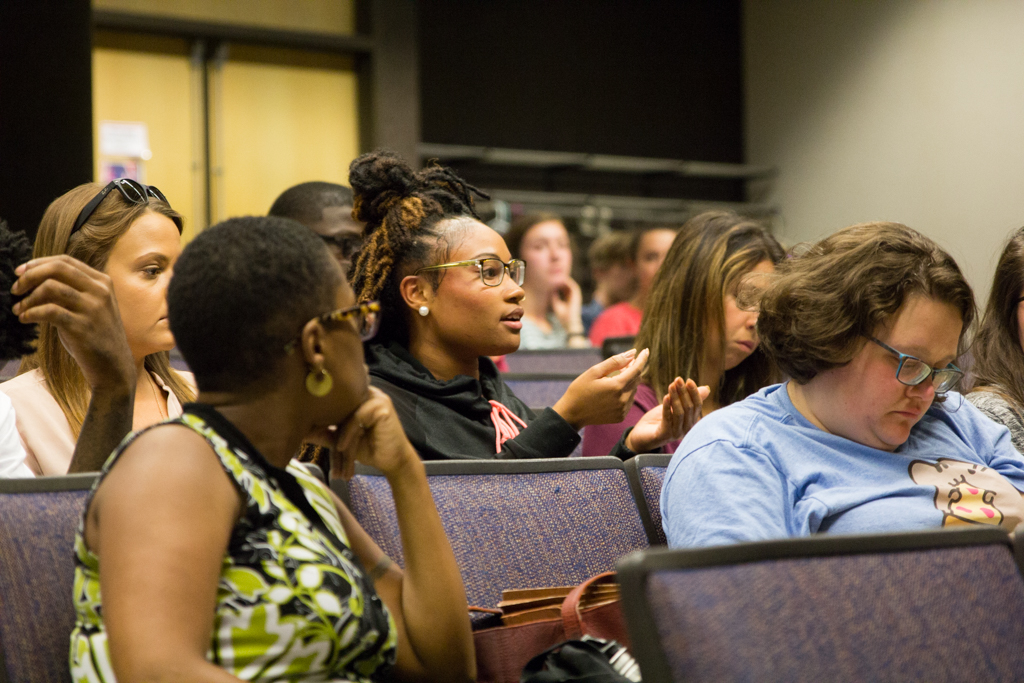 Andrew Himmelberg.
As news of the Charlottesville rally spread, protests, marches and vigils occurred in several cities throughout the United States, including a march Aug. 13 in Milwaukee.
In response to the events over the summer, several Marquette academic departments and organizations collaborated with the American Anthropological Association to host Understanding Race After Charlottesville, an event designed to combat misinformation and disinformation in society, according to the American Anthropological Association's website.
The event, held Monday evening in Emory Clark Hall, served as a place for roughly 100 students, staff and faculty to process what happened and discuss how the Marquette community can create a tolerant environment.
The American Anthropological Association sent out a nationwide invitation to its members to host discussions regarding race in the context of the Charlottesville rally. Several Marquette faculty members accepted the invitation.
One of those faculty members was Emily Lynch, an assistant professor of anthropology in the College of Arts & Sciences. She says that, despite being hundreds of miles away from Charlottesville, the need to talk about race at Marquette is now more important than ever.
"(The American Anthropological Association) has extended, all across the nation, an invitation to talk to our students about why what is happening in Charlottesville matters and how we are not unconnected to it, but rather quite connected," Lynch said. "Distance doesn't divide us. Regional identity doesn't divide us."
The Understanding Race After Charlottesville event Monday featured a showing of a 22-minute documentary produced by VICE News which showed reporter Elle Reeve on the ground in Charlottesville, speaking with protestors on both sides and experiencing the rally first-hand. After the film, a panel consisting of Lynch and three other faculty members moderated a lengthy discussion regarding race in the 21st century.
Darren Wheelock, an associate professor of social and cultural sciences in the College of Arts & Sciences, said he feels that the problem of racism in the United States is one that is greater than simply a battle between extremes.
"When we talk about racial segregation in Milwaukee, one of the most racially segregated cities in the entire United States, it often won't evoke the same kind of visceral reaction as watching neo-Nazis scream 'blood and soil,' but that's a reality of the community we live in right now, that we are more apt to be complacent," Wheelock said.
Jane Peterson, a professor of archaeology in the College of Arts & Sciences and one of the moderators, said she hopes that the program challenged students to find new ways to promote unity at Marquette and beyond.
"One of the things I'd like to do is figure out how to energize and make able student leadership and participation in this sphere," Peterson said. "If I've learned anything in my 20 years of teaching, it's that students have knowledge and capacities that often we should take direction from instead of assuming what direction people want to go."