Volleyball goes two and one on weekend trip to Indy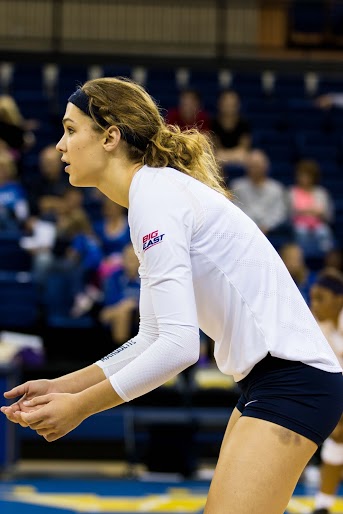 Hang on for a minute...we're trying to find some more stories you might like.
Marquette volleyball brought their overall record to 3-3 this season with two victories and a loss over the weekend at the Hampton Inn Invitational in Indianapolis.
The Golden Eagles' first win of the invitational was a 3-0 (25-14, 26-24, 25-16) convincing sweep over Miami (Ohio) on Friday night. Marquette then fell 3-2 (25-20, 25-18, 20-25, 18-25, 17-19) to Wichita State on Saturday morning before beating hosts IUPUI 3-1 (25-19, 22-25, 25-22, 25-16) to wrap up the tournament on Saturday evening.
Jenna Rosenthal and Allie Barber led the Golden Eagles offensively, and were each named to the All-Tournament team. Rosenthal finished the tournament with 45 kills, while Barber finished with 56 kills. Both Rosenthal (26) and Barber (20) set career highs in kills in Marquette's loss to Wichita State.
Marquette ran into some trouble with Miami (Ohio) in a back-and-forth second set on Friday evening, but took the set from the Redhawks 26-24. They then easily sealed the match with a 25-16 third set victory. Sophomore setter Lauren Speckman finished the match with 36 assists.
"I thought Lauren did a good job getting everyone involved early and often and our ball handlers did a good job against a tough serving team," Marquette head coach Ryan Theis told gomarquette.com.
Wichita State was Marquette's toughest opponent on the weekend, as they had received votes in last week's top-25 coaches poll. The Golden Eagles slowed down the Shocker's offensive attack by limiting them to a .207 hitting percentage, but despite 26 kills from Barber and 20 more kills from Rosenthal, Marquette couldn't pull of the victory, falling 17-19 in the fifth and final set.
In the final game of the tournament against IUPUI, the second set was once again a problem for Marquette. They won the first set 25-19, but dropped the second set 22-25. In the third set the teams were knotted up at 21, when Barber and freshman Hope Werch helped score the games final four points as Marquette secured the 25-22 victory. The fourth set was no problem for the Golden Eagles, as they won 25-16.
After being on the road for the first six matches of the season, both trips together spanning more than 8,900 miles, Marquette will finally host their home opener at the Al McGuire Center Friday night at 7 p.m against win-less Loyola Chicago.