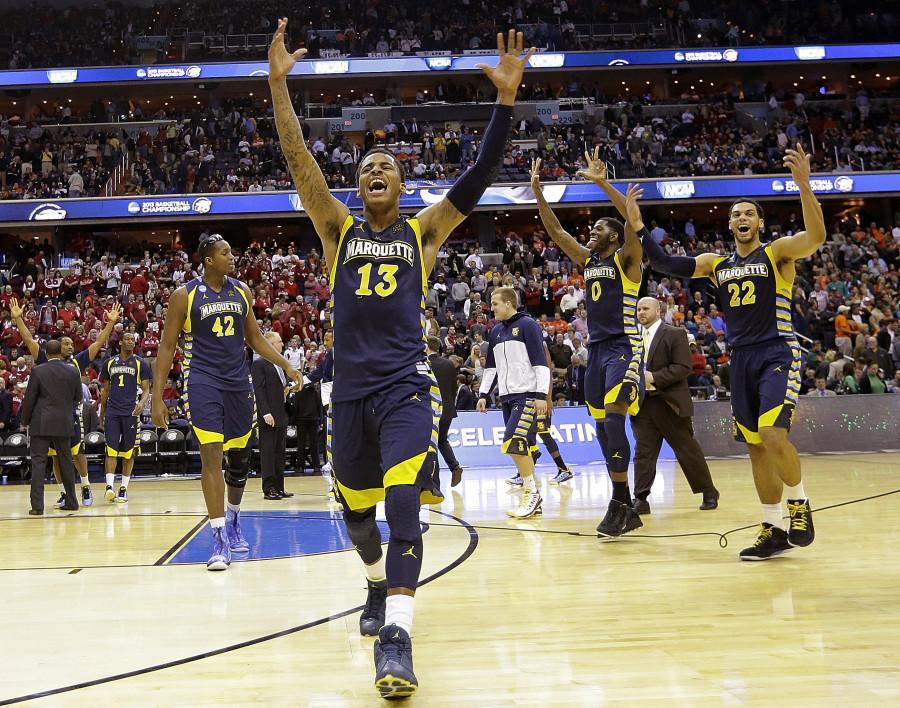 AP/Alex Brandon
Vander Blue signs partially guaranteed deal with Lakers
Former Marquette standout Vander Blue will have a chance to return to the NBA this fall after signing a partially guaranteed contract with the Los Angeles Lakers.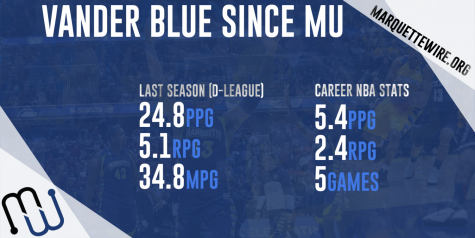 Blue is coming off a strong season with the Lakers' D-League affiliate, the Los Angeles D-Fenders, in which he averaged 24.8 points per game, and finished as the D-League's most valuable player. The 25-year-old point guard has played in five NBA games in his career since forgoing his senior year at Marquette to enter the NBA Draft in 2013.
The Lakers already have 14 guaranteed contracts, meaning that Blue will essentially be competing for Los Angeles' final roster spot.
Blue, who suited up for Marquette from 2010-'13, played a key role in Marquette's back-to-back Sweet 16 appearances in 2011 and 2012, as well as the Golden Eagles' Elite 8 run in 2013.
Wojo makes final push for Grimes as decision nears
Days after receiving a commitment from four-star 2018 forward Joey Hauser, Wojo and his staff are pressing ahead with the recruitment of 2018 point guard Quentin Grimes, who plans to narrow his list of potential schools to five soon.
Marquette's full complement of coaches watched Grimes play in Las Vegas both Thursday and Friday. A source told the Wire that at least one Marquette staff member has attended each of Grimes' games in the July evaluation period.
Grimes has already announced that he plans to take official visits to Arizona, Kansas and Texas, so it's safe to assume those schools will make his final cut. He also told Rivals that he wants to use all five of his allotted visits.
All three major recruiting websites (ESPN, 247 and Rivals) rank Grimes as one of the nation's top 30 players in 2018. Grimes hails from The Woodlands, Texas, and is on the AAU team Basketball University, which is based out of Houston.
Marquette currently does not have a 2018 scholarship open but has lost at least one player via transfer the past four years.
Diener leaves MU to join professional ranks
After a three-year tenure as Marquette's director of player personnel, Travis Diener will leave Milwaukee for Italy. Diener, the program's sixth-leading scorer, signed with Vanoli Cremona, a team in Italy's top basketball league. There, he will join cousin Drake Diener and former Dinamo Sassari coach Meo Sacchetti.
Check out the full story on Diener's departure here.
WBB announces challenging non-con schedule
Marquette women's basketball thrived last year against ranked teams, going a perfect 6-0 in the regular season. The Golden Eagles will put that strength to the test again this year, playing four NCAA tournament teams from last year — New Mexico, Tennessee, Green Bay and Notre Dame — in the non-conference schedule.
These games are all true road games. Marquette will take on Tennessee as part of the Cancun Classic in Mexico. Marquette will also visit Michigan, the reigning WNIT champions. Other notable games include a home game against in-state rival Wisconsin and a trip across the Milwaukee River to visit University of Wisconsin-Milwaukee.
Click here for the full story on the non-conference schedule release.
 Quick shots
Volleyball coach Ryan Theis told the Wire's Andrew Goldstein that Marquette is starting a home-and-home series with Wisconsin. This year's matchup will be the first regular season bout between the two schools since 2008. Marquette is 2-18 all-time against the Badgers with the most recent win coming in 1978.
Women's track and field received All-Academic Team honors from the U.S. Track & Field and Cross Country Coaches Association (USTFCCCA) for the 10th consecutive year.
Marquette women's soccer coach Markus Roeders traded soccer for saws this weekend, making the ceremonial first cut for the STIHL Timbersports U.S. Collegiate Championships in Milwaukee.