MCCARTHY: Charm, wit dominate 'Boss Baby'
Film touches on importance of family, gets positive review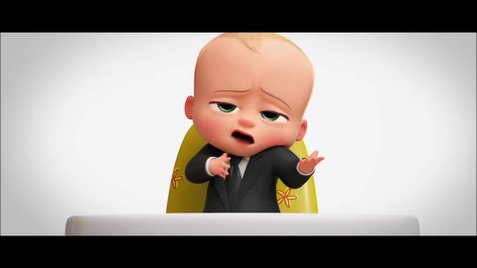 Known for his hilarious and entertaining impersonations of President Donald Trump on "Saturday Night Live," Alec Baldwin has almost always been a comedic actor. Now, people are getting to know him in his newest role on the big screen sporting a diaper, briefcase and pacifier.
"Boss Baby," starring Baldwin, is a DreamWorks gem that has all of the drama, comedy and sentimentality a memorable animated film should have. All of the action and excitement is brought to the audience in bite-sized, chewable and safe-to-swallow pieces. The film brings laughs and several pop culture reference to the whole family. The cast is star-studded with the voice talents of celebrities like Jimmy Kimmel, Steve Buscemi and Lisa Kudrow.
The story is told from the perspective of a 7-year-old boy named Timothy "Tim" Templeton who finds out he is going to be a big brother. Although newborns are known to be a handful, this new family member turns out to go beyond anyone's wildest expectations. Not only is his baby brother taking all of his parent's attention away from him, the new baby has the ability to talk and write memos. Tim quickly realizes that his baby brother is on a mission.
"Boss Baby" opens with a flashback to Templeton's happy upbringing through the lens of his wild, childish imagination. When he is introduced to the title character, Boss Baby, his world turns upside down. The baby hosts meetings disguised as play dates and he uses a special pacifier to show Timothy where he and all babies come from. There are no storks in this story, only an interlocking system of slides that sort babies into families at the massive company, Baby Corp.
While most babies are powdered, diapered and sent to their new parents, other babies are hand selected for a "promotion." Boss Baby is promoted and receives a cubicle and a briefcase full of crayons and a stress ball. While the premise is comical, the movie touches on a more serious message of the importance of family.
Babies such as Boss Baby were never given a family and were forced into the cold corporate world. With all work and no play for Boss Baby, his only objective is to get the ultimate promotion and his portrait on the wall at Baby Corp. He doesn't understand what it is like to be loved and cherished by a family the way Templeton does.
This could potentially be a reference to Donald Trump, but the movie keeps this message ambiguous. The movie also features a possible reference to Donald Trump when Boss Baby convinces Templeton to help him complete a special mission and threatens Timothy by saying, " Keep quiet or there's gonna be cutbacks." However, screenwriter Michael McCullers told the Hollywood Reporter that these allusions were purely coincidental.
While babies are the adorable centerpieces of the movie, those involved in Baby Corp have to beat the competition. Only one other company, Puppy Co., can compete to monopolize on the world's love and adoration. All the puppies work under this conglomerate that aims to hog all the love in the world. Boss Baby and Templeton work together to foil Puppy Co.'s plot to launch their newest puppy that will dominate the market and put Baby Corp. out of business.
The movie was charming, witty and fast paced at times. The main characters had strong character development throughout the film. While the dialogue in "Boss Baby" was snappy and original, the movie was more on the predictable side with a storyline that was a bit messy. Still, there were plenty of surprise twists and dramatic scenes throughout.
Leave a Comment