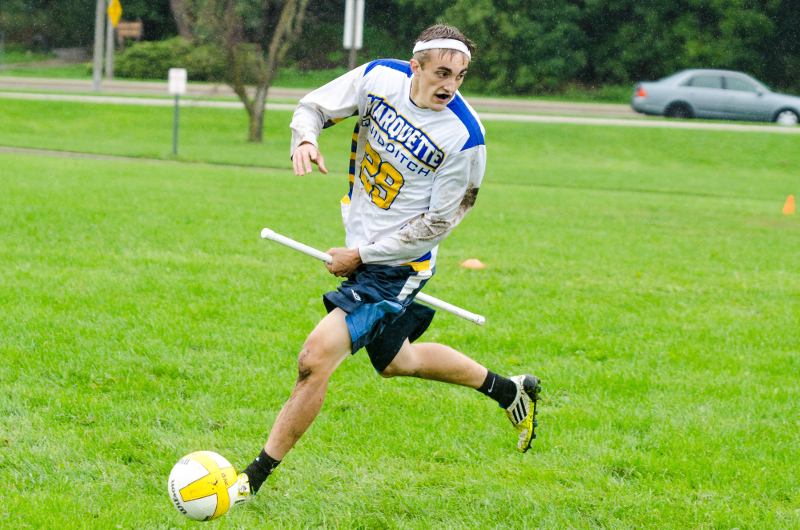 Austin Anderson
When Marquette Quidditch clinched a trip to nationals in November, it brought back memories of heartbreak from two years earlier for club president Nathan Digmann.
With harrowing, blizzard-ravaged roadways, power loss at their hotel and a number of crucial injuries, it was a miracle Marquette Quidditch, or any of their midwestern foes, made an appearance at the regional tournament in fall 2015. Some teams, fearing the below-freezing pitch packed with snow and enveloped by a 30 mile per hour whipping wind, requested the games not be played. The officials, after long consideration, ruled the players must mount their broomsticks and take flight.
It didn't worry Marquette. After winning their inaugural home tournament against similar competition just two weeks prior, they were heavy favorites to survive the tundra and earn a trip to the World Cup in Kissimmee, Florida — something that had evaded them for three long years.
But when the snowflakes settled, the favorites were surprisingly sent packing and forced to kiss their dreams of Nationals goodbye.
"It felt awful," Digmann said. "It hurt the club, in the short term. The rest of the spring semester, for the first few months, everyone was really demoralized."
They eventually regrouped, found success in a Quidditch "NIT tournament" of sorts down in Texas, and rallied around their passion for the sport in a quest to return to this year's regional tournament with a vengeance.
"We took on a more serious nature," Brandon Kwak, one of the five seniors on the team, said. "We're running practices in a more efficient way and we have a concrete game plan."
With heavy roster turnover following the 2015 defeat, they were no longer the favorites going into the 2016 Regional. Many considered them big underdogs, but they easily cruised to the semifinal, when another brick wall hit.
After two straight losses, they again stared down defeat and heartbreak as the scoreboard ticked toward eventual demise.
Third time was the charm for the Golden Eagles, and the clinching game played out like a movie script. The now-graduated Jahi Brown caught the match-ending 30 point snitch against Twin Cities-based TC Frost. It was just enough to give Marquette the lead and secure their first trip to Nationals since 2013, but referees paused to deliberate whether or not the catch was clean.
"It felt like it was about two minutes," Kwak said. "You could hear a pin drop. Even the people in the stands watching were dead quiet."
But when the ruling was made official, the emotions swelled and tears began to flow.
"A bunch of us started crying, we were so excited," Melissa Kurtzweil, a senior in her first year on the team, said. "This tournament says we worked so hard to get to this point. It feels like all the work has paid off."
"Even Nate (Digmann) walked off the field crying after that game," Kwak said.
But Digmann's tears symbolized something different: relief.
"The one word that came to mind was 'finally,'" Digmann said. "We'd been waiting for so long, and really this year at regionals a lot went wrong again. There was a thought of 'here we go again.'"
The emotions stemmed from the long, winding road Digmann, Kwak and fellow senior, Christian Van Scoy, have ventured down since they first gave that "goofy thing at O-fest," as Kwak put it, a chance.
"Freshman year, there was a lot of drama and debate about the leader of the team," Van Scoy said. "There was a real lack of organization and communication."
Seventeen of the 21 players were freshmen, and most, including Digmann, considered not coming back. But, instead of giving in, they buckled down and took Marquette Quidditch to the next level.
Now, the team kicks off the nationals competition April 8, the first time any of the players will participate.
"I expect it to be a really special experience." Digmann said. "We can win, it's not totally out of the realm of possibly, but, and this might surprise some people, it's not totally about winning. It's about seeing people perform and growing together as a team and family."