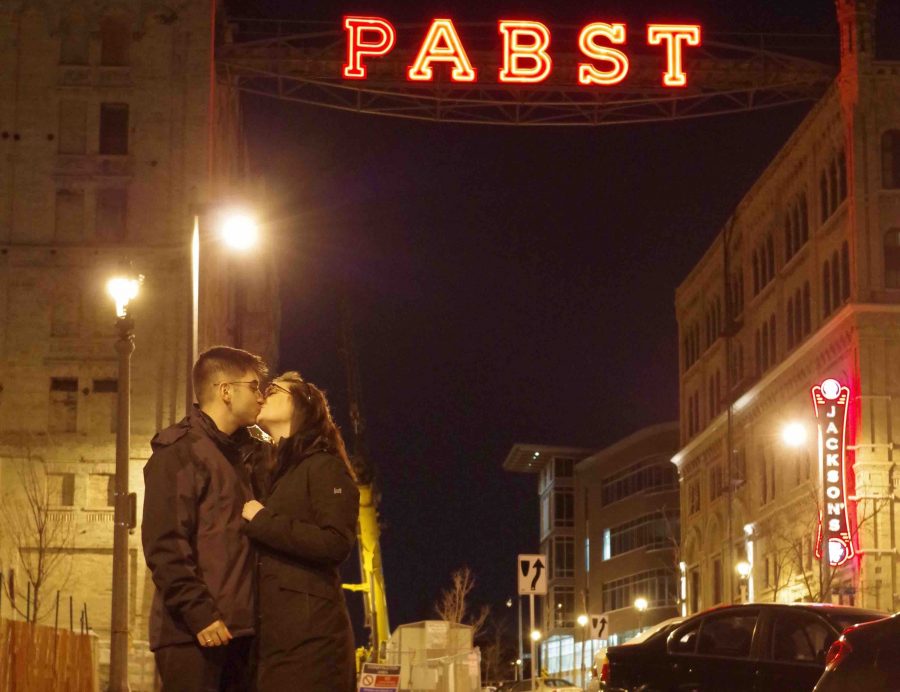 On a typical Thursday night on West Juneau Avenue, the Pabst Brewery comes alive with the sound of shifting snare drums and trumpet blasts.
The rhythms sway in the background of a scene from a 1950s dance hall. Partners glide around the dimly lit floor, their steps clapping against the hardwood in pace with the old-time jazz music. It's lesson night at Cream City Swing, a dance club in Milwaukee.
Bridget Sampson, a junior in the College of Health Sciences, looked on as the swing instructors directed about 40 others through a lesson. Across the floor stood her boyfriend, Luiz Gabriel Dias Duarte Machado, also a junior in the College of Health Sciences.
It was their first time swing dancing.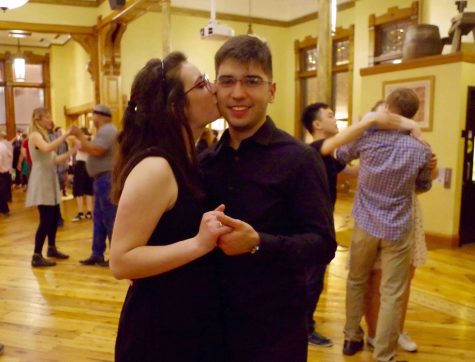 The two shared sideways glances at each other, smiling uncertainly, excitedly.
"It's really cute," Sampson said. "I really like it … (I'm) nervous, very nervous."
The lesson began with participants separating between "lead," and "follow." The lead communicates the transition to different steps, and the follow responds. Sampson decided to be the follow and Dias Duarte Machado the lead.
Doug Hillman, an instructor at Cream City, stood in the center of a circle of couples that spanned the length of the ballroom teaching the basic six-count step. The count is the fundamental rhythm for all styles of swing dance. One-two, one-two, rock-step. 
After mastering the basics, the class began incorporating spins and turns.
Partners began to rotate around the circle to dance with the stranger next to them.
When Sampson saw that she would be dancing with nearly everyone in the room, she was reluctant to leave her boyfriend's side.
"I wasn't super crazy about the whole going around in the circle, like rotating partners," Sampson said.
Hillman said he sees this as a bit of "forced interaction" as a tool to expose the dancers to new moves and styles.
"You can watch when people come in and see that, yeah, this is probably way outside of their comfort zone," Hillman said. "(But) I think most people, once you find something you do pretty well, it builds your confidence as a whole."
Sampson made her way around the circle, practicing the six-count step with different partners. It was going well, except for a plethora of sweaty hands and stepping on a few feet.
Once open dance started, the men and women flooded out onto the floor. Dress code is casual at Cream City, with people wearing anything from colorful dresses and eccentric costumes to comfortable jeans and tennis shoes.  
The floor was peppered with students from schools all around Milwaukee. Age is not often a boundary for dancers, who will dance with partners ranging from young adulthood to the elderly.

"I think that a lot of college students are looking for social activities that they can go out and do … that maybe don't involve hanging out in the dorms," Hillman said. "They want something to get them out in a way and make real connections with people."
However, skill level and familiarity can actually discourage beginners from getting out of their comfort zone to practice with advanced dancers.
"When you come to a dance, you sit with your friends," Hillman said. "Especially as a beginner, when you come into this scene you are grouped with a whole bunch of other beginners."
It's the social nature of swing that allows newbies to become comfortable with partner dance. For those looking to branch out, simple dance styles such as swing open the door to competition, such as the Wisconsin State Dancesport Championships that allow couples to showcase their talents in a variety of dance styles.
In high school, Zach Pederson, a sophomore in the College of Engineering, learned a number of dance styles. The tougher, more competitive dances, such as foxtrot and Viennese waltz, are harder to pick up than swing.
"If you've seen a movie like 'Pride and Prejudice' or something like that when they're in a really big circle and they're all spinning around really fast, that's the Viennese waltz," Pederson said.
"It's pretty intense … you can get mowed over pretty quickly if you're not moving along."
Pederson has never participated in a dance competition but said he still likes learning new styles. Viennese waltz tops as the hardest dance he's tried; swing is the easiest. To convince friends to come along to Cream City when he visits, Pederson shows a few moves to friends who have never danced before.
"To people who don't understand how to dance well, simple moves can look very fancy if you do them right," Pederson said.
The basic six-count step is what distinguishes swing from any other style of dance, but subcategories of swing evolved over time, incorporating influences from other styles of dance.
Besides dancing at the Pabst on Thursdays, Pederson is a member of Marquette's Ballroom Dance Club. Members take lessons from Michelle Tate, owner of Brew City Ballroom.
The club rotates through a variety of dances, such as foxtrot, tango and salsa. Tate led a swing workshop last semester.
"It's like barbecue, there's a different flavor in every region," Tate said. "It's (also) really easy to start with."
Lindy hop, shag, East Coast and West Coast swing are just a few styles. Ballrooms in the Midwest, including Cream City Swing, stick to the basics with East Coast swing.
The simplicity of the steps is what brings a lot of new dancers to the floor, said Catey Ott Thompson,  a dance lecturer in the College of Communication.

"It feels fun and social, and a little bit less pressure," Ott Thompson said.
With such a hopping dance floor, it may be difficult to believe Hillman's claim that the Milwaukee swing community has decreased in size since its heyday in the '90s when it was popularized by commercials and movies.
"In '98 when I started there were events like this and it was a huge mainstream fad at the time," Hillman said. "It would be packed where you would have to wait in line."
The laid-back atmosphere even allows for males and females to try nontraditional roles in partner dance. At Cream City, it isn't unusual to see men dancing as follows and women as leads.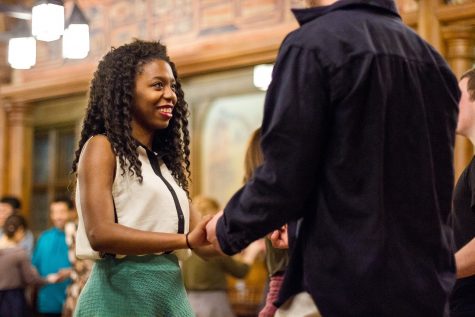 "It takes a handful of lessons to even get to the point where you have the slightest clue," Hillman said. "For most guys, I think in a patriarchal society as it is, it's going to be a blow to their ego."
Sampson and Dias Duarte Machado tried both roles before choosing. Sampson preferred being the follow. 
"It's nice being the girl because usually the guys know what they're doing," Sampson said.   
Gender roles aside, Dias Duarte Machado was willing to learn to follow. He even drew on his experience with salsa dance.
"I started enjoying salsa after I had gotten the hang of it," Dias Duarte Machado said. "It's the same here."
Before coming, Sampson said her parents and grandparents tried to teach her how to dance, but she struggled to follow. At Cream City Swing, she said it was easier to pick up the moves.
After dancing a few songs, Sampson was starting to get the hang of it. She had to FaceTime her mom about the experience.
"I haven't touched my phone … other than to FaceTime my mom," Sampson said. "I thought she'd find it funny."
Both Sampson and Dias Duarte Machado noticed that most dancers did not stare at their phones or take selfies to document their experience. 
"If you're here, unless somebody that you have an interest in has dragged you, you've come here by choice," Hillman said. That was the case with both Sampson and Dias Duarte Machado.
Dias Duarte Machado had some advice for newcomers interested in trying out swing dancing.
"If you want to dance well, pretend you have a curly mustache," Dias Duarte Machado said.  "That's what I would say."
Sampson laughed. She wasn't so sure about the mustache. However, she did say they'd both be back.