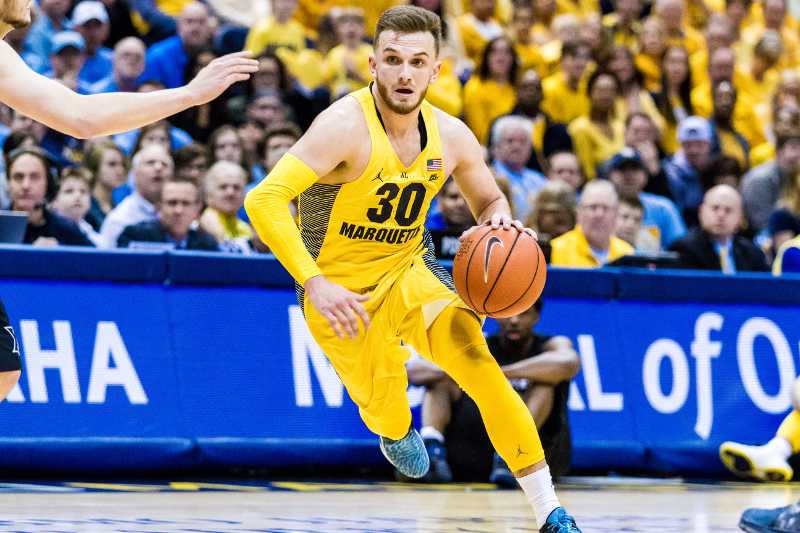 Austin Anderson
Rockin' Reinhardt 
Don't give Markus Howard an inch. Don't let Andrew Rowsey breathe. Never leave Sam Hauser's hip. Oh, and don't forget about Katin Reinhardt.
It can be hard to keep track of Marquette's array of deep threats and when you give one of them the chance to get in rhythm, it might just cost you the game. Xavier gave Reinhardt too much space seven minutes and 18 seconds into the game and he made the Musketeers regret it for the next 32 minutes and 42 seconds. The graduate transfer was mostly unstoppable whenever he had the ball in his hands. He finished with 17 points on 7-for-8 shooting, three assists and a steal.
Rowsey being Rowsey
Speaking of players you better watch out for, Rowsey added another insanely productive night to his resume. The redshirt junior put up 20 points on 3-for-5 shooting from 3-point range, five assists and three rebounds. He was 9-for-9 from the free-throw line, and he drew another foul pump faking a 3-point shot.
No. 1 for a reason
The Golden Eagles entered the game as the nation's best 3-point shooting team at 42.3 percent. They proceeded to knock down 12 of their 21 long balls, good for 57.1 percent. Hauser turned in the worst 3-point shooting performance of any Golden Eagle by going 2-for-5, or 40 percent.
Resume builder
Marquette was in desperate need of another resume victory and they got it. Xavier began the day as the No. 26 team in RPI, giving Marquette their sixth top-50 RPI win of the season and second top-50 RPI road win. There's no guarantee the Golden Eagles would be in if they failed to earn another victory. However, a home win Saturday against Creighton would give Marquette a 7-6 record against the RPI top-50 heading into the BIG EAST Tournament, likely locking them into the NCAA Tournament.
Best stat line
Katin Reinhardt: 17 points on 7-for-8 shooting and 3-of-4 from 3-point range, three assists and zero fouls in a game where 44 fouls were called.
Stat of the game: Marquette's effective field goal percentage was 72.2 percent and the team scored 1.34 points per possession.
Up next
Marquette hosts Creighton 23-7 (10-7) who they beat 102-94 in Omaha nearly six weeks ago. The Bluejays are 5-6 since losing star point guard Mo Watson for the season.