GOLDSTEIN: The game that shouldn't have been played
Although it may be little solace to Marquette fans, it's a minor miracle the Golden Eagles escaped the Dunkin' Donuts Center with only their NCAA Tournament hopes injured.
Let's be perfectly clear: This game should never have been allowed to continue. It never should have been played in the first place. There was no reason to let two teams of young men endanger their bodies on an ice rink with a basketball court's facade. The fact everybody's ACLs are still in one piece doesn't make the decision more logical or acceptable.
As condensation continued to bubble up from the ice rink below, and the "squeak-squeak-squeak" of sneakers on wet hardwood constantly reminded the viewing audience what a ludicrous venture this game always was, the announcers could hardly contain their surprise (or was it disgust?) that things were happening regardless of the blatantly unsafe conditions.
"I cringe every time someone makes a move," CBS Sports analyst and 14 year NBA veteran Brendan Haywood said.
"The second worst (floor conditions) I've ever seen," play-by-play announcer John Sadak said.
Sadak then explained the only game he remembers with worse floor conditions was a collegiate women's basketball game many years ago where maintenance applied the wrong cleaning solution to the court. What did they do? The only sensible thing: postpone the game for eight hours while the floor got re-waxed.
Unfortunately, none of the rational heads who halted that game could make it to Providence in time to stop what was happening. Instead, both head coaches – Marquette's Steve Wojciechowski and Providence's Ed Cooley – agreed to have their teams soldier on despite the horrid conditions.
The referees, usually so eager to assert themselves when marginal hand-slap fouls are concerned, nodded their heads in unison like a slick floor didn't put everyone on the court in harm's way. Games had to be played and basketballs had to be shot, your knees be damned.
The farce only got more and more ridiculous as the game wore on and every possession seemed to end with somebody planted firmly on the floor. Referees had no idea how to differentiate between transgressions that were and weren't the court's fault – not that it made a huge difference. By allowing the game to continue at all, head referee Ed Corbett was blowing the only call that really mattered.
Missing that call nearly had steep consequences on a couple occasions. On one play in the second half, Providence forward Emmitt Holt dribbled from the left wing to the center of the court. He took a step back, started to raise the ball for a jumper, then collapsed in a heap on the free throw line. Replays showed Holt's right leg turning the wrong way. It's beyond lucky he wasn't hurt.
Marquette didn't have any moments as singularly traumatic as that one, but the constant stream of slips made up for it. Katin Reinhardt tripped while performing a simple hesitation dribble. Andrew Rowsey went skidding a fourth of the way down the court while diving for a loose ball. Aside from all those, anybody watching the game couldn't have missed the constant timeouts that had to be taken so the court could be mopped dry of excess condensation. The proceedings started to feel like a grotesque mixture of basketball and curling before too long.
Armed with a solid half's worth of evidence the court was unplayable, the coaches came to the somber realization players trust them to look out for their best interests and the rest of the game had to be postponed in order to respect that trust.
Just kidding.
No, the only thing the coaches agreed to at halftime was that any slips caused by the court would result in the offense keeping possession. I'm sure anybody who tore an Achilles and had to have his teammates carry him off would take great solace in knowing it's still his team's ball.
You're never going to believe this, but nobody seemed especially keen on taking responsibility for the debacle after the game. Larry Lepore, the general manager of the Dunkin' Donuts Center, told GoLocalProv, "70 degrees outside and 90 percent humidity. What do they want me to do?"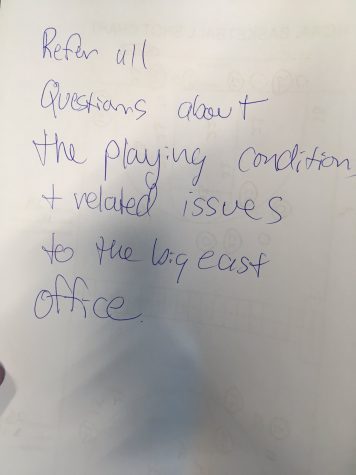 Afterwards, a note from the referees circulated among media members instructing them to "refer all questions about the playing condition and related issues to the BIG EAST office." An hour later, BIG EAST associate commissioner John Paquette placed the blame right back on the officials, citing an NCAA bylaw that states it is on the refs to "notify game management of any potentially dangerous playing court and/or equipment conditions."
If we assume the most charitable of circumstances, the referees realized the danger to the players and simply didn't know they had the power to stop the game. Even under that assumption, officials still had a shaky knowledge of protocol, and the conference responsible for making sure they know it failed in its duty. Of course, another explanation is the refs made a bad decision and stuck the conference with the blame, in which case the BIG EAST is partially off the hook and the referees are doubly responsible.
The coaches didn't come off looking any better. Wojciechowski criticized the slippery conditions in his postgame press conference by saying it's "not fair to Ed's team (and) not fair to us" that an important game was played under such conditions. It might be pertinent to point out that this statement completely ignores that both coaches agreed to play the game under those conditions.
Cooley said the coaches "agreed at halftime that as long as nobody got hurt we'd play through it." Imagine if football or baseball applied Cooley's logic to their weather delays. "Yeah, we know there's a thunderstorm going on right now; but, as long as nobody gets struck by lightning, everything's cool. Play ball!"
Throughout all of this, the group of people whose opinion about the wet court went unsolicited is also the group of people who had to deal with the risk of injury: players. Suppose Emmitt Holt actually did suffer a career-ending injury on that attempted jumper. Or pretend Markus Howard blew out his knee on a wet spot. Would anybody be held accountable for either of them? Does either player get worker's compensation? If they couldn't play basketball anymore, would their scholarships even be guaranteed? You probably already know the answers to those questions.
What happened on Saturday in Providence is merely a continuation of the NCAA's core business model: a bunch of adult administrators make all the decisions and the money, while college kids assume the bodily risk. The people that operate within this system are all too happy to be the adults when it benefits them only to deny agency when responsibility comes knocking. To feign powerlessness on financial issues is already unconscionable; to do it over athlete's safety is disgusting.
You know who realizes that? Wojciechowski. During his postgame press conference, he said, "we shouldn't have been playing on a slippery floor."
Agreed. So why were you?