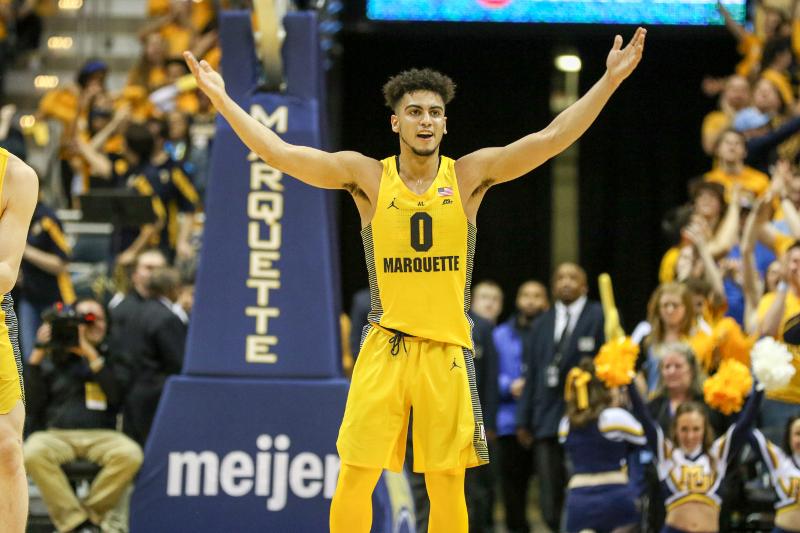 Brian Georgeson
Nobody loves National Marquette Day more than Markus Howard. The freshman scored a career-high and team season-high 34 points in Marquette's 83-61 win against Xavier.
"He put on quite the shooting display," head coach Steve Wojciechowski said. "It was terrific. It was one of the better shooting performances I've ever seen."
With 2:32 remaining in the game Howard hit his ninth 3-pointer of the night, tying the Marquette single game record held by Mark Anglavar. Howard missed his next and final attempt to finish 9-of-12 from deep.
"I didn't even think about it (the record)," Howard said. "I was just really trying to do what I could to help us win the game. My teammates were just pumping me up every time I hit a shot. They were really fueling me. It was just easy to fall into that when they were giving me supreme confidence."
Howard said Anglavar told him after the game he wanted him to go on and break the record.
The 17 year-old's 34 points were a Marquette true-freshman record, besting Henry Ellenson's 32 point performance against Butler last season. It was the most any Marquette player has scored since November of 2014, when Matt Carlino scored 38 points against Georgia Tech.
"I play with great players and I have a great team," Howard said. "They find me in great positions. I wouldn't be able to do the things on the court that you see without them."
Xavier was without star players Edmond Sumner and Trevon Bluiett due to injury and starting guard Malcolm Bernard left the game with an injury in the first half, leaving the Musketeers shorthanded. Their severe lack of guard depth made the task of guarding red-hot Markus Howard nearly impossible.
"You like to have somebody who can chase him (Howard) around and be able to put pressure on their ball screen offense, but we're dealing with five, six, seven players max we felt like we had to go to the zone," Xavier head coach Chris Mack said. "It's going to be a little easier for him to get lost. But zone, man, he was a flamethrower.
"He deserves all the accolades and whatever Marquette record he broke. He was, as I said, as good of a freshman as I've ever coached against in this game."
Howard was the star of the show, but a 22-point victory would not have been possible without a high-quality defensive showing by the Golden Eagles.
Marquette couldn't have asked for a better start, getting out to a 21-2 lead thanks to hot shooting, two technical fouls on Xavier and a flurry of Musketeer turnovers. But most impressive was their defensive intensity during that stretch which held Xavier to just two points in the first 6:48.
"Our guys played really hard on the defensive end," Wojciechowski said. "Obviously we got off to a great start. The first 10 minutes of the first half may have been the best defense we've played throughout the season. I thought Duane (Wilson) did a great job on (J.P.) Macura."
It was a must win game for Marquette (16-10, 7-7) as they seek to bolster their tournament resume in the final weeks of conference play.
"It means everything. This is a great start for us but we just have to continue," Howard said. "We have to treat each game like a war, like a fight. We just have to take this, learn from it, enjoy it right now, but we have to move on to the next one."
Next up for the Golden Eagles is St. John's (13-18, 7-11), who handed Marquette a 14-point loss at Madison Square Garden earlier this month.