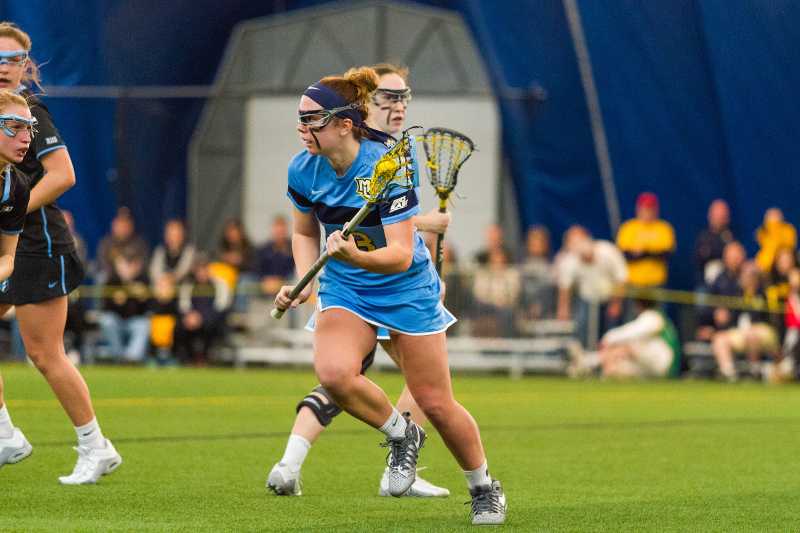 Austin Anderson
It was the same story once again for the women's lacrosse team when they came up short against No. 17 John Hopkins on National Marquette Day, 12-10.
Marquette and John Hopkins continued the pair's closely contested games Saturday afternoon. The last two seasons saw John Hopkins win by a combined 19-15 advantage, including a double-overtime thriller in 2015. Saturday Marquette was once again unable to get over that hump.
"Its disappointing but they're and experienced team, they've won a lot and have that confidence," head coach Meredith Black said.
The first half was a defensive battle. The Golden Eagles played much better on that end today, holding John Hopkins to only seven goals in the first half. Neither team was able to garner an advantage and gain momentum as both teams answered each others' runs. Grace Gabriel and Julianna Shearer each had two goals a piece for Marquette to keep the Blue Jays in reach. In goal, Molly Grozier came up with a couple free possession saves, allowing Marquette to hang around. Grozier would finish with seven saves on the afternoon.
A big question coming into today's game was how the team would respond after getting blown out against Notre Dame. The defense caused John Hopkins to commit 25 turnovers and did enough to allow Marquette's offense to find its own rhythm. Grace Gabriel and Julianna Shearer looked as dangerous as ever and were a force on offense for Marquette. Gabriel and Shearer would finish with hat tricks to add to their team leading goal totals.
Early in the second half the Golden Eagles proved they were never going away by tying the game at 9 with a goal from Allison Lane. The defense continued to impress, holding the Blue Jays to 11 shots in the second half. Just when it looked like the Golden Eagles would take command, a foul by Cate Soccodato gave John Hopkins a woman advantage and the Blue Jays capitalized by regaining the lead. Soon after the Golden Eagles would again be disappointed with a call when Shearer's game tying goal was disallowed for a dangerous shot. The momentum the Golden Eagles gained was squashed, as the Blue Jays scored immediately after.
"I didn't see it and she (Shearer) didn't think it hit anybody," Black said. "You can't control the officials but it was unfortunate because it was a momentum changing moment for sure."
John Hopkins was able to run out the clock after Marquette pulled within one. Soccodato, Riley Hill and Allison Lane rounded out the scoring for Marquette. Offensively, Marquette struggled to get shots on goal only shooting 24 times in the game, a low number for the usual high scoring offense.
The loss was the Golden Eagles third consecutive loss to a ranked opponent. During the three games the Golden Eagles certainly proved they can compete with top level teams. Black expects these games will help improve the Golden Eagles when BIG EAST play comes around.
"There's a reason we put these opponents on our schedule," Black said. "I like playing them in the beginning of the season. I really hope we utilize and learn from these games and I hope it will propel us to a strong BIG EAST season."
Up next the Golden Eagles will hit the road for seven games starting with Central Michigan next week.