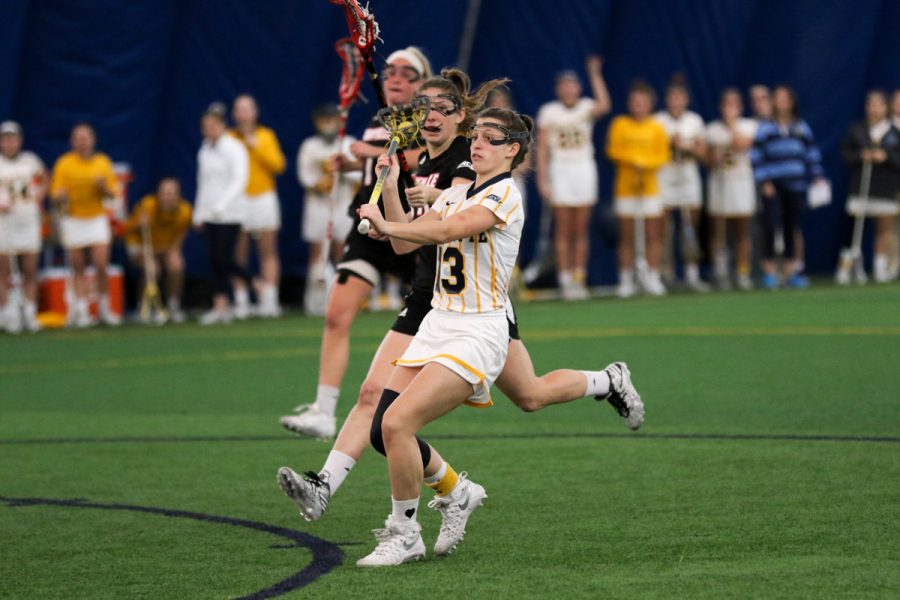 Brian Georgeson
Women's lacrosse dropped their second game of the season 21-9 against No. 10 Notre Dame yesterday afternoon.
The Golden Eagles were no match for the highly-talented Irish, who reached the quarterfinals of the NCAA tournament last season and showed they are poised to do so again.
Marquette showed early positive signs after Julianna Shearer scored twice in 25 seconds to take a 2-1 lead. Shearer led the team with four goals on the night, giving her five on the season.  The Irish responded with four quick goals and never looked back, out-shooting Marquette 48-22.
Marquette's defense struggled to contain Notre Dame's potent offense, who average 19 goals a game, good for fourth in the NCAA. The Irish are anchored by NCAA points (24) and goals (18) leader Courtney Fortunato, who had a pair of goals and assists. Nikki Ortega had a standout game for the Irish as she collected a career-high seven points to lead her team. Throughout the game the Golden Eagles were outmatched and committed 30 fouls and 20 turnovers.
Grace Gabriel did tie the school record with eight draw controls and also added a goal and assist. Cate Soccodato, Riley Hill and Allison Lane all got on the score sheet for Marquette.
One bright spot for Marquette was freshman goalie Jules Horning, who made her debut after coming in for junior Molly Grozier early in the first half. Despite getting hounded in goal, Horning proved she could make saves, tallying 13 in the game.
The Golden Eagles return home Saturday for National Marquette day and will host yet another ranked opponent in No. 17 John Hopkins at noon.