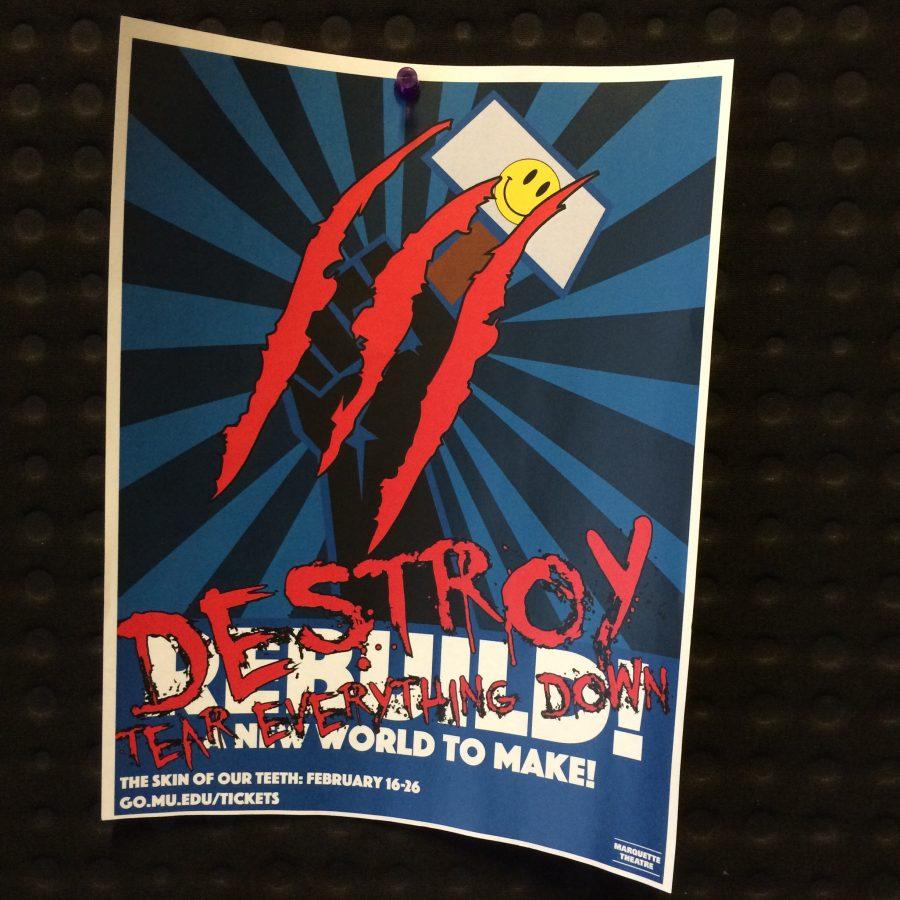 Jennifer Walter
The first time Marissa Ellison, a junior in the College of Communication, read the script for "The Skin of Our Teeth," it threw her for a loop. The second time she read it through, she was even more confused.
Devastation such as an ice age, a flood and a world war might not seem like key plots for comedy. In Marquette Theatre's latest production however, there will definitely be a combination of devastation and laughter.
The Helfaer Theatre is presenting "The Skin of our Teeth," a Pulitzer Prize winning play written by Thornton Wilder in 1942. It is about a family, the Antrobuses, who encounter separate horrific events throughout the three acts. From biblical floods to present day, the family has to survive by any means possible.
Ellison plays Sabina, the maid for the Antrobus family in the play. She said she had to prepare a lot. This not only involved remembering her lines, but trying to grasp the plot fully.
With the assistance of her director, Jamie Cheatham, and asking many questions during rehearsals, Ellison has now come to terms with the quirkiness of "The Skin of our Teeth."
"It's dark, but we have a lot of fun with it," Ellison said.
Three giant screens have been put on stage to help depict these apocalypses.
According to Julie Ahlgrim, a senior in the College of Communication, the screens are necessary for telling "The Skin of our Teeth" the right way.
"The images depict how much time has changed and how the world has changed," Ahlgrim said.
Ahlgrim and Mark Gotthelf, a senior in the College of Engineering, collaborate to make scenery for the show. They both spend a lot of time working on what goes onto the screens.
Gotthelf has been working on three-dimensional rendering, while Ahlgrim has been working on animating hand-drawn images on Photoshop. They have spent weeks perfecting their work.
"One of the hardest things for me is waiting," Gotthelf said. "I have to wait 12 hours for a render to finish to get about seven to eight seconds of video. If it's wrong, I have to wait another 24 hours and do it again."
All of the long days of work, however, are going into what will be an "incredible show about human existence," according to Ahlgrim.
Although the show is really intense, it's still classified as a comedy. Ellison hopes the weirdness of the show appeals to potential viewers.
"I hope people come and see it, and aren't afraid of the weirdness of it because weird is good," Ellison said. "Weird makes you think, and there's a lot to think about in this show."
The show starts Feb. 16th and runs through Feb. 26th. Tickets are on sale at the Marquette Theatre box office.