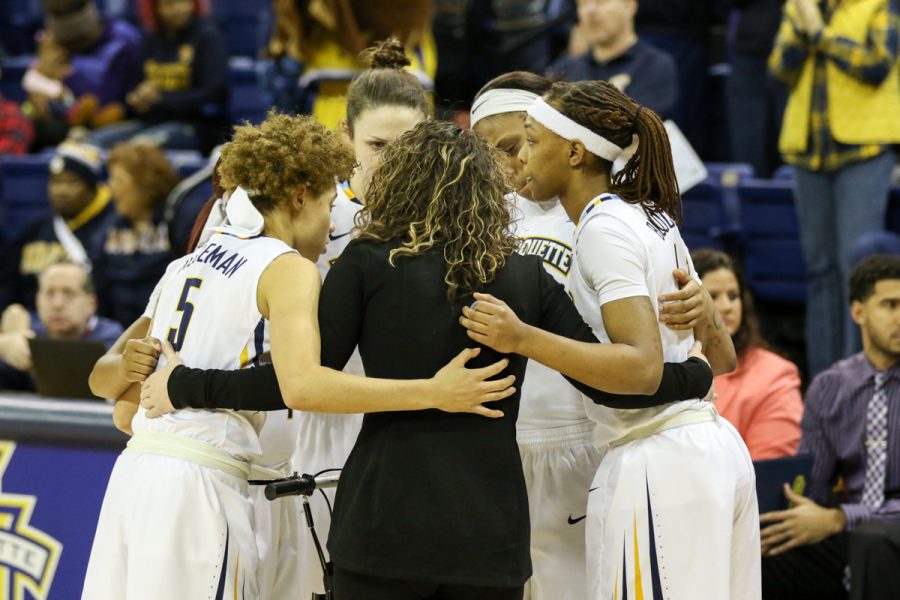 Brian Georgeson
Marquette women's basketball team concluded their two-game road trip with an 80-77 loss to Creighton Sunday.
The Golden Eagles led for the entire game and had a comfortable eight-point lead heading into the fourth quarter, but a late 8-0 run from the Bluejays allowed Creighton to take the game.
"The team that is ahead oftentimes gets a little conservative and we were due to make some shots," Creighton head coach Jim Flanery said to the BIG EAST Digital Network following the game. "We went small and I thought when we go small the mentality is at some point we're going to be really hard to guard because of the ball moves. We space the floor and we have enough 3-point shooters. Eventually, we got ahead. We stayed small because the deficit was such I didn't feel we could come back if we put a five player back on the floor."
Sydney Lamberty led the comeback for the Bluejays by scoring all eight of Creighton's final points. She would finish the game tied for a team-high 14 points.
With 0:56 left to go in the game, Marquette held a 77-72 lead. The Golden Eagles had held off Creighton comebacks for the entirety of the game, but with a minute left, things began to unravel. Following a Creighton timeout, Lamberty converted on a layup to cut the lead to three. Then a Marquette turnover gave the ball back to Creighton and Lamberty was fouled. She hit both of her free throws to minimize Marquette's lead to just one. After another Marquette turnover, Lamberty connected on a jump shot to give Creighton their first lead of the game. The Golden Eagles missed a 3-point attempt, forcing them to foul Lamberty, who again hit both her free throws to give Creighton an 80-77 lead. The Golden Eagles had one last attempt to tie the game, but were unable to do so.
In addition to Lamberty's offensive prowess, ball security was another major advantage Creighton had. Marquette had eight turnovers in the second half, as opposed to just one from Creighton.
Coming off a loss to Providence Friday, Marquette came out with a purpose in the first quarter. They set a favorable fast-paced tempo that allowed them to create a 29-16 lead by the end of the first.
The Golden Eagle offense disappeared in the beginning of the second half. It took 2:47 until Marquette scored their first points. Creighton used Marquette struggles to cut their deficit to five, but Marquette built their lead right back up and went into halftime up 44-37.
Creighton once again cut into the lead in the third quarter, but Allazia Blockton helped build the lead back up for the Golden Eagles. Blockton would score 15 second half points and lead Marquette with 25 points in the game.
Marquette had an eight-point lead heading into the fourth quarter before Creighton launched their incredible comeback.
Marquette comes back to Milwaukee to take on Seton Hall at 11:30 a.m. Friday.