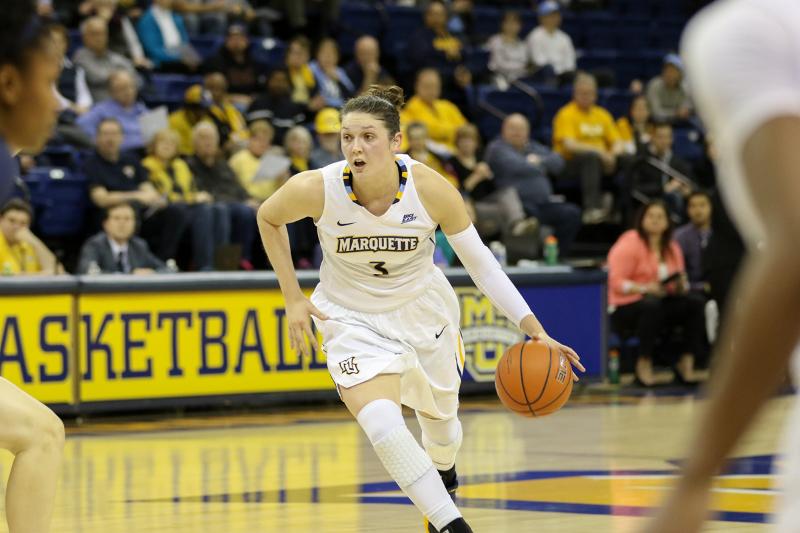 Brian Georgeson
Many BIG EAST teams have been victims of Butler forward Tori Schickel's authoritative presence in the paint, but Marquette was certainly not one of those teams Sunday, dominating Schickel and the Bulldogs, 91-53, at the Al McGuire Center.
Butler's leading scorer and the BIG EAST's top rebounder had her second-lowest point total of the year and shot a forgettable 3 for 11 from the field.
Marquette sophomore Erika Davenport had the challenge of guarding the Bulldogs' sophomore star.
"You could tell (Davenport) was really focused on that and did a fantastic job," head coach Carolyn Kieger said. "That was fun to watch."
"I know I had to step it up and try to out-rebound her as much as I can," Davenport added. "She's an excellent player. Going against her was like an honor."
Davenport, who finished the game with her 11th double-double of the year, had the benefit of what Kieger described as an "opportunity double."
"If (Schickel) caught it in the post and started to back down and dribble, we wanted to poke it out," Kieger explained. "Our team did a fantastic job knowing when to go and when to scramble out of those situations."
"(The opportunity double) helped a lot because I know she liked to go over both shoulders… She can go either way," Davenport said. "My teammates being there was like a big help, so without that, it would be hard to stop her."
In the first quarter, Schickel shot a shabby 1 for 5 from the field and only had two shot attempts in the second quarter.
As Schickel was rendered ineffective on offense, the rest of the Bulldogs could not pick up the slack. The team missed their first seven 3-pointers and shot 30 percent from the field throughout the entire game.
Offensively, lone senior McKayla Yentz spearheaded the team's offensive exhibition, knocking down five of six 3-point attempts to finish the game with 15 points.
"I actually yelled at (Yentz) for not shooting more," Kieger said. "It's great to have her back shooting that way."
Yentz's 3-point attack was crucial towards the beginning of the game, helping MU establish a 23-9 lead by the end of the first quarter and thwart Butler's 2-3 zone early in the quarter.
"I love that she's finding her stroke again," Kieger added. "It makes us such a different team."
Sophomore Allazia Blockton, who finished with a team-high 20 points, helped the team own an impressive 28-6 advantage in the rebounding category.
"I've been talking to her about running the floor a little bit more and the extra and little things," Kieger said. "If she plays like that and can score in transition and the half-court, it makes us a different team."
"It starts with our rebounders getting ahead and looking right away and then we have what we call flyers," Kieger said regarding the team's transition offense in general. "If we're playing at that tempo, it's hard to defend, even if you know what's coming."
The team's monstrous lead, which peaked at 40, gave Kieger the luxury of giving all 12 available players minutes.
Freshman Isabelle Spingola took advantage of the extra minutes, scoring nine points after entering the game late in the third quarter.
The Golden Eagles will look to extend their winning streak to four games as they visit DePaul Saturday. DePaul remains undefeated in BIG EAST play and holds a nine-game winning streak.
"We both score almost 80 points a game, so it's going to be fun," Kieger said. "It's going to be fast-paced, and whoever's willing to play some defense, I think, is going to come out ahead."