Recruiting scores: Holiday tournaments productive for MU targets
Hang on for a minute...we're trying to find some more stories you might like.
As men's basketball head coach Steve Wojciechowski and his staff scramble to fill the final three scholarship slots of 2017, here is how Marquette's targets have been performing since the holidays:
2017 (Committed/Signed)
THEO JOHN (Champlin Park HS, Minnesota) — The future Golden Eagle thrived in the Granite City Classic, scoring 15 and 16 points against Woodbury and Madison East, respectively. He also had a 10-point, 10-rebound performance Friday against Coon Rapids. Champlin Park remains undefeated and has not lost a regular season game in almost 11 months.
IKE EKE (U-D Jesuit, Michigan) — U-D Jesuit took down St. Vincent-St. Mary, the second-ranked team in Ohio at the time, 55-49. Eke had four points in the Cubs' winning effort. Eke had a much more productive scoring night Friday, scoring in the double-digits in the team's win over Romulus.
JAMAL CAIN (Detroit Cornerstone, Michigan) — Cain scored 16 points and grabbed 14 rebounds Dec. 26, but that was not enough for Cornerstone in their 79-50 loss to New Haven.
2017 (Offered)
GREG ELLIOTT (Detroit East English Village Prep, Michigan) — Elliott's week was highlighted by a scholarship from Marquette Monday. Elliott was part of a two-day recruiting trip for Marquette assistant Stan Johnson, per a source.
JACOB EPPERSON (La Lumiere School, Indiana) — Epperson scored 10 points in La Lumiere's 88-43 victory over Aberdeen Central in the Mike Miller Classic Dec. 30 in Sioux Falls, South Dakota.
DONNIE TILLMAN (Findlay Prep, Nevada) — The Pilots won their first game since the holidays Friday in the Cancer Research Classic, but individual stats were not available.
2017 (Interested)
TIM CAESER and SHAUN DOSS (Marion HS, Arkansas) — Marion edged Forrest City, 76-73, Monday with Marquette watching. The team is now 3-1 since Christmas. Individual stats were not available.
2018 (Offered)
JOEY HAUSER (Stevens Point Area, Wisconsin) — Hauser's ankle injury from football season has lasted significantly longer than initially expected, as he still has not made his 2016-'17 debut. Prior to the injury, head basketball coach Scott Anderson told the Wire regarding Hauser's injury risk, "You cross your fingers a little bit and say a couple of prayers that he and some of our other guys that are playing sports in the fall get through healthy."
DE'MONTE NELSON (Bradford HS, Wisconsin) — Nelson had excellent performances during the Go Sports America Classic, scoring 38 and 28 points, but only scored nine in his team's loss to Kenosha Indian Trail Wednesday. Nelson's scoring output bounced back Friday against Nobal Days and Washington Park, putting up 18 points. Bradford is still looking for its first conference win this season.
RACE THOMPSON (Robbinsdale Armstrong, Minnesota) — Thompson helped Armstrong finish second in the Lakeville North Tournament and win their first game after break against Northfield this week. The power forward prospect averaged 19.3 points per game in the three games.
JARVIS THOMAS (Orono, Minnesota) — Orono is 3-0 on the road and 4-0 overall since Christmas. Thomas had his highest scoring total in almost a month Thursday, scoring 20 en route to the team's 83-76 win over Benilde-St. Margaret's. Thomas, who received an offer from Marquette in October, has averaged 13.3 points per game, per the Minneapolis Star Tribune's MN Basketball Hub.
COURTNEY RAMEY (Webster Groves, Missouri) — Ramey's success carried over after the holidays, scoring at least 14 points in Webster Groves' five games since Christmas. This included a pair of double-doubles against St. Charles West and Hazelwood Central. Ramey fell one assist short of a triple-double against Hazelwood Central.
TORRENCE WATSON (Whitfield, Missouri) — Watson lit up Westminster Friday, scoring 45 points, more than double the rest of Whitfield combined. Whitfield could not take advantage of his superb night, losing 65-63. Other notable post-holiday performances for Watson include a 34-point outing against Francis Howell Central and a 26-point game against Ladue.
JEENATHAN WILLIAMS (University Preparatory Charter School for Young Men, New York) — Williams is fresh off a 32-point performance that lifted UPrep over Aquinas, 62-48.
AYO DOSUNMU (Morgan Park, Illinois) — Dosunmu continues to prove why he's considered one of the best prospects in Illinois. He helped Morgan Park reach the finals of the Proviso West Tourney via a 29-point, nine-rebound statline. Dosunmu only scored eight in the title game, forcing Morgan Park to settle for second.
QUENTIN GRIMES (The Woodlands College Park, Texas) — Grimes was nearly unstoppable this week against Brazosport, scoring 48 points, eight rebounds and five assists. In his six other games, Grimes has scored at least 16 points.
TJ MOSS (Memphis East, Tennessee) — Moss scored 18 points Tuesday in East's 104-47 blowout over Overton.
PRENTISS HUBB (Gonzaga College Prep, Washington, D.C.) — Hubb helped Gonzaga go 5-1 in the past few weeks. While individual stats for the last two games were not available, the standout guard's point total in the first four games ranged from 12 to 22.
SIMI SHITTU (Vermont Academy, Vermont) — Shittu and Vermont Academy started the new year strong Wednesday, defeating Master's School, 99-82.
TIM FINKE (Champaign Central, Illinois) — Finke scored 10 Friday night against Centennial but could not hit a 3-pointer in the team's loss. However, he had much more luck the week before in the Centralia Holiday Tournament, when he scored 40 points in the semifinals.
2018 (Interested)
RILEY BATTIN (Oak Park, California) — Battin had a productive winter break, notching a double-double in all of Oak Park's games at the Classic at Damien. His string of elite performances earned him a spot on the Gold Division All-Tournament team.
KJ HYMES (St. Mary's, Arizona) — Hymes notched 15 points, 11 rebounds and five blocks Friday in the St. Mary's 77-66 win over Saguaro.
JAEDON LEDEE (The Kinkaid School, Texas) — LeDee has been putting together an impressive resume, scoring 22 points and 15 rebounds in The Kinkaid School's winning effort over Houston Christian Friday. He also had 22 points and 19 rebounds the previous week despite his school's losing effort against Loyola (California). LeDee managed to fit in a visit to Cal in the past two weeks as well.
GRAYSON CARTER (Guyer, Texas) — Carter had over 75 rebounds in four games as his team won the Whataburger Basketball Tournament during the holidays.
2019 (Offered)
NOBAL DAYS (Washington Park HS, Wisconsin) — Days' sophomore slump continued at the Arby's Classic in Bristol, Tennessee, when he scored four and two points in the team's two losses. He scored 13 points Friday against De'monte Nelson and Bradford.
MATTHEW HURT (John Marshall HS, Minnesota) — Hurt scored 36, 24 and 40 points in the team's loss to Robbinsdale Copper and wins over Rosemount and Owatonna. Most recently, Hurt scored 31 in John Marshall's 81-57 rout of Mankato East. Hurt, one of the best prospects in the Class of 2019, is now averaging 30.8 points per game.
2020 (Offered)
JALEN JOHNSON (Sun Prairie HS, Wisconsin) — Johnson still remains out with a knee injury. The Sun Prairie standout has not suited up since November.
JALEN SUGGS (Minnehaha Academy, Minnesota) — Suggs has continued to be a volume scorer for Minnehaha, scoring at least 36 points in two of his last four games. At the same time, he had his second-lowest scoring output Tuesday (13) in his team's narrow victory over New Life Academy.

About the Writer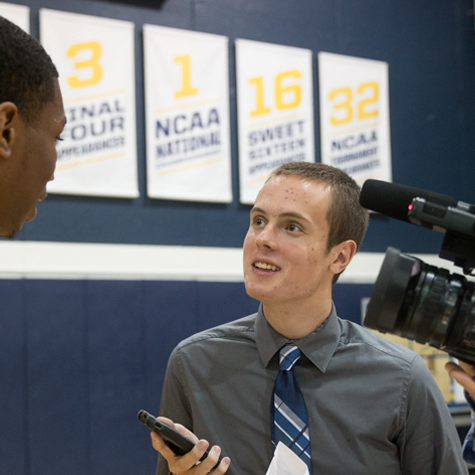 John Steppe, Executive Sports Editor
John Steppe is the executive sports editor for the Marquette Wire. He is a junior majoring in journalism and double-minoring in digital media and Spanish....