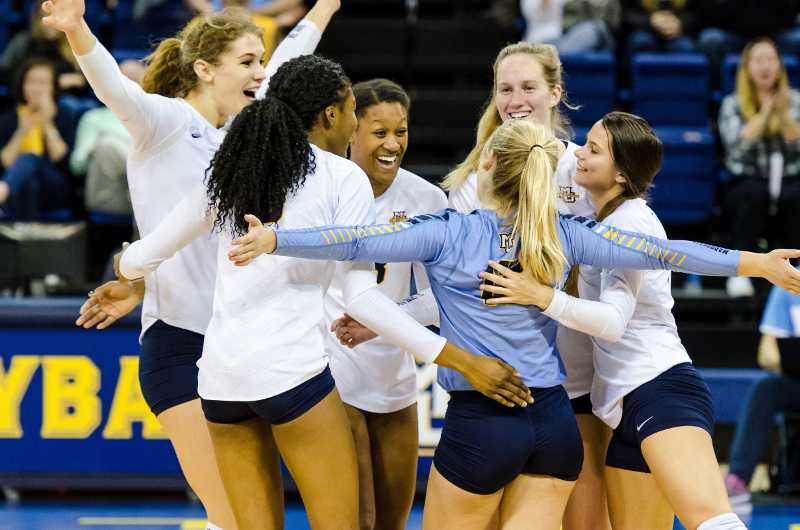 Austin Anderson
Thirty minutes passed and 32 volleyball teams had been selected, none of which were Marquette. The Golden Eagles were together in the Al McGuire Center cafeteria sitting in a mounting state of agony as they waited and hoped to see their name appear on the TV screen during the ESPNU college volleyball tournament show. The broadcast announced the Wisconsin section of the bracket, and then all of a sudden applause burst out.
They were in. Marquette was going to play Washington State in its sixth straight NCAA Tournament appearance.
When head coach Ryan Theis saw the word Marquette appear on the TV, he clapped and cheered with the rest of his team. He received congratulations from athletic director Bill Scholl, went on to field questions from a reporter and then the celebration ended. Theis retreated to his office to begin studying Washington State.
He quickly learned the Cougars are big and defensively sound.
"They are the biggest team we will have seen for sure, if not by far. They are huge," Theis said.
Washington State was third in the nation with 3.30 blocks per set, which is partially due to middle blocker Taylor Mims, whose 1.52 blocks per set led the Pac-12. Furthermore, Washington State held opponents to a .163 hitting percentage, which was the best in the Pac-12.
"You have to hit off of (their size) because you can't always go around it they are too tall for that. You can't set too tight. You can't miss low. You can't make those mistakes or it will be a block," Theis said. "Then you have to work on coverage. You got to get your (defensive specialists) picking up balls that will be blocked on because that is going to happen."
Both Marquette and Washington State played and beat Kentucky, Virginia and USC this season, but for Theis there is little stock to take in previous opponents.
"I jokingly said to our staff that (Washington State) beat USC in five and we beat USC in four so we will win this," Theis said. "It doesn't even come close to working that way. It's pretty irrelevant."
The Golden Eagles will have the advantage of experience on their side. They have qualified for the NCAA Tournament for the past six seasons, while the Cougars will be playing in the postseason for the first time since 2009.
"It definitely helps us because we have been in this situation before, so we feel a lot less pressure," senior defensive specialist Nicki Barnes said. "For us right now, it is just playing on extra time. We don't need to feel the pressure. We don't need to worry about messing up because it's all about going as far as you can and we don't have to worry about losing. We just need to play as hard as we can."
With the match taking place just a short hour and a half away in Madison, the Golden Eagles will have also have the advantage of a convenient location.
"I think we are very lucky because we have minimal travel, especially since finals are coming up we don't have to worry about missing a lot of school. We can make our sole focus on volleyball," Barnes said.
Although it is tournament week, it's business as usual around the Al. The Golden Eagles kept the same practice and lift times before they depart for Madison Tuesday night. They will have a practice in Madison on Wednesday with the match on Thursday.
"By the time it is Thursday at 5 o'clock, everyone just wants that game to get going," Theis said.